Wildlife has always been both a fascination and a hindrance to rural and urban life. In the state of Florida alone, there are over 700 types of terrestrial animals prowling the grounds, some dangerous and others, less so.
These specimens are usually considered a nuisance by locals who frequently chance upon them in their very own backyards, which, as you can imagine, is less than pleasant. But these intrusive and (in some cases) rare species can also constitute an attraction for visitors in the area. So in this article, we'll be running you through some of the most popular species you might encounter while visiting Florida.
1.
Armadillos
Although natives of the southwest of North America at their core, armadillos are now quite a common sight in the state of Florida. These fascinating creatures prefer forested or semi-forested areas and are mostly active at night. They have very poor eyesight and are not considered a threat to humans, as they are not by nature aggressive.
2. Snakes
Snakes, on the other hand, are a different issue. When it comes right down to it, the state of Florida houses six different species of venomous snakes: the eastern diamondback rattlesnake, the timber rattlesnake, the southern copperhead, the cottonmouth, the eastern coral snake, and the dusky pygmy rattlesnake.
Not sure which is which? Not a problem. Experts recommend avoiding areas with high grass (or at least wearing adequate protection if venturing in such spaces). What's more, if you come across a snake, you should keep your distance and back away slowly. Most snakes will not lash out and bite you unless they feel threatened, but it's best not to take any chances. Also, if you are visiting the state of Florida, it would be a good idea to brush up on what to do in case of a snakebite. Better safe than sorry.
Caution: You should never attempt to handle a snake (venomous or not) by yourself, as that will certainly infuriate it and lead to an attack.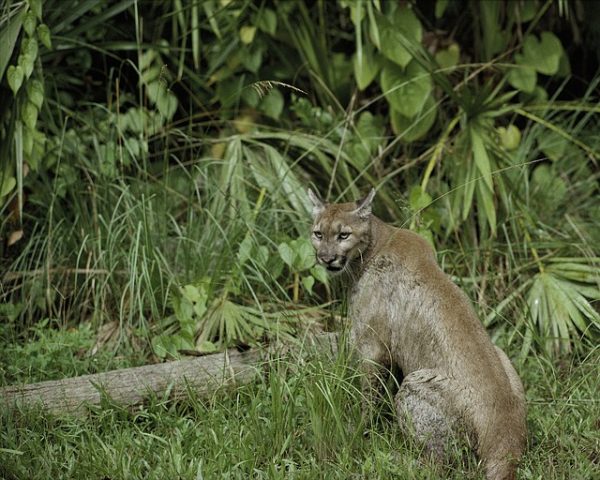 3. Florida Panther
Often referred to as a puma or cougar, the Florida panther is so emblematic that in 1982, it was made the state mammal. With thousands of alleged sightings being reported each year, the actual identification of a Florida panther is fairly rare, since the population of this beautiful cat is sadly decreasing.
When in Florida, you will see signs warning you to drive with care since car accidents are the main reason for the death of Florida panthers. This majestic, beautiful feline is a once-in-a-lifetime sighting but is best observed from a distance if you do happen to spot one.
4. Florida Black Bear
Lastly, the infamous black bear is easily the largest mammal you're likely to see while in Florida. Although the average bear usually weighs in at 180 (females) or 250 (males) lbs., there have been rare instances where a bear clocked in at over 600 pounds!
As with the panther before it, the number one cause of death for black bears is car collision, so there are plenty of signs warning there are bears in the area, as well.
The black bear is mostly a solitary wanderer, aside from mating season, and should be regarded with the appropriate care. According to official reports, you are most likely to see the black bear in the national forests and preserves of Florida, as well as at the Eglin Air Force Base.
Traveling through the forested areas of Florida, in search of these wondrous specimens, can be a delightful experience, but make sure you do so with caution!