Everybody wants to become InstaFamous on Instagram. That's when your account grows so popular that thousands of people follow you. Every time you post a picture, you'll receive lots of attention. Plus, if you gain enough loyal fans, you can even monetize your popularity to make a living from taking lots of selfies. It's a great life if you can get it, but you'll need the right apps to help you. Here are five of the best Android apps to make you InstaFamous.
Google Camera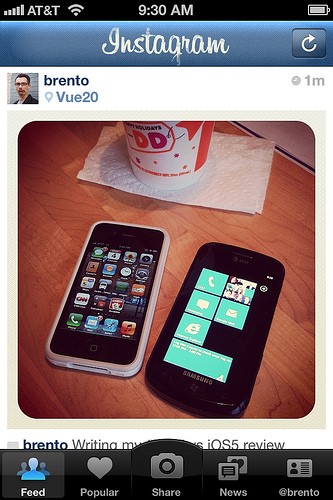 Image via Flickr by BrentOzar
You don't need anything but your smartphone to begin your quest for social media celebrity. Google pre-installs this app on many Android phones, and it's available as a free download in the Google Play store.
Google Camera features some impressive features such as its 360-degree Photo Sphere. This setting takes pictures that you can explore in the same manner as the Street View feature in Google Maps. The end result is that you can enter your picture to see the viewpoint from all perspectives, not just where you point the lens. It'll let your followers see the full story behind every picture you post.
VSCO Cam
If you aren't tech-savvy, this app is a great choice. It does a lot of the work for you, and it provides an intuitive user interface. This product offers a number of editing features that are only a few clicks or swipes away from putting the perfect touch on your image. It's designed for social media zealots, so you can tag words to your images right from the app.
Best of all, the filters on VSCO Cam don't require any user knowledge. You simply click one, and the software shows the difference. You can choose it or move along to another one if you're unsatisfied. This app is easy to master, and it will make you look great in every post.
Camera 2
This is the replacement for one of the earliest popular Android apps, Paper Camera. Like the original, it places the focus on filters. If retro is your preferred look, Camera 2 will quickly become one of your go-to editing programs.
Whether you want to look like a World War II soldier, a 1950s pin-up queen, or a 1970s flower child, this app has the perfect filter. If you prefer a less realistic style, you can easily convert your image to make yourself a comic book villain or a science fiction movie hero. Camera 2's filters focus on fun. If you want to establish your personality to gain internet celebrity, it's the perfect app.
Little Photo
One of the oldest camera apps, Little Photo has maintained its popularity for a simple reason. You can take better selfies with smartphones such as the Samsung Galaxy Note 4 with its super wide angle 3.7 front lens. It's one of the best programs yet for the basic action of taking a great picture. Plus, the design allows for seamless uploads of your images to social media networks.
Little Photo features 75 image effects and tools, and it adds even more each update. It's universally beloved for its vintage image filters in particular. No matter your idea, Little Photo gives you the ability to make your vision a reality. For people seeking an imaginative Instagram feed, it's the best choice.
Snapseed
Do you have serious photography skills you want to put to work? If so, Snapseed is the best choice for you, because it's designed for pros rather than novices. You'll need to invest a bit more time learning how to use this app, but it features many helpful tutorials to reduce the learning curve.
Snapseed works through a Stack system. Each filter you add is its own layer. As a camera expert, you understand how much creative power that gives you in building the perfect picture. It's such a powerful editing tool that you'll feel like you have Photoshop on your phone. It offers a lot of the same services without the need for an actual computer. For true shutterbugs, Snapseed is easily the best choice in the marketplace.
Becoming a viral image sensation isn't quite as easy as just downloading an app. If you pick the right one, however, you will have a huge advantage over the competition. Pick one of these, and you'll take a huge first step toward becoming InstaFamous.