Oh my, you don't KNOW what you're in for.
This girl knows the BEST restaurants, which places do takeout extraordinaire, and married a man who owned restaurants. What was Udi's Gluten Free Bread thinking when they challenged me?
Have they SEEN me in the kitchen?
Have they heard the smoke detector go off?
Don't they know that I toss pans weekly, because they can't be salvaged after I warp them?
Have they seen my son's facebook updates with his amazing dinners? He learned to cook because HE HAD NO OTHER CHOICE if he wanted a decent meal.
This is getting to be VERY difficult for me. Yesterday I reviewed the Aeternum Pan (and no I didn't ruin it), and today THIS.
Hold on a minute. I just went back and read my challenge. I'm to create a…
GRILLED CHEESE SANDWICH on Udi's Bread
I can do that. It's cheese and bread. If Johnny Depp can make grilled cheese with an iron in Benny & Joon, I can certainly do it with a new pan, a freezer full of Udi's breads, and cheese.
Pumped & ready to grill…I decided not only to do ONE grilled cheese sandwich, but THREE of them.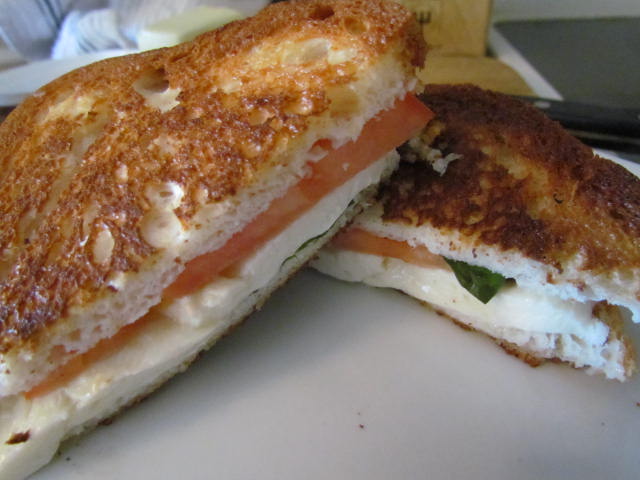 Caprese Salad Grilled Cheese
2 slices of Udi's White Bread
LOTS of fresh mozzerella
2 slices of beefsteak tomatoes
Basil fresh from my herb garden
Butter (yes I use REAL butter)

You know the grilled cheese drill. Put it all together between the 2 slices and try not to burn it (that's a note to MYSELF…not you). One thing that I noticed was that Udi's breads make EXCEPTIONAL grilled cheese. For some reason it gets NICE and crispy, and that's how I LOVE my grilled cheese.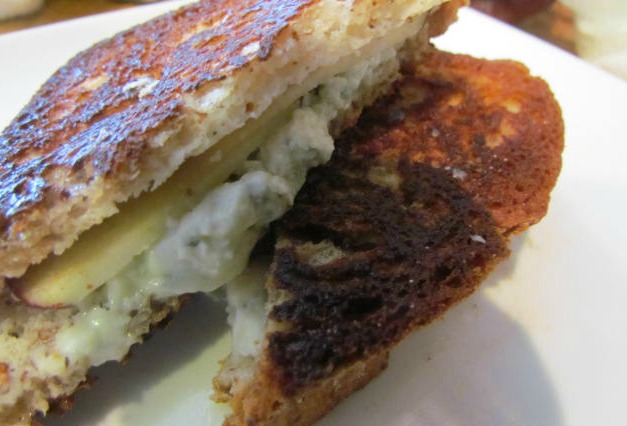 Bleu Cheese and Apple Grilled Cheese
2 slices of Udi's Whole Grain bread
Bleu Cheese
Sliced Apple
Butter

Getting hungry yet? I just took a handful of the bleu cheese. You'll want to use Udi's whole grain or Millet Chia bread for a nice nutty flavor with the sharp cheese. Just like on my cheese board, I added slices of apple (although next time I'd make the slices thicker than in the picture).
For breakfast or a different dessert….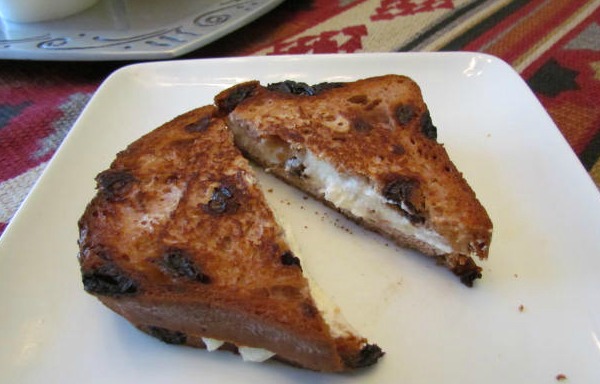 Ricotta/Vanilla Stuffed Grilled Cheese à la Francaise
1 egg
2 slices of Udi's Cinnamon Raisin Bread
1/4 cup Ricotta Cheese
1/2 tsp. Vanilla Extract
Maple Syrup – optional
Butter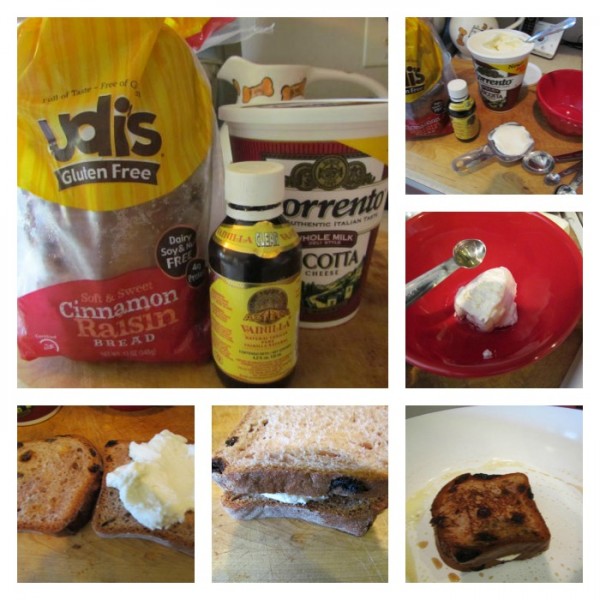 1. Make French toast – dip the Udi's Cinnamon Raisin Bread in egg and grill
2. In a bowl mix 1/4 c. Ricotta Cheese with 1/2 tsp. of Vanilla Extract
3. Put the Ricotta cheese mixture on a slice of the French toast and cover with the second slice
4. Make that GRILLED CHEESE!
5. Dip into maple syrup – optional
NOTE: I made it without using French Toast as well and it was JUST as delicious.
I have to say that I'm now a HUGE fan of Udi's (although I've always been a closet Udi's Snickerdoodle addict). They sent me lots, and lots (and lots) of bread to create a sandwich with. I guess they had heard about my reputation as a not-so-domestic goddess, and decided that I might get ONE good sandwich out of a freezer full of bread.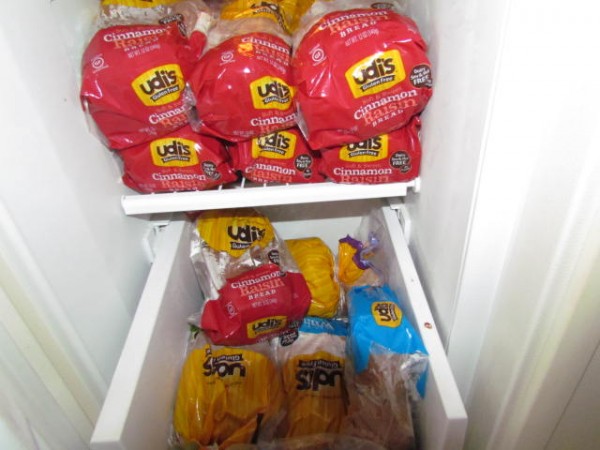 They were wrong…I got THREE out of them.
For more about Udi's Gluten Free Breads check out