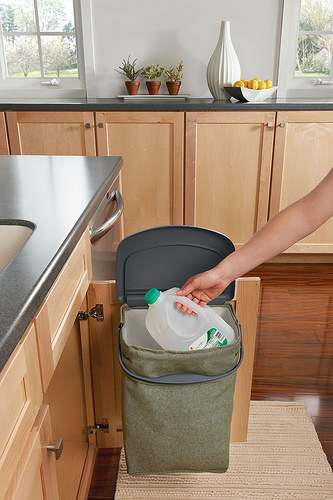 I may be jumping the gun a bit, as Earth Day comes next month, but since I noticed the date as I was updating my April event calendar I figured that I'd be a bit pro-active and incorporate recycling in my Spring perk-up at the mansion. I've been working on redecorated the bed and bath, but in the kitchen it's been more about cleaning up and making my tools more accessible.
Since we're a family who's eco-conscious (I drive a hybrid, we use CFL bulbs and recycle), I was trying to find a way to reduce the CLUTTER in the kitchen. My recycling method has always been to put papers, glass, plastic and metal into a earth friendly tote hanging from a knob on a cabinet door. I'd then bring the full tote out to the garage and separate the items into the proper bins. It's worked very well for us, but the bag hanging in the kitchen was both ugly and because it was fabric, it would get pretty nasty from the rinsed bottles.
In my quest to clean things up a bit, I discovered this wonderful Rubbermaid Hidden Recycler. Because my old method worked well for us, I didn't really want to change it by adding bins or trash barrels to the kitchen. The Rubbermaid Recycler is the exact same concept with a few differences. It attaches to the INSIDE of a cabinet door, so it's complete hidden. It also has a handle making grabbing it and bringing the bag to the garage easy and BEST OF ALL it has a coated leak proof liner (and yes, it's machine washable). This has solved the ugly bag issue and because I placed the Rubbermaid Hidden Recycler under my sink, it's the most convenient spot to toss the bottles, cans, etc. that I've rinsed.

The great part is that this product can be picked up at your local Meijer location or conveniently ordered directly from Rubbermaid. The price point is under $18, making it an inexpensive way to hide your recycling.
FEATURES
Easy attachment to a cabinet door with hooks included with the product or screws
A convenient handle allows the bag to easily be transported to wherever your recycling is stored for pickup or transport
A 5 gallon bag that holds up to 36 12-ounce cans and can fit a milk jug
The bag has a leak-proof liner and is machine washable to make it easy to clean after any unexpected spills
The bag is soft-sided allowing for flexibility inside any cabinet
The bag and all packaging is made from recyclable material, and the product is recyclable
For more information about the Rubbermaid Hidden Recycler as well as other Rubbermaid products
Visit their  Adventures in Organization Blog
Visit them on Facebook
I received product to facilitate this review, all opinions are my own.
GIVEAWAY
Winner – Lynn E. – Syracuse, IN


Extra Entries
Follow me on twitter @zipporahs and introduce yourself
Comment below with your tweet
Subscribe to Champagne Living,  follow me on facebook or twitter – all found on the sidebar (each counts for 1 extra entry)
Tell your peeps on your blog, facebook page or twitter about this or any post (each counts for 1 extra entry) and link to us.
Share this giveaway on any contest/sweepstakes/giveaway site for 5 extra entries..
This giveaway is open to US residents, 18 and over and ends on April 9, 2012
No purchase is necessary.
Odds of winning are dependent upon the number of entries received.
Void where prohibited by law