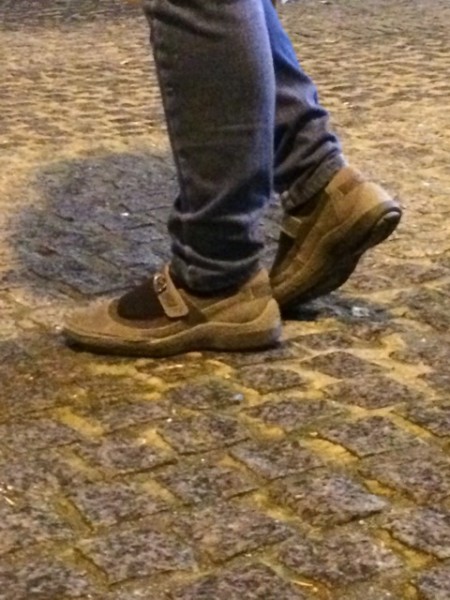 Yeah, that's probably a crazy thing to do, especially having never worn Jambu shoes before. Of course, I had tried them on…(my first pair were too tight – so I exchanged them for the next size). I'd also pre-stretched them in the spots that typically bother me with new shoes (the big toe), but other than that I hadn't worn them.
It was cold and damp, and I'd put on a fairly thick pair of knee socks (it's December in Bavaria). While our trip on the Danube River was cold, this was our first really damp day. I thought for certain it would snow. It didn't. It drizzled and sprinkled, and never really got wet enough to call it rain, which was good as I didn't have an umbrella or boots once we left the ship.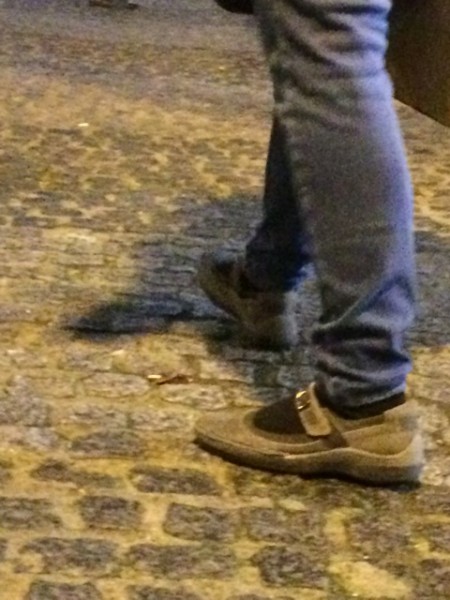 First you need to know
I have an ambulatory disability. What that means is….after seven knee surgeries (and a flexion contracture) I walk with a limp. Most people don't notice it, but I do. I've worked long and hard to correct my gait so that it's not noticeable. That being said, I have to be very careful about the shoes that I wear. I'm lucky to be walking at all, and while you've seen me in heels, it's generally only when I'm going to an event where I'll be sitting. I need good comfortable shoes on my feet!!!
Second
You'll almost never see me in sneakers. I hate them. After my accident, when I was learning to walk I had a pair of sneakers….one side had a 1½ inch LIFT the other flat. It was awkward, embarrassing, and downright ugly. Because there was a question as to whether I'd actually ever walk again, I had no choice. I vowed that sneakers would NOT be a part of my wardrobe once I conquered the art of walking again.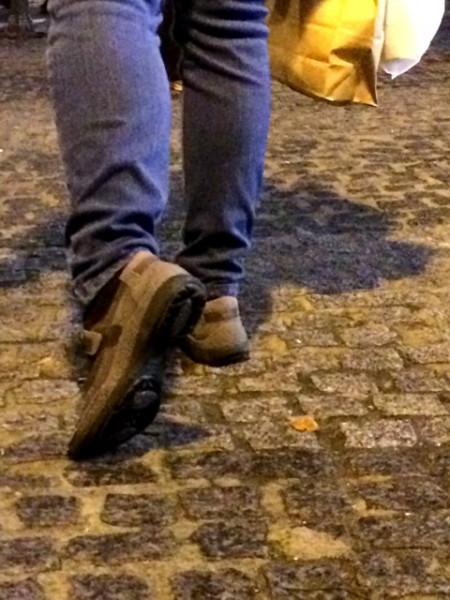 Issues 
If my shoes and feet aren't comfortable, AND they are not supporting my knee well, I can only walk/stand for about a 20 minute stretch comfortably before I have to sit down (the same goes for sitting – only 20 min before I have to stand because of the pressure on my hips/back as a result of the knee injury). Yes, this is limiting for a travel writer, who LOVES to explore. Yes, I've put up with burning joints and not being able to get out of bed the next day.
JAMBU
I was sent two pair of Jambu shoes for my trip. One to explore the cities in, and a second pair for "dress." My cousin and traveling partner Susie wears clogs all of the time, so Jambu sent her a pair that would easily carry her from day to night.
Still, while I want shoes that are comfy, I also need them to look good. I chose two pair that I I can wear either of them with a pair of jeans or a skirt (although those red Brooks are cute with a dress).
1. Jambu Sloane
2. Jambu Brooks
Susie: Jambu Bali
Budapest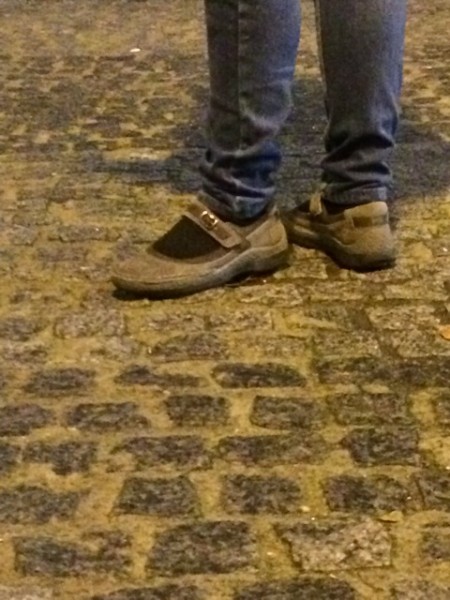 Susie and I set out to explore the Christmas Market in Budapest. It was a large one and we had already been walking ALL DAY LONG on a tour of the city. My back hurt before I even started. Susie had put on her new black on black Bali clogs. I hadn't even realized that they were her new Jambu's as she never mentioned that's what she had on her feet until later on in the evening. I put on my Sloanes. I was ready to take on whatever one of the largest cities in the European Union could dish out.
The Fit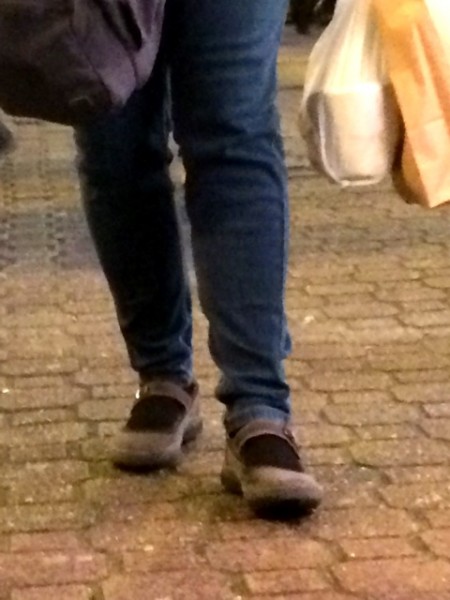 As I said earlier, my feet are BAD. I have a high instep, a bunion (gross…huh), and because of my knee issue I lunge a bit and my foot pronates when I walk. TMI? I need comfort. After choosing a bootie that didn't quite fit right (I should have known better), I ended up with  a pair of Brooks and a pair of Sloanes, because I really like a Mary Jane styling and was secretly hoping that they'd fit and look good. The Sloanes tend to run a bit on the snug side (a bit narrower than I'm used to). If you're in between sizes or have a medium or wider foot, I suggest going up a ½ size (both Susie and I found that to be true). Better yet, find a LOCATION from their "Find a Store" search that carries them and get fit! In retrospect, I wish that I had done that (there are four stores near me).
Comfort
Sloanes – This is where my new Jambu's RULE. While the upper is a Mary-Jane looking suede shoe, it's what's inside that counts. I slipped them on and instantly realized that the bed of the shoe is made of memory foam…..wonderful, comfortable, pillow like memory foam. I sleep on a memory foam bed, but this was my first experience having the wonderful cushions supporting my feet. Heavenly! Add to that an arch that hit in the perfect spot, and a shoe back supple enough so that blisters wouldn't form and I knew that I'd be able to take on this World Heritage Site with no issues.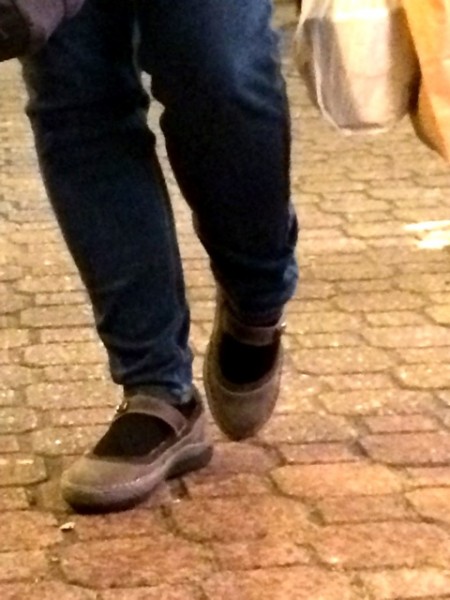 Meandering
Cobblestones are not easy to maneuver even when your gait is normal, so I need to have plenty of all-terrain traction! Luckily my Sloanes came through, allowing me to have secure footing, even on the uneven streets. I never once felt as though I might slip or not have a good grasp of the street below my feet. The shoe flexed and gave with me, and even though it was cold out, the material kept my feet toasty warm. I walked up and down through the stalls, visiting not one but TWO large Christmas Markets, as well as doing a little regular shopping along the way. Budapest is one of Europe's largest city, and we explored and explored. I noticed that after a day of walking around, that my feet still felt good.
After hours and hours of walking
I took a break and it was then that it hit me that we had walked for over 6 hours, and I hadn't gotten a single blister, my feet felt good, but yes…I was tired.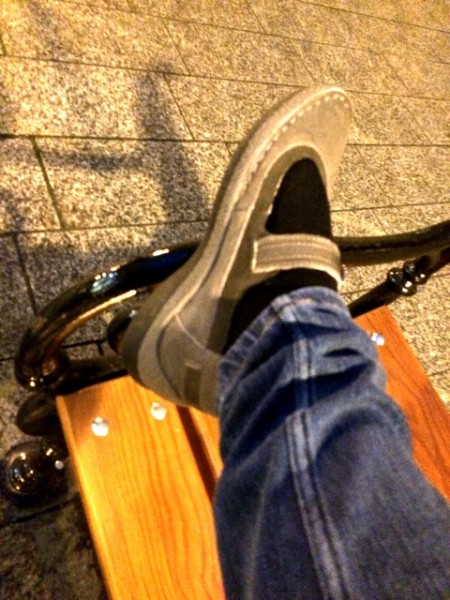 I finally sat down and put my feet up….
As a travel writer, I've been looking for shoes that would handle exploring a destination and still look good with a skirt. Not only are the Jambu Sloane's CUTE, but they gave me the support and comfort that I need to walk all day long.  Luckily, it didn't pour, but if it had, I had the extra security of knowing that Jambu shoes are not only water ready (they dry quickly due to water drainage ports), but they also have models that are waterproof &/or water resistant.
You'll be seeing more of my Jambu's soon, as I kicked off the Sloane's and put on a pair of Brooks to go out to dinner in. I'll bring you more about them soon!!
DETAILS