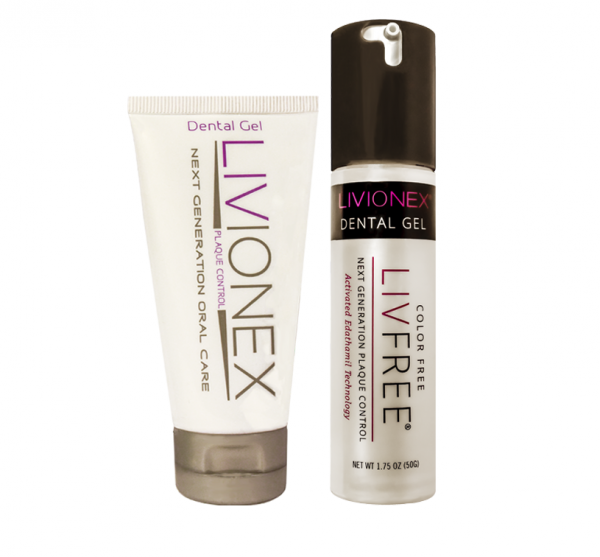 I wish my parents had made me get braces when I was young.
I wish that I hadn't been a thumb sucker.
I wish I had whiter teeth.
I wish that my gums wouldn't bleed.
I wish that I didn't hate going to the dentist so much.
I wish that I didn't have to go for cleanings 3 – 4 times a year because of all the plaque I make.
My dentist once told me that if you could sell plaque, that I'd be a millionaire. No matter WHAT I've done in the past, I still had to go for routine cleanings and scalings 3 or 4 times each year. Why couldn't I do what my friends do and go twice yearly? Because for some reason, I'm a plaque machine.
I've tried everything…fancy electric toothbrushes, designer floss, pulling oil, you name it. In the end, I still had too much plaque AND my gums bleed.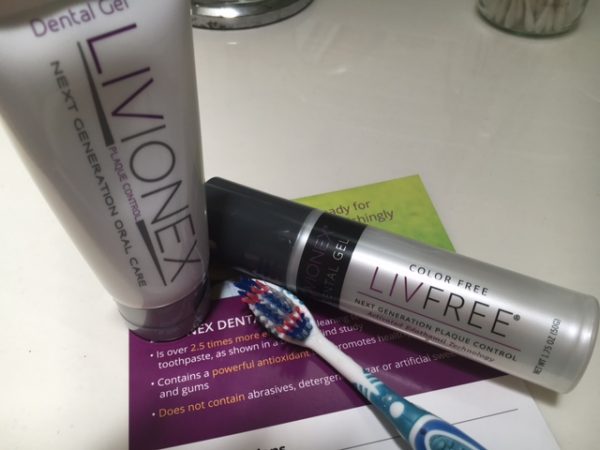 I recently tried yet ANOTHER tooth product that had LOTS of promises…LIVIONEX. They claim to have revolutionized brushing FOREVER, and I was about to use the product for THREE MONTHS and give it a REAL TRIAL.
According to a top university study, Livionex is 2.5 times more effective at cleaning teeth than a leading toothpaste. Made from the safest, most effective ingredients, it does not contain harsh detergents or abrasives used by toothpaste. Safe for all ages!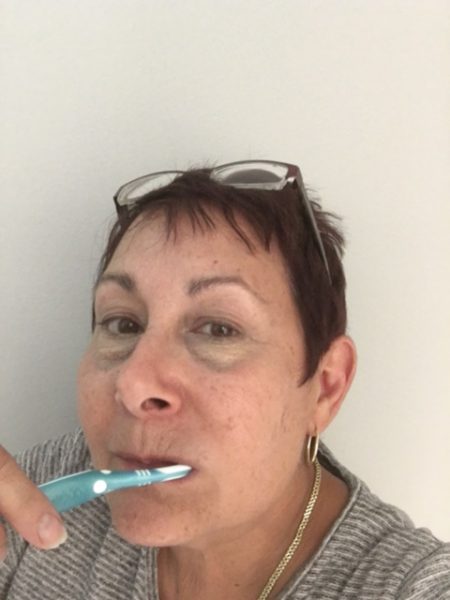 Day 1: I'm going into this with LOTS of plaque on my teeth, and gums that bleed every time I brush. When I floss, it looks like a mafia hit in my mouth. I am not getting my hopes up, but I'm giving it a try. The directions state to use the gel on my toothbrush DRY. Hmmmm…..why no water? It turns out that Livionex Dental Gel has no detergents or silica so it doesn't foam like other toothpastes. I pump 3 times, brush, and rinse as usual. I notice there is no strong flavor of mint (which I miss) and my teeth feel slippery….like they do after a dental cleaning. My gums still bleed.  At $20 a tube it's a bit steep compared to my drugstore brand.
Day 14: I've been brushing with Livionex Dental Gel for two weeks now. I definitely prefer the tube over the pump. It has more minty flavor (I still miss the mint) and if I don't rinse the pump it can clog the hole. My teeth still have that slippery after the dentist feel each time I brush, and MIRACLE of MIRACLES my gums are no longer bleeding when I brush.
Dentist-recommended Livionex Dental Gel cleans teeth 2.5x better than a leading toothpaste. It contains a powerful antioxidant that promotes healthy teeth and gums.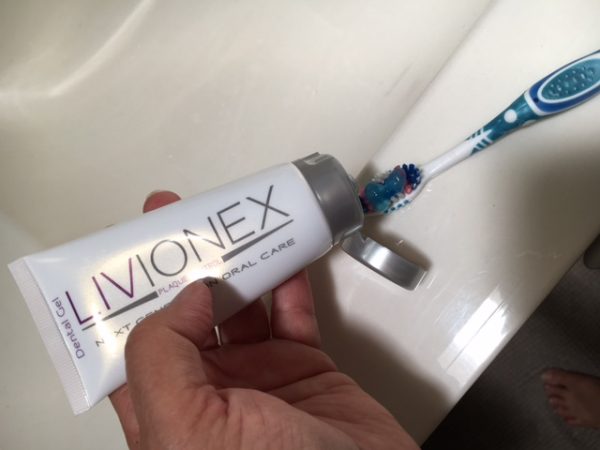 Day 30: OK, this Livionex stuff must be good, because I went to the dentist this week to check on a bone graft that I had done about 3 months ago and my dentist didn't go all ballistic about my plaque. He usually says "COME IN TOMORROW!!" This time he only asked if I had made an appointment for my regular check-up. I left feeling like the Livionex Dental Gel I've been using might be doing something MAJOR in my mouth. That $20 a tube is sounding inexpensive if it cuts my visits to two cleanings (with no dental insurance) per year.
Day 37: My sister in law came to visit and I noticed that she used the pump of Livionex Dental Gel that I had left in the guest bathroom. I think she might have liked it, because it's got gel all over the outside of the container, so she probably used it all week (I saw she had brought her own toothpaste, but it remained in the bottom of her makeup case the entire week). I didn't ask her about it, because I didn't want to embarrass her about using my tooth gel.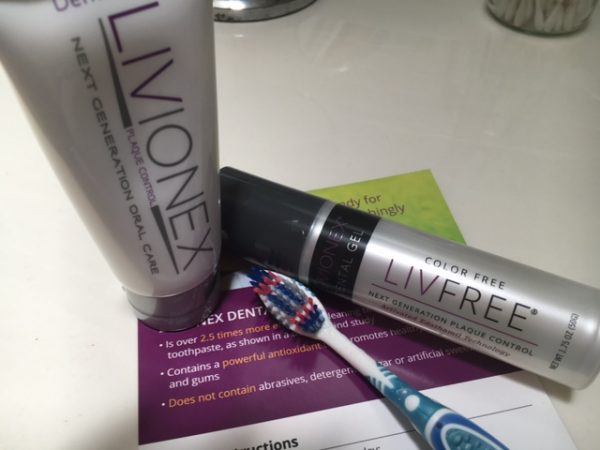 Day 41: I'm keeping up with my Livionex routine. No more bleeding gums…not even when I floss, and my teeth no longer feel THICK with plaque. I still get that nice slick just left the dentist feel when I brush, and I can actually feel the groove where the tooth hits the gumline on my bottom front teeth (it felt like a sand hill before I started). I still miss the strong flavor of mint, but I realized that I can live with that. I bought a bottle of mint mouthwash…not because I need it, but because of the mint taste I was missing.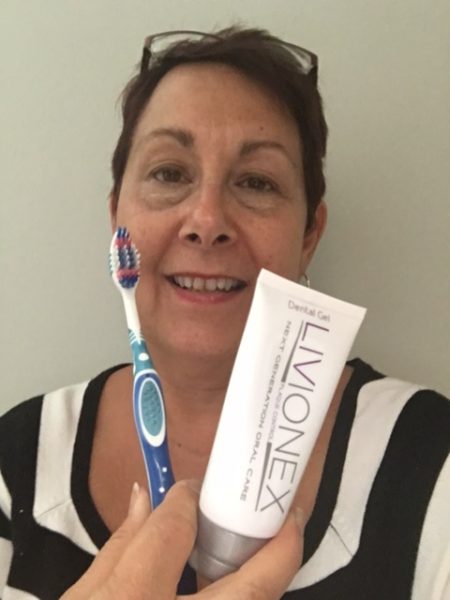 Musings about Livionex 
1. You only use a little (3 pea sized pumps or a little squeeze) per brushing and I was an EXCESS toothpaste type….it was a little tough getting used to less on my toothbrush.
2. That just left the dentist feel never gets old. I run my tongue on the back of my teeth each time I brush to make sure I'm not just imagining a change.
3. Livionex works by using Edathamil, a well-known food-grade chelator  breaking down harmful biofilm & preventing new biofilm from attaching to teeth. This means a cleaner, healthier mouth!
4. I made it a point to NOT read the over 800 positive reviews about Livionex until AFTER I had used it a while. I didn't want to be swayed.
5. I've got an upcoming teeth cleaning, I'll be posting on social media my hygienists comments (she's used to me taking pics in the dentist chair).


Get 10% Discount on Livionex Dental Gel (Tube) and LivFree (Pump) on the Livionex Website and Amazon with discount code: CHL10JUL through August 31, 2016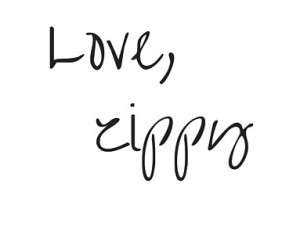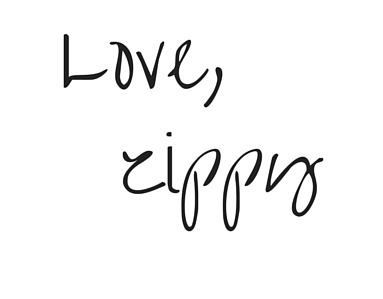 More information can be found at www.livionexdental.com. It can be purchased on the website or at Amazon.com
This is a sponsored conversation written by me on behalf of Livionex. The opinions and text are all mine.