I am turning 70 in six months and frankly, it shows. I have bags and dark circles under my eyes, my skin is sagging and I have deep crevices from years of smiling around my lips and nose. I don't mind the laugh lines or even those 11s on my forehead. They are the LEAST of what I'd want to change. I always said that I'd go kicking and screaming as I aged and I gave it a lot of thought before walking into the MedSpa for the first time. On one hand, I love the premise of "aging gracefully" and not worrying about my lines and wrinkles, but then I look in the mirror and that feeling of actually being OLD hits me.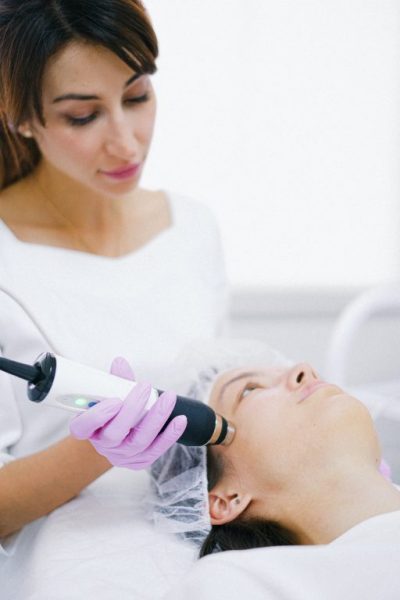 I don't want to have surgery and I also don't want to FREEZE my expression. I thought that a thread lift would be a great alternative. That was until I met Kimberly at New Radiance MedSpa. She is beautiful and thin, yet she's older and doesn't look like she's had ANYTHING done. Could this just be good genes, or does she have the secret?
In the ever-evolving world of cosmetic enhancements, the options seem endless. From surgical procedures to non-invasive treatments, the choices can be both exciting and overwhelming. I walked in with a laundry list which one by one got shot down. Kimberly was not about to let me walk out looking fake, unhappy or like I had "work done." One by one as I listed what I wanted, she said NO. She looked at me and immediately suggested that I have a series of Three for Me Laser treatments. The cost? Only a fraction of what the threadlift would have been and while a threadlift will last a year or so, the effects of the laser treatments could easily last 5-7 years. Hmmm, half the price 3 times the length of time?  I was about to give it a try.
Before delving into the reasons for my choice, let's briefly differentiate between Three for Me Laser treatments and thread lifts.
Threadlifts: Threadlifts are a minimally invasive cosmetic procedure that involves inserting sutures beneath the skin to lift and tighten sagging facial tissues. This treatment is often chosen to address mild to moderate skin laxity and provide a more youthful appearance. The results are noticeable almost immediately and can last for a couple of years.
Three for Me Laser Treatments: Three for Me Laser treatments, on the other hand, utilize advanced laser technology to target a variety of skin concerns, including fine lines, wrinkles, sun damage, and facial veins. It helps to create collagen and elastin that can tighten the skin as well. The treatment combines two different laser wavelengths in one session, addressing both skin resurfacing and the removal of unwanted pigmentation. The results of Three for Me Laser treatments gradually improve over several weeks (around 6 weeks or so) as the skin's natural rejuvenation processes take effect.
Here are My Reasons For Choosing Three for Me Laser Treatments
The Non-Invasive Nature: While thread lifts offer impressive results, I was drawn to the non-invasive nature of Three for Me Laser treatments. Unlike thread lifts that involve sutures and some degree of tissue manipulation, laser treatments work by stimulating the skin's natural healing response without any incisions or injections. This meant less downtime and a reduced risk of complications.
Versatility: Three for Me Laser treatments offer a multi-faceted approach to skin improvement. The dual laser wavelengths target both textural issues like fine lines and wrinkles as well as pigmentation problems like sunspots and facial veins. This versatility appealed to me, as it meant addressing a wider range of concerns in one treatment.
I Wanted Gradual, Natural-Looking Results: Threadlifts may provide more immediate results, but I was more inclined toward the gradual, natural-looking improvements offered by Three for Me Laser treatments. These treatments stimulate collagen production over time, allowing the skin to naturally rejuvenate itself. The gradual progression of results ensures that the changes are subtle and in harmony with my features.
There Is Minimal Downtime: The prospect of minimal downtime was a significant factor in my decision. Thread lifts can require a longer recovery period due to the slight trauma caused by the sutures beneath the skin. In contrast, Three for Me Laser treatments involve minimal discomfort and require only a short recovery time, making them more convenient for those with busy schedules. As a matter of fact, I left the MedSpa and went shopping immediately after. At worst, it looked like I had a mild sunburn (which in summer in Florida looks like EVERYONE who's been to the beach).
Thread lifts last about 1-3 years, while the Three for Me Laser treatments can last 5-7 years.
Ultimately, the decision to choose Three for Me Laser treatments over a thread lift was based on a combination of factors: the non-invasive approach, the treatment's versatility, the gradual and natural-looking results, and the minimal downtime. While thread lifts certainly have their merits, I found that Three for Me Laser treatments aligned better with my personal preferences and lifestyle.
As with any cosmetic decision, it's crucial to consult with a qualified medical professional before undergoing any treatment. What worked for me might not necessarily be the best choice for everyone, so it's important to consider individual needs, goals, and medical advice. In the end, the path to self-enhancement is a personal journey, and the right choice is the one that empowers you to feel confident and comfortable in your own skin.
Next, I'll take you on my journey from what to expect to the final results.