As a fan of his father (I remember seeing Spartacus with my dad), I was instantly drawn to the works of Michael Douglas. From The China Syndrome to A Chorus Line (one of my all-time favorites), he has graced some of my favorite movies and TV shows. So, I was thrilled to hear that we'd be interviewing him after screening Ant-Man and The Wasp last week.
He has aged well
He's about 10-years older than I am, and….NOT at all bad for 73 (still eye-candy in my book).
But enough of my swooning…we were here to learn more
At the time of our interview he had not seen the completed movie (we had), but he had PLENTY to say about the process
On being united with the cast of Ant-Man
There's just an inherent relaxation and joy normally about a sequel. You look back in the old days, why actors and actresses work together or directors together, you don't have to introduce yourself again, you know each other.  There's a comfort factor which makes it much easier.  People know your own sense of humor.  You're not going to offend anybody.  So, I mean the comfort factor is really nice.
I mean that combined with the fact that Paul is just a sweetheart.  He's just a great, great guy, so it sets the tone.  You know, most of my career I've been number one on a call sheet, the lead, and so to be in a supporting role in a picture like this, you watch how he does it, you assume a lot of responsibility.  If you're smart, if you're the first, you set the tone.  You're the first one on the set, you make everybody else comfortable to make their best performances possible.
About cracking up on set
This set was a lot of fun.  I did not plan on mentoring Scott.  That was not my idea to take over the role of Ant Man, you know.  He was a burglar and do I think he's proper for my daughter.  So, trying to find kind of a dry (humor), a little intellectually aloof and all of that.
But, as far as cracking up, we watch it because I mean when you feel it bubbling up, we don't let it go there, because sometimes what happens is it's hard to pull it back, and then you can lose a lot of time. But with Paul it's difficult because he ad libs. so much.  You know, I'm a little jealous of Paul because I'm kind of carrying the story line,  and having to go home to research about what the hell I'm talking about. Then Paul will just come in with some one-liner and steal the scene. He's unpredictable, wonderfully so.  And funny.  So, it happens a lot.
Advice from his kids
When the first one was done Dylan then was maybe 15.   He's an actor himself, and he says: "Dad"  I said: "yeah".  He said: "This is going to be very good for your career.  I said: "oh?"  He goes: "Dad, you don't understand, this is going to bring a new audience for you, you know.  This will be very good.
He said, "you know what?  I was recommending you to a sequel if they offer it to you."  He just got a kick out of it.  I must say, I never anticipated that I'll be talking and feel something pulling on my coat, and I'll look down and there would be a little five-year-old kid and going "Ant Man".  So, it introduces you to a whole bunch of people who didn't see a lot of my movies.
On films he'd like to be remembered for
I guess Romancing the Stone, The China Syndrome, I never know really the order.  I had kind of a run there with Black Rain, War of the Roses, Fatal Attraction, Wall Street, and I liked a picture called Wonder Boys. I've done over 50 pictures and I guess if I was a baseball player I would have a pretty good batting average –  a lot of grand slams and not a lot of strikeouts.
On taking on a new type of movie with the two Ant-Man films
Well, it's easier in that you are supporting, so the pressure is off.  I've got history as a producer, so normally when I'm acting, I may lead in a picture, I'm really looking out for the whole film.  In that spirit, I know what my role as an actor is, but I know mostly what makes a good movie.  I guess that  separates me from most actors is that I'm not just thinking about my role.
And I'm a producer, I want to be in a good movie.  Sometimes you have a good part, sometimes Sharon Stone's got the good part,  but you want to make as good a movie as possible.  This one's a little out of your hands because of the technicalities, and the areas that you have nothing to do with.
The thing that struck me about Ant Man and now Ant Man and the Wasp is the response that it's getting. It's such a divisive world right now, both in our country and just around the world and everything seems to be getting fractionalized.  One of the joys of this business is you make a movie like this, it's a worldwide success, and the audiences from every continent go to see this movie and they laugh like we laugh. They move like you move, and it just brings everybody closer together.  That's actually the aspect of our industry which I admire the most, and it seems like we need that.
and with that…..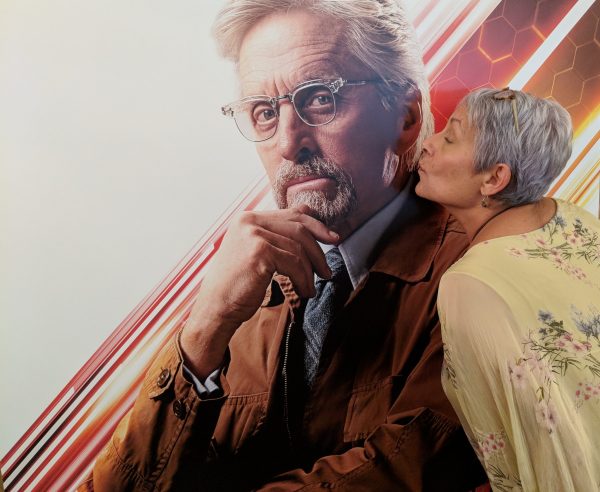 When really…this is the closest I actually got to him