This post was sponsored by Blue Diamond® as part of an Influencer Activation and all opinions expressed in my post are my own.
It's Friday and I'm grocery shopping…AGAIN.
They say that you should never
Shop when you're hungry
Go shopping without a list
Buy travel items where you grocery shop (OK, so I made that one up on the fly…)
OR THIS MIGHT HAPPEN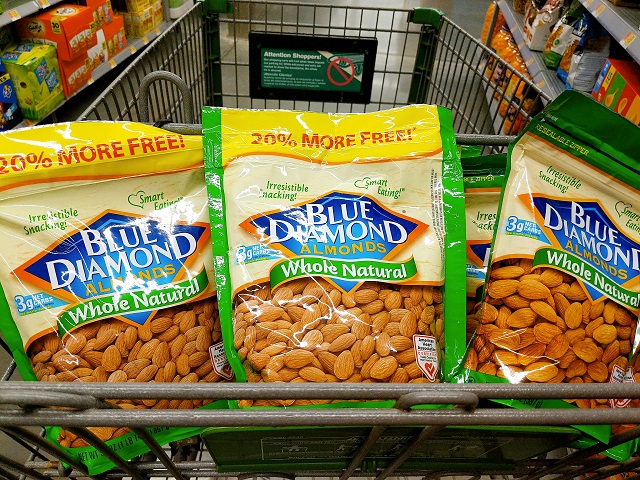 Ever since I lost that 20 lbs 
My favorite snack has been Blue Diamond Whole Natural Almonds. They are my guiltless pleasure. Filled with vitamins, minerals, and the protein to keep me going throughout the day, Whole Natural Almonds are Blue Diamond's finest and you know me…I enjoy having the very best. Since I never really stopped my snacking obsession, my coach suggested that I pop a handful of whole natural almonds in my mouth throughout the day. They help keep my energy level high and keep the hungry's at bay. You'll ALWAYS find a bag, a can or little packets of them in my kitchen cupboard, and they are a staple on my weekly grocery list.
But this week I forgot to make a list before heading to Walmart
But, I had the basics in my head
Half and Half
Bananas
Lettuce
Tomatoes
Blue Diamond Whole Natural Almonds
Chicken breast
Sweet potatoes
Avocados
It was my usual run to Walmart, where I can always grab just what I need, and, while I  may have gone slightly overboard, I was still able to save using the ibotta app, getting $1.00 back. With a limit of 5, I figured…why not (that's an extra $5.00 in my pocket).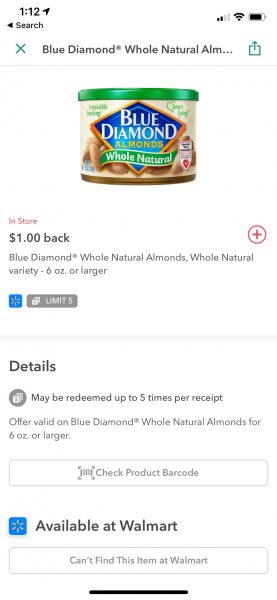 The only problem is 
That I may have a little problem keeping my hand out of the bag because the minute I got into the car this happened…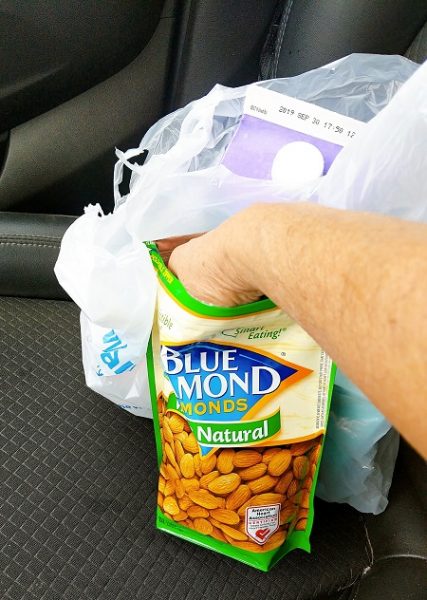 It's a good thing that I bought 5 bags
Because this one didn't last very long, and since Blue Diamond Whole Natural Almonds are an excellent source of vitamin E and magnesium, and eating this delicious superfood offers myriad health benefits every day, I go through a LOT of them. Plus, since they are conveniently available at Walmart. I always know that I can get my fix of vitamin E and magnesium with a handful.
Did you know they are my favorite travel snack?
You know those tiny bags of pretzels they give you on the plane? I just say NO to them. They are so small and always leave me wanting something better. The salt, the carbs, the….hey, there are only 3 pieces in this bag and they are broken into crumbs, all leave me wondering why they even bother at all. Since Mr. S and I are heading out on an Alaskan cruise this month I will be tucking a couple of bags almonds in our carry-on bags. Take THAT flight attendant.
Blue Diamond Whole Natural Almonds are available in
6 oz. cans
14 oz. bags
25 oz. value size bags (I found a 20% more FREE bags as you can see)
100-calorie on the go packs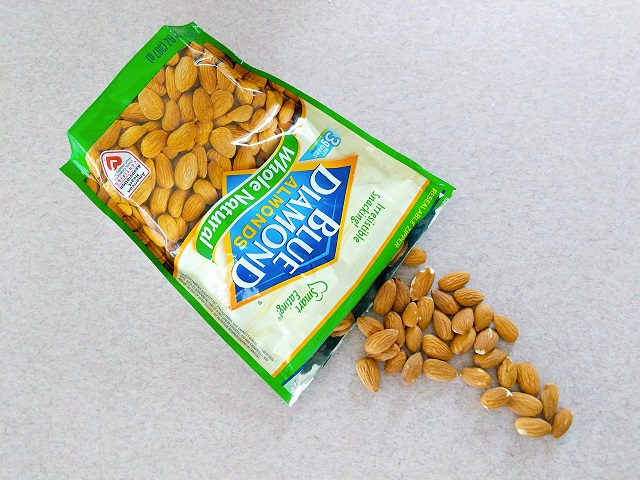 I may have forgotten my list
But, this is YOUR reminder to head to Walmart with your ibotta App in hand and pick some up for yourself. Your body will thank you for it.
For more about Blue Diamond or ibotta visit