Lately I feel like my life is spiraling out of control. It's  my own fault, as I've taken on more than I could handle. This gal's got to learn to
SAY NO
That's the most difficult thing in the world for me. I'm a fixer, I want everyone to be happy, so I take on work, not just here on Champagne Living, but throughout my life. Sure I'll come over for dinner. Sit on the board of directors of your company, why YES. Would I like to run that campaign for you…sure thing. My life is the antithesis of Zen.
A few weeks ago, after dealing with some major paid for MONTHS, I decided to try acupuncture.
It was my first time. 
Would it hurt? Would it help? Would I feel ridiculous in a room full of people getting needles stuck into me? Yes, a ROOM of people. I decided to try COMMUNITY acupuncture. It's inexpensive (the places near me range from $10 – $40 per session), because there are a couple of acupuncturists treating a group at once. The intake process is the same as if you had a private session, and they go over your chart with you before beginning your individual treatment.
Here's what happened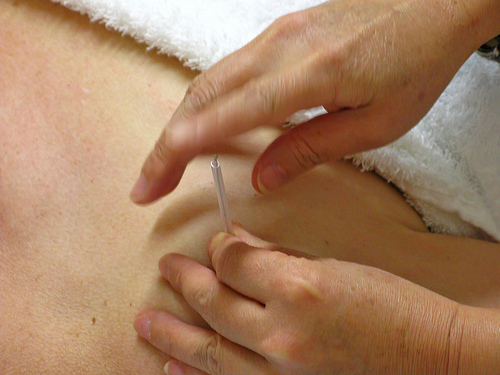 I had to take off my jewelry and shoes and put them into a little carry-box along with my handbag.
I was ushered into a room with about 6 others and given a gravity chair to lay in (comfy).
The room had very low lighting with ambient music in the background and a salt lamp in the corner.
My acupuncturist (there were 2 of them) came over and reviewed my issues as well as told me what to expect.
She spoke in a whisper, this was a place to be peaceful.
One by one she began placing the needles. One on my left arm, two on my right, one on my left foot. Then she put one on my scalp and another on my forehead.
As she placed them the pain immediately began to disappear. I was shocked.
She asked about my lack of sleep and said – you might feel this one (up to that moment there was absolutely NO feeling of the needles going in). I felt the slight pinch and it was gone in seconds. She said ….that's a GREAT one for sleep.
I was to lie quietly for a half hour. NOT EASY WHEN YOU'RE STRESSED!
I found myself drifting into a peaceful nap. Maybe it IS for me.
A second acupuncturist came to take out the needles and advise me what to do next.
He gave me some great at-home recommendations for the pain. Including soaking in a salt bath.
Before I left he let me know that this wasn't a miracle cure. I need to come back a couple of times a week, for a few weeks and then once a week or every two-weeks. I was in Canada, so I couldn't.
My take on acupuncture
It did work and I was pain free for over a week. I've yet to return for another sessions but….
I found my ZEN
EVEN MORE THAN THE PAIN RELIEF I was able to take a half hour out of my stressful schedule for myself…and frankly, THAT was even BETTER than my back feeling great. I realized that a half hour of quiet in a busy world to meditate and concentrate on my breath as I lay there helped me more than I could imagine. As for my sleep issues, they're still there.
My At-Home ZEN routine
I recognized that I had not been taking any ME time while I was home, so I bought some of the salts that he mentioned, and vowed to take some time for myself every few days and just soak and listen to music. Just that simple action of taking time to RELAX has made a huge difference.
I ordered  lavender bath salts, because I know that the scent can be relaxing, but he also mentioned that Dead Sea Salts were great to use. I honestly believe that some of this was caused by stress, so taking an hour (or even 20 minutes) for myself helps.
I ordered mine from Puritan's Pride, because I have an ongoing relationship with them as a Champagne Living sponsor. Plus, they are less expensive than anywhere else that I've looked.
For more grandmother's solutions