Me: Hey, Look under there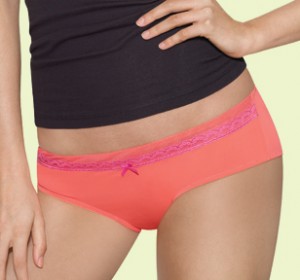 You: Under where?
Me: I just made you say underwear!
If my unmentionables aren't comfortable, you're going to hear me mentioning them. If you can see the lines, or me tugging from the back because they're creeping up I'm NOT a happy camper.  As a result, when I find a brand that fits well, covers completely, and hugs without the tugs – I'm a customer.
Barely There has the solution for any shape or undie-need. I love the invisible look of the CustomFlex Fit microfiber bikinis. No seams or tags mean a great COMFORTABLE fit, the microfiber hugs my body with it's 4-way stretch and best of all it moves WITH ME, not against me for a look that's invisible through my clothes. Since I'm a matching bra & pantie girl, and I NEED an UNDERWIRE BRA, I usually pair it with Barely There's invisible look bra. Smooth under my clingy t-shirts, this bra gives me that slight lift that I need, and again it has no tags or seams, so it's as comfortable as can be. Of course with three sets of three hooks and an adjustable shoulder, it gives me the perky look that I want (but don't have naturally).

Did you think I was going to take a picture of ME in the bra? ROFL
Of course there are times when I'm just hanging around the house, going to work out, or don't really need that extra lift that comes from wearing an underwire. Barely There says NO GUESSING GAMES allowed (just smart sizes in XS – XL) for their wire free, seamless and tag less bras that come in fun colors and feel like you're wearing….well…NOTHING (but with the support that you need). Instead of wires, they've developed shaping that they've knit INTO the bra itself (with a cute pattern that's seen by YOU, but not your admirers). I like the fact that it's not a pullover type – because frankly they're TOO MUCH WORK to put on, and if I gain or lose a few pounds it's adjustable both in the back as well as on the shoulder.
…and then there's the Shapewear that I'll never admit that I have on, because I don't have a muffin-top that needs shaping.
I love going out and spending on new clothes, I enjoy getting dressed up and going out. But, if I'm not comfortable and I don't look good UNDERNEATH it all, it's all for naught – because it really is what's under it all that makes what's on top look good.
Barely There is available at stores like Target, Macy's, Kohl's and other locations (as well as online).
I received product from Barely There and Mom Spark Media to facilitate this review. All opinions are strictly my own.