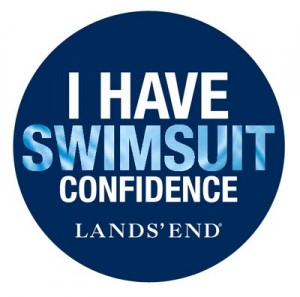 I have a serious love/hate relationship with summer. While I love the weather, the waves crashing at the beach and the smell of suntan lotion – it's the trying on of new bathing suits under florescent lights that turns my joy for the season into misery. Last year I participated in Lands End National Swimsuit Confidence week. The baring of myself in my new Lands' End suit last year led me to wanting to do it again this year. I guess there's strength in numbers and knowing that I don't stand alone.
This year 100 Lands' End bloggers join the editors of Self Magazine, writers from the Curvy Girl Guide, and a group of breast cancer survivors from Beyond the Boobie Trap in this amazing movement. I'm proud to celebrate women of all shapes and sizes while inspiring US to have fun this summer and get off the beach chair with confidence!
So, I reveal to you my Swimsuit Confidence in my 2012 Lands' End Squareneck Slender Suit Swimdress (along with Clem in his beach attire) ~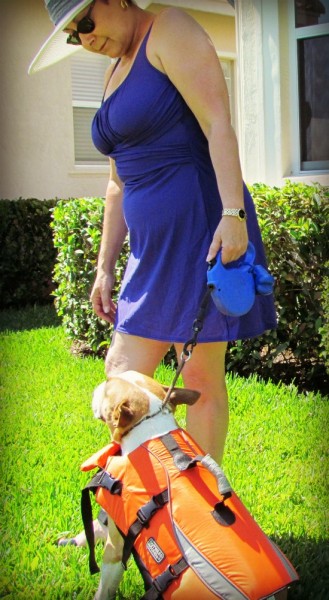 If I'm going to TRULY enjoy the beach and pool this summer, I have to get over the ugh's and get to the point where I'm comfortable in my own skin swimsuit. If I can do it here on Champagne Living – I can do it anywhere and SO CAN YOU!
I know it's not just me who feels this way about being in a swimsuit, and I'd LOVE nothing more than to see my readers participate in National Swimsuit Confidence Week as well. Beginning today you can also join Lands' End and SELF Magazine each day May 21 – 25, 2012 from 12:00 – 1:00 p.m. CDST and participate in a series of National Swimsuit Confidence Week events on Twitter.   This week long movement was created to celebrate women of all shapes and sizes as well as educate and inspire them to embrace their swimsuit beauty and have fun this summer. So, what are you waiting for?
Each day Lands' End will give away 6 – $50 Lands' End gift cards each day!
Date:                          Each Day – May 21 – 25, 2012
Time:                          12:00 p.m. – 1:00 p.m. CDST
Location:                  #confidence
Follow:                       @LandsEndPR, @SELFMagazine, @LEprMichele, @LEprMariella, @LEprMolly
I have Swimsuit Confidence! – Get the Badge – Go to http://on.fb.me/MhaQwh and display the "I have swimsuit confidence!"  Badge on your Twitter profile photo.  Send a tweet to @LandsEndPR proclaiming "I have swimsuit confidence!" #confidence for a chance to be entered to win a $500 Lands' End gift card.  Send now through May 25 – winner announced at 5:00 p.m. CDST May 25, 2012.
 Schedule: 
Date                Topic                                                                                       Participants
5/21                SwimMates                                                                           @LandsEndPR, @nycpretty
5/22               Mastectomy                                                                        @LandsEndPR, @GenaeGirard
5/23               Swimsuit Trends for Real Women                              @LandsEndPR, @CurvyGirlTweets
5/24              Sizing Up Swimwear                                                        @LandsEndPR, @AllThingsChic
5/25               Bring Your Confidence to the Beach/Sweepstakes           @LandsEndPR, @classymommy
I received product to facilitate this post. All opinions are strictly my own.