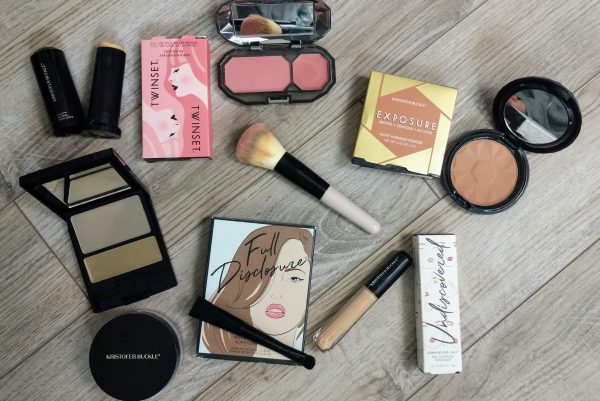 Turning 65 has been hard
While I'm thankful that I don't have the wrinkled face of a chow-chow, I am beginning to show my age. My jaw has lost elasticity, I've inherited my grandmother's bags under my eyes, and the dark circles of postmenopausal insomnia are more defined than ever. Makeup has become both my saving grace and my worst enemy. My hooded eyes hide any attempt at shadow and eyeliner looks foolish, powder gets caught in my crows feet making them ever so noticeable, and a heavy hand with foundation ages me.
So, I experiment and try new things
Age spots need covering, the circles need correcting, and I need just a hint of color so that I don't look washed out. But with skin that isn't even and living in the South Florida sun, I generally eschew foundation. It always looks heavy and fake, and once I'm outside I begin to shine and melt.
I was watching QVC last month
And it was there that I first saw Kristofer Buckle. This handsome makeup artist to the stars was making the QVC models look beautiful and hawking his own line of cosmetics. My first thought was…ugh, more of the same. These women didn't look like me, they were young and beautiful. Then something happened. He introduced his mother, an older woman with gray hair like me. Yes, she is beautiful, but as a woman of a certain age I knew from my own experience, that she would experience the same cosmetic issues that I do…crepe-like skin, crevices where makeup can sneak into, and the need to look natural (because too much makeup looks like too much makeup when you're on the flip side of 55). FINALLY…someone that I can identify with.
I was just about to order Triplicity Foundation Stick to try it
And just like that, the stars aligned. I was offered the opportunity to try and then review Kristofer Buckle's products in exchange for a post. So, here we are – I received
Triplicity Perfecting Foundation Stick
Undiscovered Full Coverage Concealer
Exposure Matte Warming Powder
Twinset Blush Duo
Translucent Loose Setting Powder
Full Disclosure Scalp Cover Duo
A Loose Powder Brush
My first attempt was a disaster
The beauty of the Triplicity Foundation is that as its name suggests, it does triple duty. The stick primes, blurs (YESSSS) and covers, all in one step. That being said, you don't need to be very heavy-handed as I quickly found out. After years on stage, I thought that I knew makeup, but with Kristofer Buckle, less is definitely more, and layering is the KEY to getting a perfect application.
Should I put the concealer under or over the foundation, and how much translucent powder do I need (again, less is definitely more)? I had so many questions, and luckily I had the time to try again.
Makeup Redux
Once the lightbulb went on and I realized that I need to start light and layer my impression changed – DRAMATICALLY. I didn't feel like I had to use it ALL to look my best and instead chose according to the day or night.
1. I fell in LOVE with the Triplicity Foundation. With aging skin, the blurring part really works and made my skin not only look even (as a foundation should), it actually took YEARS off of my face by making it look flawless instead of mottled. I swipe a little on each cheek, dab some on my forehead, nose & chin (and I do mean DAB) and add ONE stroke to my neck. I took a favorite foundation brush and blended. FLAWLESS!
2. I was (and am still) on the fence about Undiscovered Full Coverage Concealer. If I am home all day, I don't wear foundation and just use concealer, a little bronzer or blush, and mascara. With bags and inherited dark circles that I've had all of my life, I need my concealer to be extremely heavy duty. This concealer is silky smooth and goes on beautifully. Unfortunately, it didn't last the way that I needed it to. I tried setting it with powder, layering it above the foundation, etc. It works great covering the spots on my face, but under my eyes, I need something heavier.
3. I can't say enough about Exposure bronzer. I used to use bronzer in place of blush, but after going gray I stopped. I am now a bronzer convert again! A swipe across my forehead and across the nose and my face had a natural sun-kissed look. On my casual days, it has become my go-to. On days when I have to face the world, it is a great color for contouring as well.
4. I FIGURED OUT THE TWO TYPES OF BLUSH. While I prefer using only the powder blush (the color that was sent is natural and gorgeous), when I went out at night I layered the powder OVER the cream and the color lasted so much better than anything I had done before.
5. I think that the most difficult thing and the most eye-opening has been using the Translucent Loose Setting Powder in place of my spray of water to set my makeup. After 2 or 3 tries I found that after putting the powder on my brush that I needed to not only shake the excess off but also blot more off on the back of my hand before using it on my face. Once I found the correct amount to use, my makeup stayed in place all day without the shine that I usually had, and without that mask from my first attempts at using powder
6. In full disclosure, I did not use the Full Disclosure Scalp Cover Duo on my hair, only because the color was a little dark (they sent salt & pepper and my hair is silver white). I did share it with a friend who absolutely LOVED being able to correct her hairline (it is used to cover bald or thinning spots). Also, if you watched The Compass Girls Facebook Live show, Rachel talked about using eye-shadow to fill in a hairline or thinning spots, this product offers both a cream plus powder that mimics your natural hair much better. It's one of those tools that once you have it, you don't know how you ever lived without it.
7. The powder brush that they sent is so luxurious. I've got plenty of good makeup brushes for both my foundation and blush, but none as soft at this one. Why should that make a difference? The powders go on so much lighter, allowing me to get just the right amount of color or powder. This is perfect for my less is more look.
What started off difficult became easy
At my age, change can be difficult, but once I figured out how to best use the Kristofer Buckle line, it has hands down become one of my favorites. If I don't really like a product it goes into the drawer after I've reviewed it, if you open my makeup bag or check out the Triplicity, you'll see them well worn down.
Learn the tricks of the trade
Thank you, Kristofer Buckle, for making (and teaching) this senior how to look her best. If you need a little help, you can learn some of his Tricks of the Trade as well.
More Info