This post has been sponsored by California Psychics. All opinions are my own.
It's been about 10 months since Baby became a part of our family
I wanted to get a better sense of how she feels like part of our family so I booked a reading with a pet psychic from California Psychics. Check them out if you want to learn more about your pets or any relationship you have!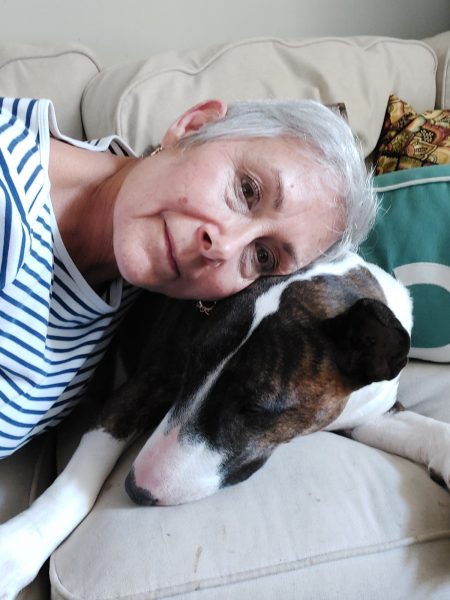 Most of you know the story. We had our miniature bull terrier, Clem, for over 16 years. His passing was hard for us as we are empty nesters and when you have no children at home any longer, the pets sort of take over that spot. We've always had dogs in our lives. From the Old English Sheepdog (Schwartz) that Mr. S bought me while we were dating through today (43 years later) we've heard the tap, tap, tap of paws running across our floor, the NOOOOO…as our furry friend jumps in our laps the moment we've decided to sip our coffee, and then holding them through their last hours before crossing the rainbow bridge. 
All of our dogs have been show dogs
Don't judge me. We love a well-bred dog that adheres to the standards, has great confirmation, and who we could show (or not if they were stubborn). After Clem crossed over, we thought that we were going to be without a dog in the house. We talked about the freedom of being able to get up and go at any time, the cutting of expenses for boarding, grooming, vet bills, etc.
Then I got a message from the Bull Terrier Rescue
I was asked if I could FOSTER a standard bull terrier. We'd fostered before (we had a revolving door of Sheepies in our home for many years), but we'd never fostered a Bully and we'd never even HAD a standard bull terrier. We thought…" this will be fun." We'll have the experience of having a dog in the house without the forever commitment.
HA HA HA HA HA
I fell in love with her immediately as she jumped into my car at the gas station where the "pick-up" took place. She laid her head on my lap as we drove the 2 hours home. Mr. S didn't warm up. She's not a show dog…her snout is too long, her black nose too small, her ribcage too wide and her tail is too crooked. Just like me, she's not perfect and I love her for that. We kept her. BUT, we also knew that there was a past to deal with and that while she could be the sweetest dog on the planet MOST of the time, she became over-protective of me, has a startle reflex that would scare the most dedicated trainer, and came with a few health problems.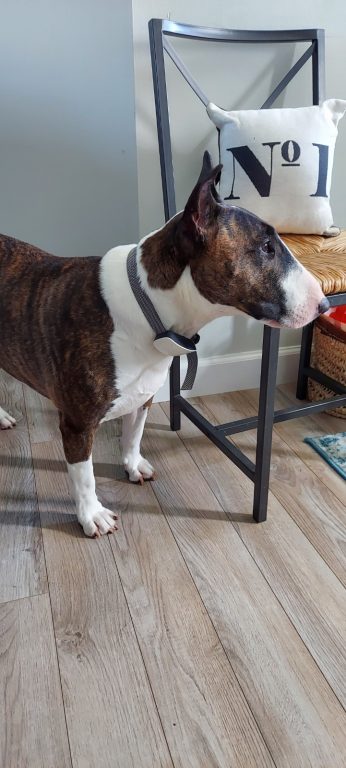 I NEEDED TO KNOW MORE
But, I couldn't get the information about her past beyond the "They didn't want to take care of her anymore" before they dropped her at the shelter. The "she's the sweetest thing" by the Egghead Express who picked her up and transported her across the state to the breed rescue. And, the "rescue dogs come with issues sometimes" that we knew from experience.
So, I did the most logical thing. I contacted a pet psychic on California Psychics for a reading
I needed to know more…not so much about her past (I could guess that), but about how she feels about being here with us. 
Is she still unsure that she's a part of the family?

Does she think we're going to get rid of her too (we were the 5

th

place she landed in her journey)

Does she know that I love her?

Has she completely settled in?
I pulled up the California Psychics site and began my search for pet psychics. I wanted someone who could just read her energy. I went through the list and noticed Psychic Saskia. There were a lot of "clues" for me that she knew animals.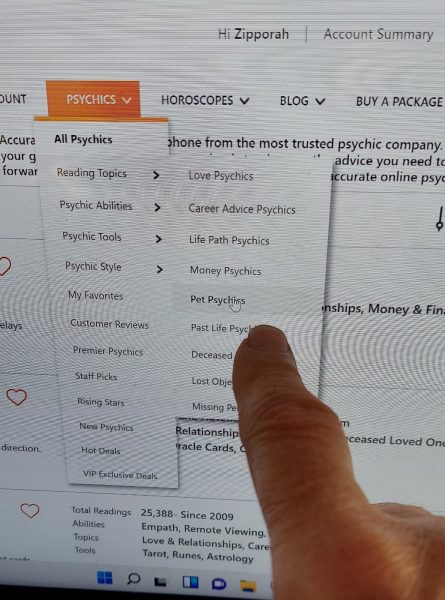 I scheduled my call online
Within a minute I was on the phone with my psychic chatting dogs. Saskia has a thick British accent with a gravelly voice of an old soul. I sat with Baby curled up next to me as I closed my eyes so that she could feel my view of Baby and began.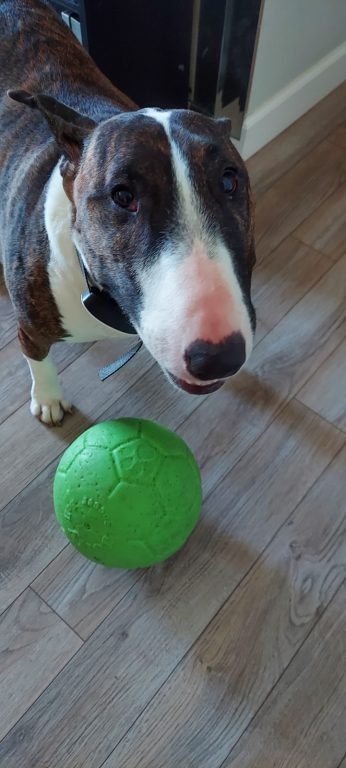 Amazingly
She knew just how long we've had her (under a year)

She knew that she had been "churned out" (given up)

She knew that she had gone from one home to another and there were a series of FEMALES who rescued her

She knew she was a female (she kept saying that Baby is "lady-like")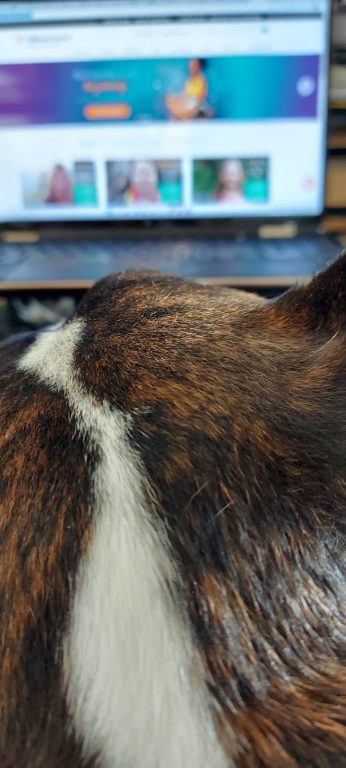 Most importantly
I got some of the answers that I was looking for. I knew that she liked living here, but I also learned that she is afraid that I'll become bored with her and abandon her. That Baby and I are best friends, but she's been tossed aside by others that she thought were her best friends. She needs constant reassurance of our love and constant reassurance that she is truly a part of our family.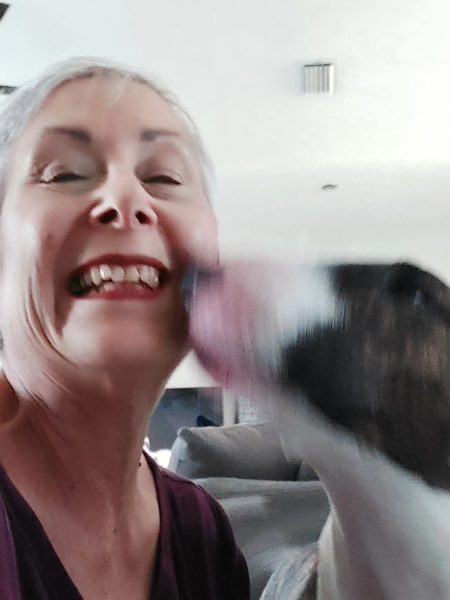 In my heart, I knew that she wasn't completely at ease here and I learned from Saskia that it will take around FOUR YEARS for her to fully feel the security of our home. 
If you've ever had a psychic reading you know
That there are always things that you come away with that you may not understand at the moment. Sometimes things don't make any sense when your psychic says them but seem to come to light later. I've had that experience many times in the past.
I have those things listed in a notebook for the future. 
Things like she needs to wear a collar (she wears a harness)
Her collar should have crystals – I know that crystals can have certain powers but, I'm not really sure which ones. I will look into that.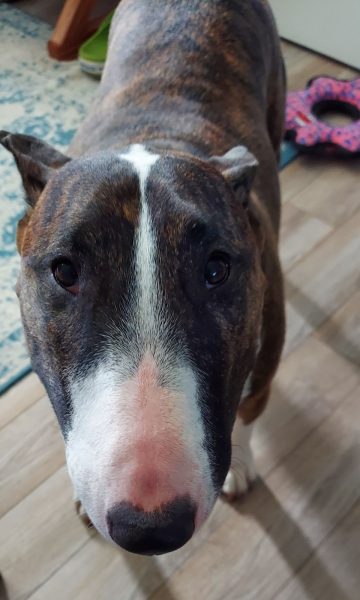 We also talked about her dogs
She is going through a dog who is transitioning. I've been there so many times that I was able to let HER know that her dog will tell her when the time is right. She said that I was an empath, which I already knew (I know when people are going to pass ahead of time, I can read cards, etc.). I just stay away from those "feelings" when it comes to my own family. That is one of the reasons that I turn to psychics to help me gain a little clarity.
It's the month of LOVE
If you'd like to gain insight into a relationship – whether you're looking for love, want some insight into your relationship with your significant other, family, or even the pet that you love dearly. You can count on California Psychics to have the RIGHT person to help you see a little more clearly.
I've got a SPECIAL $10 code
Schedule your psychic reading on the California Psychics website or download the app.
Get an extra $10 added to your account with the purchase of your first reading with code: zipporah10
Let me know how your reading goes. I'd love to hear YOUR story.
This is a sponsored post written by me on behalf of California Psychics.