Yes, for Valentine's Day, we're going THERE today. What better day of the year to talk about sex toys, pleasure, etc? From the love of one or multiple partners, your favorite sex toys, to your own delicate touch, one of the best things about being a woman is that you can experience pleasure in many different ways. It might be a bit challenging, but the effort pays off, especially if you learn how to achieve a blended orgasm.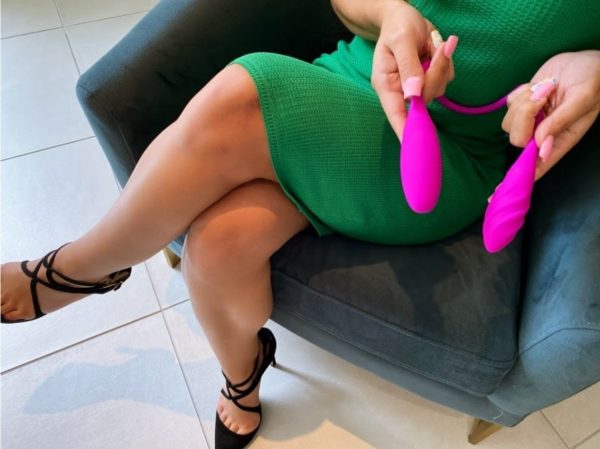 In this article, you'll find out what a blended orgasm is and how to better your sex life with this unique form of intense, euphoric climax. 
What is a Blended Orgasm, and What Types of Blended Orgasms Are There?
A blended orgasm refers to an orgasm that comes from stimulating two different sources. Here are the examples:
Clitoral/Vaginal – This is the most popular combination. While both these orgasms can feel a bit unsatisfying on their own, together, they provide the most intense sensation. Plus, many women's anatomy prevents them from achieving a vaginal-only orgasm, so clitoral/vaginal orgasm might be their only option.
Clitoral/Nipples – As tricky as it is, it's doable. But you have to learn how to achieve a nipple orgasm first, which takes patience. The key to doing that is forgetting the end goal and focusing on the experience itself, then experimenting with different types of stimulation; fingers, vibrators, clamps, lube, etc.
Anal/Vaginal – For those women who are especially orgasmic, the anal/vaginal combination is possible and feels amazing. It takes practice, but it's not as hard as it sounds, especially since vibrating anal toys are here to help. 
Triple – Finally, the holy grail of orgasms – the triple orgasm. It sounds too good to be true, but it's quite easy to achieve, especially with triple stimulation sex toys. Of course, I'm talking about the combination of vaginal, anal, and clitoral orgasms leading to one big wave of intense sensations. If you've mastered vaginal/clitoral orgasm, you simply add anal stimulation to the equation, and voila. Grab the towel because you're sure to have a bit of a mess to clean. 
Head to the next section to find out how to achieve a blended orgasm and make your experience as satisfying as possible.
How To Achieve Blended Orgasm:
Alone
Working out how to achieve a blended orgasm on your own is a good idea, even if you're in a relationship.
Experiment with stimulation
Before you consider having a blended orgasm, ask yourself, how well do you know your body? Of course, nothing stops you from enjoying two different types of orgasms simultaneously, even if you've only ever masturbated in the same way. Still, it also means you miss out on making those orgasms more fulfilling. Firstly, evaluate your masturbation style. Most women tend to masturbate in the same exact way each time. It's good to have a proven method to come, but you're signaling your body that this one type of stimulation is the only right type, and you might struggle to orgasm with a partner or if you want to mix things up. The good news is, you can always change your bad habits. Go back to the basics and masturbate while relying just on your fingers. Next, you should experiment with different ways of stimulating your clitoris. For example, you could try tapping motion and then move your finger in circles. You can intensify an unfamiliar sensation with a lube or temperature play. This works great if you're used to using a vibrator and struggle to come with just your fingers. You can also watch porn at the same time to keep yourself maximally aroused.
Try edging
Edging is a great way to help your body get used to different sensations and increase the intensity of your orgasms. To begin with, you can try stimulating your clitoris with your fingers until you're close to coming and then take a break. Repeat this a few times – once you've let yourself achieve climax, you'll realize it's probably much stronger than usual. You can also explore edging with dual stimulation. As you're close to clitoral orgasm, begin touching your G-spot and switch between the two. You'll likely come while stimulating one or the other, but with time, you can learn how to withhold it successfully and finish it off with a blended orgasm. 
Try a blended orgasm sex toy, aka a dual stimulation sex toy
Dual stimulation sex toys are the key to achieving a blended orgasm simply because they ensure both your sensitive areas receive the same level of stimulation. While using a dildo and your fingers might still make you orgasm, it probably won't be as intense as it could be. The best blended orgasm sex toy is a dildo and a vibrator in one. As you slide the dildo inside, don't go all the way just yet and take things slow. For example, you could squeeze and release your kegel muscles and focus on clitoral stimulation. When you feel like your arousal has significantly increased, you can start moving your hips up and down. 
With a partner
One of the best parts of having sex is the satisfaction you receive from giving pleasure to another person. If you and your partner master blended orgasms, both your sexual satisfaction and emotional bond would increase.
Teach your partner about your body
While achieving a blended orgasm on your own can be a piece of cake, it might not be the case with a partner. A lot of partners struggle to make a woman come, which is partly because neither partner really takes time to get to know each other's bodies. You can easily fix that by including mutual masturbation into your foreplay. Take time to watch how your bodies react to the touch and what kind of technique the other person is using. 
When you've experimented with different techniques, you can give blended orgasm a try by involving a sex toy in the play. For a clitoral, vaginal orgasm, stimulate your clitoris and direct your partner's movement of penetration. If you want to combine clitoral and nipple orgasm, have your partner stimulate your clitoris with a vibrator since it's easier, and then focus on your nipples. If you want to combine anal orgasm with vaginal orgasm, have your partner finger your anus and focus on hitting the right G-spot with a dildo. 
Experiment with different positions
There isn't one size fits all, and orgasms are far from being straightforward. You might quickly climax in one position while others might make it seem impossible. The first step is to get yourself in the right mood. You don't have to set a romantic atmosphere, but it's important to feel as relaxed as possible. Then you can set an intention to try specific positions but don't pressure yourself as it's counterproductive and might prevent you from climaxing. When you're in the position, start slow and communicate with your partner; a small adjustment can make a huge difference. For example, suppose you're using a vibrator to stimulate your clitoris. In that case, you might need your partner to move his hips faster so that your vagina is stimulated with the same intensity. 
Use your kink
If there's something specific that turns you on more than anything, take advantage of it. You can turn foreplay into a roleplay to spice things up. Getting into a different character might also help you relax and worry about achieving a blended orgasm less. You can buy an outfit that fits your chosen scenario and prepare a script you and your partner can follow.