The reviewer has been compensated in the form of a Best Buy Gift Card and/or received the product/service at a reduced price or for free.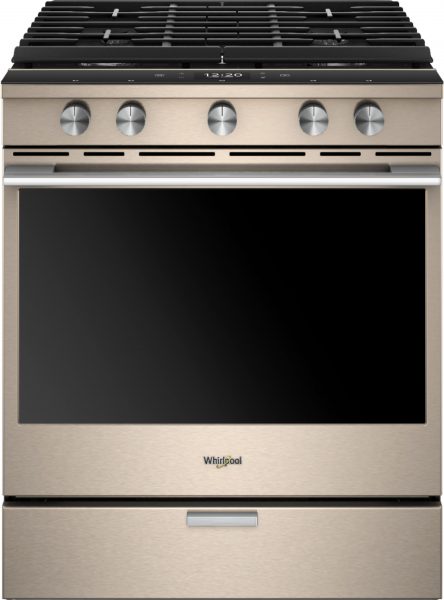 I may not be a genius
But, I know how to surround myself with people and things that are smart…so, of course I have a smart home. From the thermostat on my wall to my washer and dryer my WiFi and phone have made running my household so much easier. I love that I can get rid of those wrinkles with a push on my smartphone and come home to wrinkle free clothes even though they'd been sitting in the dryer for eight hours, or turn down the air conditioner when no one is home to feel it.
The ONE appliance that I need to be SMART 
I need a smart stove. A smart ELEGENT stove that looks as good as it performs. That's why when I saw the gorgeous new Sunset Bronze Gas Convection Range by Whirlpool I had major appliance envy. Let's talk FIRST about that color. OMG, it's like a beautiful piece of jewelry adorning the kitchen. If this is the wave of kitchen appliances, then it's time for me to upgrade.
I can be watching 90 Day Fiance and pre-heating the oven without getting up from the couch
OK, you caught me…I watch 90 Day Fiance. But imagine being able to pre-heat without missing a beat, right from your smartphone or tablet? I can easily put in that meatloaf during a commercial and get back to watching.  One glance down at my phone and I can check the timer too! No more burned food because I "forgot" to check the oven timer (you have NO IDEA how much I need this feature).
On nights that Mr. S comes home late from the golf course I can even keep his dinner warm by reducing the temperature in the oven right from my phone.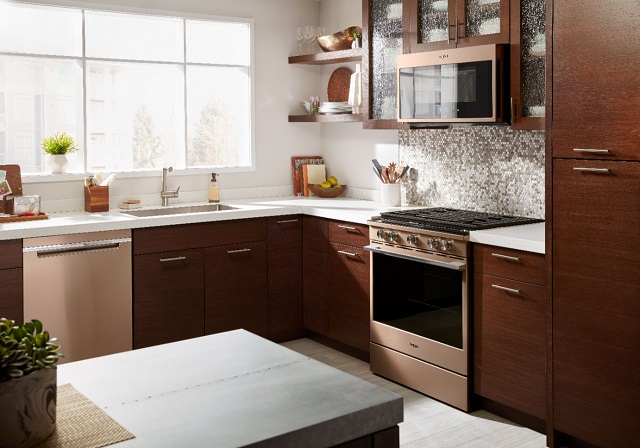 OK, so I may be a little lazy
Or…I may be a lot SMART, because the instant access to the settings I'd use most with a touchscreen that learns, adapts and suggests customized presets based on your family's routines can actually make them think I'm a better cook. Just make sure that the range is set to "remote enable" and download the app and connect via WiFi and you could be relaxing multi-tasking, just like I'm going to.
Whirlpool® smart home appliances
I love that Whirlpool thinks about what I NEED and designs their apppliances for the way I life. Features like Control from anywhere connect you when you need it, wherever you are. Their appliances keep up with you, so you can keep up with the ones you love.   Enjoy mealtime flexibility and control your appliances from any room in your home, managing mealtime with the click of a button to make holiday cooking and entertaining smarter, and easier. Whether using the touchscreen or controlling your range or microwave from your phone, Whirlpool's connected appliances help keep mealtime hassle-free on your busiest days.