Why not take that FABULOUS that is you to the next level?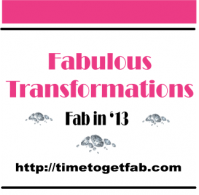 It's the dawn of a new year, and we've made our resolutions, goals, and plans, and THIS TIME WE'RE STICKING WITH THEM! My friend Lisa and I decided that we needed a little help and support, so we've started a little group that we call FAB TRANSFORMATIONS where we'll spend 2013 transforming our lives. January has started off with a BANG as we're tackling the whole weight loss, fitness, diet, healthy you issue and we're kicking it off with a PARTY.
Don't worry, you won't gain an OUNCE during this party because it's on TWITTER. 
I'd be honored if you'd join us, along with some of our friends. Gifts are not required, although we'd like to give a couple of gifts away to YOU our party goers.
Here are our #Fabin13 details!
Who: Host:@zipporahs
Sponsors: @PeteCohen_, @TraceyMallett, @PopChipsFL, @littlebrown, @ObstaclesXRT, @saladatea @ShareRedRoseTea
Community Panelists: @lisasamples, @rachelferrucci, @beingalison
What:  Twitter Party!
When:  January 8th between 9 – 10pm ET
Why:    Come share your journey with us as we transform ourselves in 2013, awesome prizes, support and more!
Where: On Twitter or using the Tweetgrid: http://bit.ly/fabGRID
Prizes:
(1) 6 month supply of POP CHIPS & a signed copy of Jillian Michaels new book
(3) 3-month Access to the Weightloss Guru Program with @PeteCohen
(4) Sets of Sexy in 6 Workout DVDs and Book by @TraceyMallett
(5) Obstacles XRT fitness apps for iPhone
(3) Spontaneous Happiness books by Dr. Andrew Weil
And MORE!
So set your alarm for 9pm tonight because we've got some BIG surprises coming for you!