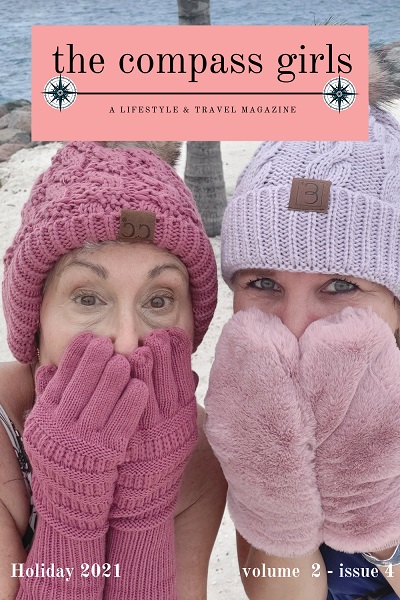 I am excited to showcase the newest edition of our magazine for the Holidays. From gift-giving to entertaining, and of course some FABULOUS cocktail recipes, we've got it for you. Best of all, we are offering you tips to start your 2022 in STYLE, how to set those goals, and make 2022 so much better than this past year.
I wanted to take a minute to thank our team at The Compass Girls, who help behind the scenes on our web show each week. They don't get the recognition that they deserve and I think it's time.
Thank you to Elise Palmer who handles all of our giveaway fulfillment. If you've won a prize on the show, you've gotten an email from her. She works tirelessly to make sure that all of the information gets from the winner to the brand.
Thank you to Denise Seegobin, who has worn many hats behind the scenes, from helping us rank our videos to pitching the brands that you see on the show.
Thank you to the newest member of our team Michelle Carter who is a member of our sales team. We know you'll love seeing the brands that she'll be procuring for our 2022 shows.
A GIANT SIZED thank you to our producer Rich who you hear in the background on each show. He attempts to keep us on track, on time, and on target for the hour+ that we are on the air each week as well as remind us that we need to pick winners, we have to get XXX done, etc. That's what producers do. They hold the show together to make us look like we know what we're doing.
Thank you to the brands and their PR representatives who work their hardest to make sure that we have the best of the best to show you each week.
Thank you to the Louise to my Thelma, the Lucy to my Ethel, and the Laverne to my Shirley. It wouldn't, couldn't, shouldn't EVER be The Compass Girls without you Rachel.
BUT MOST OF ALL – thank you to you…our audience, who take the hour (or two when we can't stop chatting) to stop what you're doing and spend your Wednesday evenings with us. YOU are our TRUE NORTH…you are our COMPASS GIRLS.
Happy Holidays and…
CHEERS TO 2022
We hope you enjoy this issue of The Compass Girls Magazine.