Post sponsored by: Sahalie.com and Jambu Shoes. All opinions & stylings are that of Champagne Living.
Sometimes you feel like a nut, sometimes you don't – Mounds & Almond Joy
When I choose my wardrobe (especially when it comes to travel) I want versatility.

TRAVEL
For trips under 5 days, I travel with a carry-on. ONE carry-on and ONE computer bag/backpack. Not only am I packing my clothes, but all of my toiletries, shoes, and pocketbook goes in as well…so, I am very careful about what gets rolled and tucked into that small bag.
DRESSY, CASUAL, FUN, FUNKY
The goal is to be able to pack pieces that fit into all of the category above. This means that I have to start with that versatile piece (or pieces) and just add the accessories that change the look from casual from dressy.
BEGIN WITH A BASE
I prefer dresses because they can easily go from day to night by changing the accessories. I can dress them up with heels and some high end jewelry, be casual with just a dress and some flats or have fun and make a classic stretch lace dress from Sahalie my own by adding a bit of a surprise to it.
WHY THIS DRESS?
I went for a combination of ultimate comfort paired with a style that can go from shopping to evening with the Sahalie Stretch Floral Lace Dress. The dress has enough elasticity in the bodice to fit comfortably without gapping, and allows for a flattering look (yes, even for someone like me who's about 35 lbs. overweight).
WHAT MAKES A LACE DRESS FUN?
My first thought was that I needed a pair of high-top sneakers. I love the dicotomy of pairing feminine and dressy with a more masculine casual look. For example…there's NOTHING like a tuxedo jacket and pegged pants paired with classic heels. When I find something even MORE different, like adding the pseudo-hightop look of the Jambu Naomi shoes with lace, my heart starts racing. Adding a simple cardigan, like the Betta Bella Coola Cardigan, infuses a little more fun (and reminds me of a way we dressed in the mid-60's). Because I wanted the focus to really be a pairing of funky and feminine, the earrings needed to be kept petite and the Little Flower Earrings were a balance as the flowers are feminine yet the silver casual.
I have a special surprise for any of my readers who are shopping this week. When you visit sahalie.com now through April 4, 2017 you can get a special 30% off Champagne Living discount. Simply input promocode: LIFESREADYZ at checkout.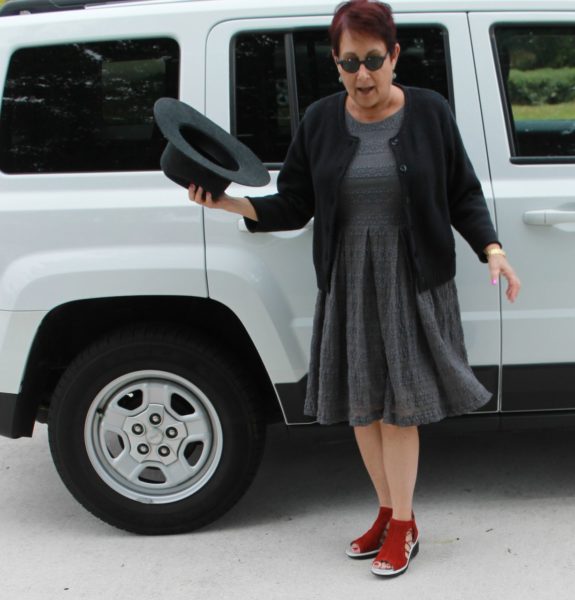 HOW DO YOU FUSE FUN INTO YOUR FASHION?