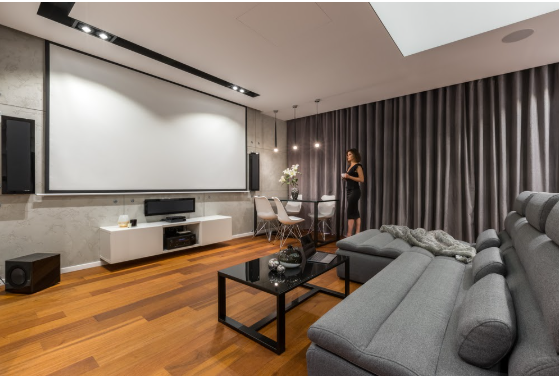 Part of putting together your family home is making sure you have spaces for entertaining. For some families, that may mean making some green spaces for hosting tea, or a lovely patio set-up for outdoor shindigs. Or it may even mean putting together your very own home theatre. Turning your living room into a picture-perfect home theatre may seem like a monolithic feat, but rest assured there is a tried and tested step-by-step process that'll help you get the job done. Interested? Read on!
Step 1 – Prep your space
Your living room will need to have the potential to transform into a home theatre with minimal labor. This means that you'll need to set the space up so that you have total control over both your lighting and sound. For the best light control, you'll need some blackout curtains. To ensure both light and sound control, opt for some thicker or layered blackout curtains, like those found at Quickfit Blinds & Curtains. And when it comes to colour, be sure to go with fabric that complements the 'movie cinema' vibe you're looking to create.
Once you've got your curtains in place, look into setting up some smart lighting and speakers, so that you can be creative with your theatre space depending on what film you're looking to screen. The ability to create colour schemes through smart lighting can help add an extra dimension to the films you view, essentially making your home theatre experience infinitely more immersive. For instance, cool blues and greens can serve as a great backdrop for 'Finding Nemo' or nature documentaries, and some deep reds may add some extra thrill to horror flicks!
Step 2 – Organise your hardware
It's commonly said that of the five main things guests notice about your home, the worst of them all would have to be clutter. Sadly, clutter is just an unavoidable part of life, and you'll find that this rings especially true during the set-up of your home theatre. With the great assortment of technological goods that'll be incorporated into this space, you'll rapidly find yourself drowning in a sea of cables and wiring. Even in this age of wireless tech, necessary evils like AC adaptors and video and audio cables can be tricky to keep organized. Cable hiding is in itself a twenty-first-century art form that you'll need to master in order to keep your space looking fresh and inviting.
During this process of making your cables disappear, you should also pay attention to the placement of all these technological goods, to make sure that they're exactly where they'll perform best. Consider mounting your TV to ensure that every cinemagoer gets the perfect view. And be sure to keep standing speakers out of the way of foot traffic, but not so far away that their sound falls on deaf ears. You'll find that it'll take a bit of trial and error before your space feels just right, and that's all part of this process.
Step 3 – Curate your atmosphere
Now that the main elements of your home theatre have been set up, it's time to focus on the specifics. What kind of theatre space are you looking to curate? Do you want a 'Hollywood-style' red carpet experience? Or are you a bigger fan of comfort and cosiness, and want to encourage your guests to wrap themselves up in blankets during the viewing? When decorating your home or living space, it's good to work within a fixed theme to ensure cohesion. Finetune your theatre space by adding chosen accents that are in line with your theme, like hanging framed classic movie posters on your walls for a Hollywood feel. It also pays to think outside the box here, and incorporate some fun accents like a popcorn making station or a makeshift 'box office', and other little touches that could be utilized by your guests to complement their viewing experience.
Last but not least, be sure to invite some close friends and family over once you've completed these steps, and put your new home theatre to the test! It will most likely be the first of many home movie nights to come!