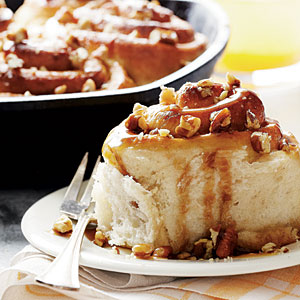 The dieting season is upon us, but we still seem to crave something hearty and sweet. Southern Living's Food Director Shannon Satterwhite has shared her FAVORITE lightened up recipe from the January 2013 issue of Southern Living Magazine. You'll never know the difference!
Maple Pecan Sticky Buns
Yield: Makes 16 rolls
Total time: 1 Hour, 30 Minutes
Ingredients

Sticky Bun Syrup (see below)

1 (16-oz.) package hot roll mix

3 tablespoons butter, melted
1/2 cup firmly packed dark brown sugar
1 teaspoon ground cinnamon
Maple Glaze (see below)
1/2 cup chopped toasted pecans
Preparation
1. Lightly grease 2 (8-inch) round or square cake pans or skillets. Spoon Sticky Bun Syrup into pans.
2. Prepare hot roll dough as directed on back of package; let dough stand 5 minutes.
3. Roll dough into an 18- x 10-inch rectangle. Spread with melted butter. Stir together brown sugar and cinnamon; sprinkle over butter.
4. Roll dough up tightly, starting at 1 long end; cut into 16 slices using a serrated knife. Place 1 slice in center of each prepared pan. Place 7 slices around center roll in each pan.
5. Cover pans loosely with plastic wrap; let rise in a warm place (85°), free from drafts, 30 to 45 minutes or until doubled in bulk.
6. Preheat oven to 350°. Uncover rolls, and bake 15 to 20 minutes or until golden brown and done. Cool in pans on a wire rack 5 minutes. Prepare Maple Glaze, and brush over rolls. Top with toasted pecans.
TRY THIS TWIST! Apple-Cinnamon Sticky Rolls: Peel and chop 2 Granny Smith apples (about 3 cups chopped). Place apples in a small microwave-safe bowl, and pour 1 cup apple juice over apples. Cover tightly with heavy-duty plastic wrap; fold back a small corner to allow steam to escape. Microwave at HIGH 5 minutes or until tender. Drain and cool 15 minutes. Prepare recipe as directed, sprinkling apples over brown sugar mixture before rolling up.
Sticky Bun Syrup

Ingredients
2/3 cup powdered sugar
1/4 cup butter, melted
2 tablespoons maple syrup
1 egg white
Preparation
Whisk together powdered sugar, melted butter, maple syrup, and egg white until smooth.
Ingredients

3 tablespoons butter
1/4 cup firmly packed dark brown sugar
2 tablespoons maple syrup
Pinch of salt
3 tablespoons milk
Preparation

Melt butter in a small, heavy saucepan over medium heat.
Whisk in brown sugar, maple syrup, and a pinch of salt until blended.
Whisk in milk; bring mixture to a boil, whisking constantly.
Reduce heat to medium-low; simmer, whisking constantly, 3 to 4 minutes or until glaze is golden brown and glossy.
Use immediately.
"Maple-Pecan Sticky Buns are truly the most indulgent breakfast treats you've ever tasted. You won't believe we lightened them up!" – Shannon Satterwhite
Thank you to Southern Living – The Porch for this amazing recipe.