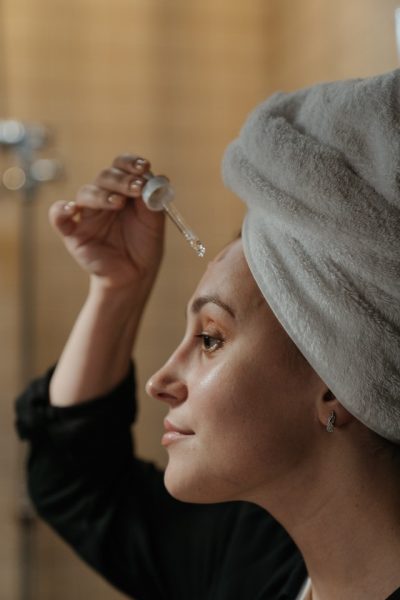 Beauty pros know that beautiful, glowing skin doesn't come from highlighter (although it can help). Rather than put a ton of makeup on your skin and fake that dewy look, you can get a permanent fresh look with radiant, healthy, and clear skin with a few good products, some patience, and good skin care practice.
A Microcurrent Treatment
If your skin looks a bit dull, try using a microcurrent device. One of the most popular of these devices is the ZIIP device. This device brings electric currents into the skin and leaves your face brighter and firmer.
Use a CBD Balm
CBD helps heal skin, and it is a good antioxidant and anti-inflammatory. It works on those puffy eyes. It can treat dryness and free radical damage.  Dab a bit of CBD balm on your face before you put on your SPF, and you will begin to notice healthier-looking skin within a couple of weeks.
A Hydrating Mask
Yogurt is an anti-inflammatory with lactic acid. Mix a little yogurt and avocado and use on your dry winter skin to soften, hydrate, and bring that glow back. It can be used for any skin type, and it has lots of B vitamins and fatty acids.  You can even add a little honey for more hydration.
Add a Luminizer to Your Foundation
If your skincare isn't giving you that luminous look, fake the glow by adding a few drops of luminizer to your foundation. You can add something like Loreal Paris Lumi Glow boosting drops to your foundation.
Toner Serum
Everyone knows you need a great moisturizer, but you also need a toner before you moisturize. The new generation of toners is essential for hydrating and getting the skin ready for the moisturizer. It's like giving your skin a glass of water.
Add Vitamin C
Vitamin C helps keep your skin radiant. Use a vitamin C serum underneath a good SPF every morning. Doing this can eliminate free radical damage and lighten dark spots, and even out your skin tone.
Binge Mask
You may think that a sheet mask is only for a special occasion, but when your skin is dry or looking blah consider making it a daily routine for about a week. It can have a compound effect that smooths and hydrates to give you a cool glow for the weekend.
Laser Treatment
If you can, consider getting a yearly laser treatment for your skin. A laser can refresh and renew your skin as nothing else can. Laser costs about $300 to $1000 per session, but this type of treatment can fade spots and make skin look brighter.
Go Beyond Your Face
Radiant skin goes further than your face, so use a salt scrub on your body and then exfoliate with a Korean washcloth. This will eliminate dead skin cells and give you smoother skin.
Chill It
Remove the puffiness by using cold water or a frozen tool to remove the inflammation and increase blood flow. Run ice cubes over your face to improve circulation and remove some of the puffiness.
Layer Highlighters

Use highlighters when putting on makeup to get that gorgeous glow but pull it down from being glossy with a powder highlighter on top of a cream highlighter.
Microneedling
In-office, micro-needling can make your skin brighter. You can even combine micro-needling with a hyaluronic acid filler to give your skin a collagen stimulator and give it a more hydrated appearance. Sessions are a bit expensive and can cost about $600, but there are also at-home micro-needling products you can buy that are less expensive.
Take a Bath
Do a fancy bath soak before exfoliating. Use a beauty bath detoxifier and then shower with good exfoliant body scrubs.
Apply Foundation Carefully
For an even glow, it is essential that you apply foundation correctly. The key is to buff your makeup on and not swipe it. Lightly buff it on with a brush dipped in foundation to create a diffused bright finish. Use light short circular motions to achieve full coverage that does not look streaky.