The reviewer has been compensated in the form of a Best Buy Gift Card and/or received the product/service at a reduced price or for free.
Play That Funky Music
For both Mr. S and I music is one of the most important pieces of creating our home. I am a former dancer, so music moves me at the very core and Mr. S spends his days being inspired by the likes of The  Beatles, Toto, The Who and James Taylor (can you guess his age…LOL). Sound quality is very important to both of us.
As you know I am upgrading our living room space
I finished creating the bar this week and the rug has finally arrived. I've still got to get the wall unit/TV stand finished and put into its place and I'll be ready to add the electronics. In this renovation, aesthetics are more important than they were with the last one (it was all about function and little else). I have a TV that I purchased at Best Buy this year and will be adding a wireless audio system for an immersive experience.
Wireless audio systems are the new standard for convenience and whole-home connectivity.  But, I hate giving up quality and breaks in sound for a system that LOOKS beautiful. That's why I'm drawn to the Bowers & Wilkins Formation® Suite – the first wireless audio system that lives up to the exacting standards of Bowers & Wilkins.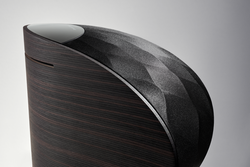 Experience legendary, room-filling audio quality
We don't just live in ONE room. The 
Wilkins Formation Wedge
allows me to play music in one or ALL of the rooms in our home with its multiroom compatible portable speaker using Bluetooth to stream my music library, radio stations and online services with a rich, powerful sound. The wedge includes a subwoofer, 2 mid-ranges, and 2 tweeters
Formation Wedge's 120-degree cabinet has been specifically designed for an immersive stereo experience while our patented Formation Wireless Technology delivers wired fidelity, wirelessly.

120-degree elliptical shape for room-filling, stereo sound.

Decoupled Double Dome Tweeter produces fully expressive soundstage.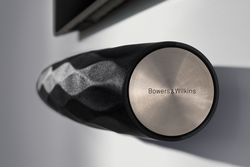 The Bowers & Wilkins Formation Bar offers legendary sound
With wireless streaming flexibility via a 240W total system power (80W x 3), the Bowers & Wilkins Formation Bar provides quality sound for your favorite movies, shows, games, and music. With three 1″ tweeters the frequency range of audio playback to ensure crisp voices and dynamic soundtracks is enhanced. Plus I can easily enjoy tracks stored on any compatible Bluetooth-enabled device (not included) all with a sleek, modern aesthetic. It's not JUST for your music, the Dolby Digital decoder also reproduces multichannel audio to deliver a cinematic audio experience.
A powerful, multiroom soundbar that delivers legendary audio quality with wireless music streaming flexibility due to 9 optimized drive units and a dedicated center channel for a truly immersive audio experience.
9 optimized drive units positioned to create a wide and inclusive soundstage for music and movies.
Double Dome Tweeter ensures the highest quality high end from a fully expressive soundstage.
Dedicated center channel so you'll hear the crisp and clear dialogue in your favorite movies and TV shows.
It's all about that bass, 'bout that bass
As a former dancer, I can tell you that you may LISTEN to music but you should FEEL the bass. The
Bowers & Wilkins Formation Bass
offers the expressive sound you can hear and feel.
Opposed Dual Driver Technology provides less distortion
Class D Amplifier delivers exacting and efficient bass performance
Dynamic EQ optimizes the performance of the system in real-time, so the subwoofer performs at a higher level, delivering significantly more bass without distortion
All together now….all together now
The Bowers and
Wilkins Formation Bar
, Bass &
Wedge
with their exclusive Formation® Wireless Technology means having flawless sound in every room of your home. You live with sound every day, so it's important (at least for me) to assure that I have a sound system that works with my life both beautifully and harmoniously.
Bowers & Wilkins performance sound.
Perfected Speaker Synchronization – in-room 1-microsecond sync between speakers.
Patented Robust Mesh Network – runs independently from your home Wi-Fi network for seamless sound.
96kHz/24-bit Audio Resolution – High resolution streaming with twice the fidelity than the leading wireless speaker brand for pure and clear audio experience.
Right now you can SAVE $200 when you buy Formation Bar & Formation Bass *in-store only and limited time offer valid until September 7, 2019
For more information visit your local Best Buy store or…