The Outer Banks has so much to offer beyond the beach: you could eat your way around too! Just because it's North Carolina doesn't mean there's only seafood to offer, although admittedly there are plenty of delicious seafood options in the area. Here are some of my restaurant suggestions if you want to explore the culinary side of the Outer Banks:
Duck Donuts
This shop, as you probably suspected, offers a wide range of doughnuts all made to order. You'll start with your donut choice, add an icing, then add a topping or two or three, and maybe even a drizzle to top the whole thing off. They offer a DUCKZILLION flavor combinations, so if you're like me, you could go back day after day…all season long and never repeat your donut creation. While Duck Donuts is located in several places, my favorite is right in the town of Duck at Osprey Landing where you order on one side and walk across the walkway to pick your donut up on the other. The only downside is having to make a choice.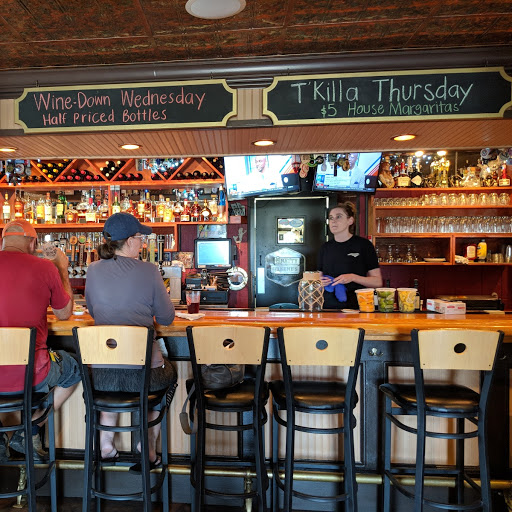 Pangea Tavern
It's not often that you find a restaurant with a conscience AND a heart, and Pangea Tavern will make you feel good about your choices AND about dining there. Located at one of my favorite spots in Avon, NC at Koru Village by the Avon pier.  Highlights include the locally harvested shrimp and the steamed snow crab, and I had an incredible Tavern Tacos (if you're gluten free – no worries, as the tacos are corn).  There's even a dessert selection that includes key lime pie and creme brulee. If it's busy, you can enjoy a brew in the beer garden (pets are allowed in this outdoor area, so feel free to dine with fide). You can view the menu on their website, but specials are seasonal and change daily.
Tortugas Lie
It was late, most restaurants were closed and we saw it. The lights were on at Tortugas Lie…AND there were a lot of cars in the parking lot (always a good first sign for a restaurant). It seems we were about to stumble into a gem without knowing about it. If you are looking for some Caribbean food in a cute, beachy setting? Tortuguas Lie, which was featured on Diners Drive-Ins & Dives with Guy Fieri, is nestled in Nags Head and features a great variety of sandwiches, interesting Caribbean fare, and even sushi. From steaks and burgers, to pasta and local seafood you'll leave feeling satisfied and thinking about your next visit. Oh, and the staff is so NICE. I felt like our server had been an old friend by the time we left. For anything from light to full dinners or a night out at a bustling bar, Tortugas Lie is your spot.  If you're feeling energetic, you can also play a competitive game of beach doubles volleyball on their professional courts.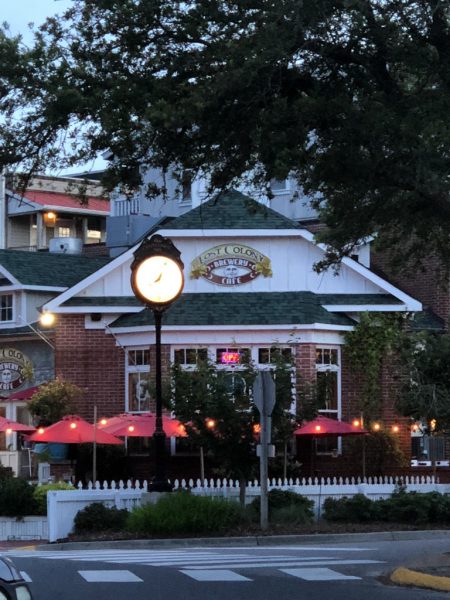 Lost Colony Brewery & Cafe
The only issue that I have with Lost Colony Brewery & Cafe is that you may REALLY get lost for the afternoon….enjoying yourself. With the expression "Great brew, great chew", this corner spot is open seven days a week in the beautiful village of Manteo. If you love craft beer, you'll want to try all of the seasonal micro-brews that they brew on site – from blondes to stouts. I enjoyed a pint of their Kitty Hawk Blonde and it was DELISH! Can't decide which you want? Try them all with a flight and don't forget to check out the food that includes a wide range of dishes, including BBQ pulled pork, crab cakes, and chicken and waffles. Just remember there are OTHER things you were planning to do in Manteo (like great shopping and sailing)…or, you can just wait until tomorrow and enjoy another beer.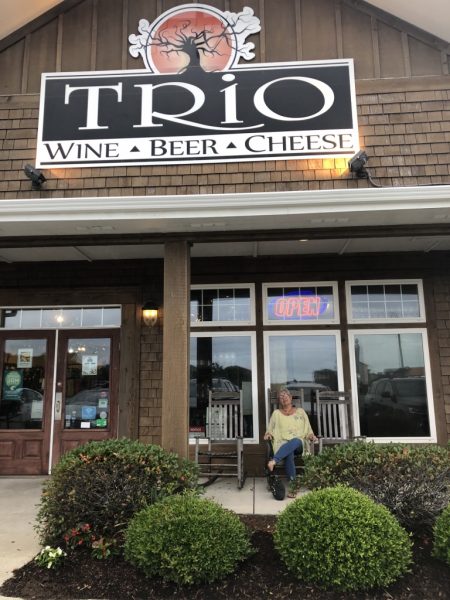 Trio
One of the highlights of my trip to The Outer Banks is Trio. I've been a couple of times and my heart flutters when I pass it on the road. Why? Because in Kitty Hawk Trio offers the perfect trio: wine, beer, and cheese. This place offers all three products in its retail section but also as part of its bistro and taproom. Come in for a European-inspired brunch or stick around to enjoy one of the 24 taps of beer or wine, some antipasta, and maybe a panini. But what gets ME going is the serve yourself wine decanter machines. I just charge up my wine card & sample away.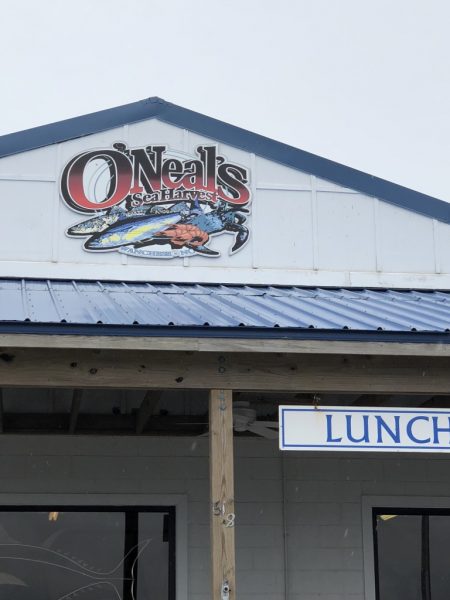 O'Neals Sea Harvest
Located in Wanchese, O'Neals Sea Harvest sits right on the docks by the fishing boats. It offers a fresh seafood market as well as restaurant fare, and you can't get any fresher than straight off the boat. So, keep it casual and order yourself some fried fish or shrimp. The menu is written by hand over the cash register, because it's based on the catch that has just come in.  O'Neal's is open Monday through Saturday from 10 to 4. There are also a wide variety of salads, sandwiches, burgers, and sides including some tasty okra.
Waveriders Deli
Another, I'm hungry what's open find in Nags Head for me. I was on my way to go hang gliding at nearby Jockey's Ridge and needed to eat. What I wasn't expecting was a breakfast and lunch menu that would have me going eeney, meeney, miney, moe as I tried to decide what to have. I opted for the Waverider sandwich, but oh, those breakfast sandwiches had me drooling. Open seven days per week, Waveriders Deli is a great place to grab food to-go, plus you can order online if you're in a real rush. BTW, the menu is updated monthly and features such fare as beer and wine, smoothies, coffee drinks, meatless options, bagels, bread, breakfast sandwiches, and other deli sandwiches. Don't forget about the mimosa flights if you're staying and eating there!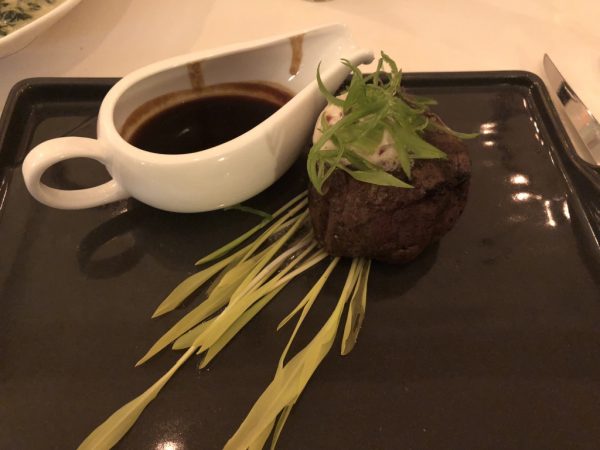 Kimball's Kitchen
Along with Trio, my other favorite restaurant is Kimball's Kitchen. I'm hooked on their menu and the beautiful view from the dining room. If you're loooking for something a little more upscale? Kimball's Kitchen offers dinner Tuesday through Sunday, and is located within the Sanderling Resort in Duck. The menu features bisque, scallops, gnocci, and a variety of sustainable seafoods as well as non-seafood dishes. If I could, I'd order one of everything, but I can't so instead I go back again and again (and again). You can't go wrong no matter WHAT you order, and you'll fall in love with this beautiful restauant. Make sure you go at sunset so you'll have the best show on all of The Outer Banks as you enjoy dinner and a great wine. I suggest that you make reservations, especially at the height of the season.
Red Sky Cafe
Also located in Duck is the Red Sky Cafe (it's across from Duck Donuts so save room and get a donut for dessert). This restaurant has several awards and certifications, putting emphasis on locally harvested seafood and its "tastefully fit" lifestyle menu created by Chef Wes Stepp – owner and head chef of Red Sky Cafe. You'll find great seafood, tacos, and kid's chicken fingers, but there's nothing quite like the create your own burgers and bowls that they offer.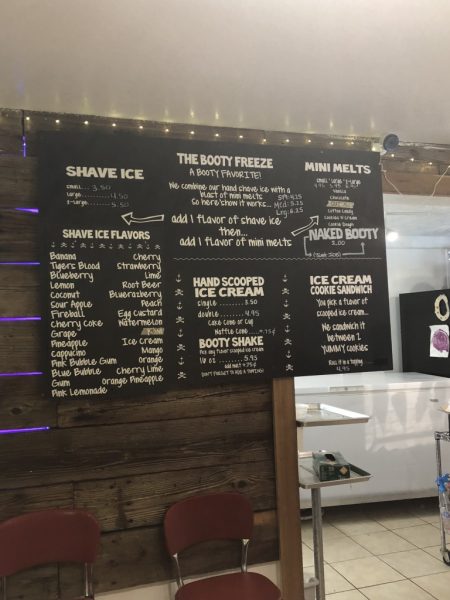 Booty Treats
Another Nags Head location, this little shop packs a big selection. I scream, you scream, we all scream for Booty Treats ice cream! The shop offers floats, strawberry shortcake, sundaes, banana splits, cookie sandwiches, malts, and milkshakes, too. I tasted my way through so many flavors of ice cream before deciding on a 3-scooper. Ahem…yes, I went back the next night for 3 more.
While this is just a "taste" of OBX, there are so many restaurants that you'll what to try.
Visit: OuterBanks.org/restaurants for more delicious choices – and please let me know where YOU love to go in OBX to eat. I'll put it on my "must eat at" list for the next time I'm there.

Duck Donuts – various locations – check their website for the one closest to you!
Pangea Tavern – 41001 NC-12, Avon, NC
Tortugas Lie – 3014 S Virginia Dare Trail, Nags Head, NC
Lost Colony Brewery & Cafe

– 208 Queen Elizabeth St. | Manteo, NC

Trio – 3708 N. Croatan Hwy., Kitty Hawk, NC

O'Neals Sea Harvest

– 622 Harbor Rd., Wanchese, NC
Waveriders Deli – 3022 S Croatan Hwy, Nags Head, NC
Kimball's Kitchen – Sanderling Resort – 1461 Duck Road, Duck, NC

Red Sky Cafe

– 1197 Duck Road, Duck, NC
Booty Treats – 2600 S. Virginia Dare Trail, Nags Head, NC and 1209 S. Croatan Hwy, Kill Devil Hills, NC