A big thank you to our West Coast travel writer Kathy Chin Leong for putting in the hard work of visiting Monterey and Carmel-by-the-Sea.
"Ho, ho, sik!"  Translated from Cantonese, this means "really, really good!"  That's what my Chinese mom says at the Hog's Breath Inn as we dine outdoors on fried calamari and a basket of fish and chips.  Here in downtown Carmel-by-the-Sea, this restaurant, formerly owned by actor Clint Eastwood, is now a favorite of my 82-year-old mother who is a calamari devotee.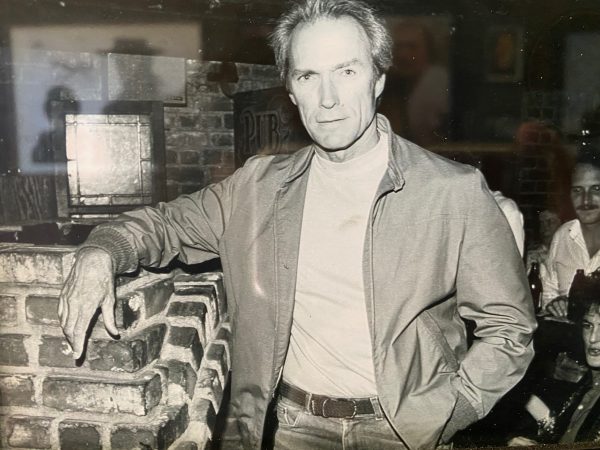 The Monterey region is ideal for multi-generational travel, it has something for every age group.  For tykes through teenagers, Pacific beaches sprinkle the coast, and they can build sandcastles or surf to their hearts' content. For parents, a bounty of lodging of all price points awaits.  For anyone who is a foodie, the area offers a spate of top-notch global cuisine. And for the elders among us, let's say 80 and above, the Monterey and Carmel-by-the-Sea communities offer luxuries in abundance as well as hotels and motels with ADA-compliant rooms that are extremely comfortable.
Here's where to go and stay for that ideal Mom-cation:
LODGING:  The Carmel Mission Inn has been newly renovated and features a modern contemporary look with lush plantings throughout.  The new Shearwater Tavern restaurant features California casual cuisine and is open for breakfast, happy hour, and dinner. Mom will love the gorgeous pool area in the back and the front patio festooned with intimate couch groupings and fireplaces throughout. And if she is in need of a handicap-accessible room, it has several that have top-of-the-line amenities. The inn's ADA-compliant guestroom has all the support needed for someone who cannot climb stairs or needs lower-height shower controls and closet rails.
DINING:  Consider Carmel-by-the-Sea's super fresh and trendy Stationaery restaurant, always packed at breakfast, found in a bloom-filled alleyway.
At lunch, you can feast at nearby Toro Sushi, a new enterprise that rivals the quality of sushi in Japan.  Meanwhile, Monterey showcases two new dining haunts you can visit for dinner: Casual Cella, housed in a historic adobe, which serves up New American cuisine with artistic flair; and fine dining Coastal Kitchen, located inside the Monterey Plaza Hotel, which offers water views and a multi-course tasting menu with optional wine pairings.
A stationery store at The Crossroads shopping center.
An interior design boutique at The Crossroads Carmel shopping center
SHOPPING: Take Mom to the Barnyard for art galleries, a handful of shoe stores, and women's boutiques. Next door is The Crosswalk Carmel for giftware and home goods. Mom will enjoy trodding all three levels of Carmel Plaza, another lovely flower-box shopping village.  And more retail therapy and eating is found in the European-styled downtown Carmel-by-the-Sea for a host of alleyway galleries, women's wear, and interior design shops, all within blocks of the famous Carmel white sand beach.   In Monterey, Cannery Row is a historic cannery district now turned shopping enclave with plenty of souvenir trinkets and tourist t-shirts and jackets.
SNACKING: If she has a penchant for donuts, be sure to hit up Dutch Door Donuts in Carmel Plaza. These are made on the spot as you order so you will be eating them warm.  At the Monterey wharf, go grab hand-made saltwater taffy at Carousel Candies. And Lula's Chocolates both in Carmel-by-the-Sea and Monterey locations is an institution, with homemade milk and dark chocolates loved by many.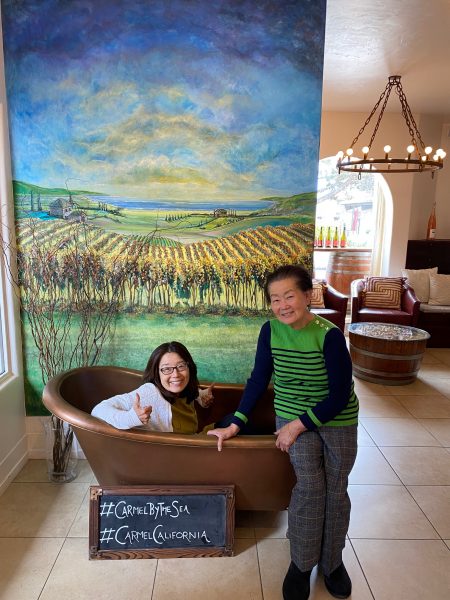 SIPPING:  Wine rooms galore appeal to the masses. Inside Carmel Plaza is the Wrath wine room with a long bar counter and also a nice sitting area with low chairs and a small table by the window which is a coveted spot.  And woman-owned Dawn's Dream is a cozy and feminine space for sipping indoors or outdoors.  Take a photo with Mom in the Dawn bathtub as many Instagrammers already have. What we love is the fact that Dawn selects a local charity every year and donates profits to that organization.
PARKING:  Keep that handicap sign handy when you park around town.  There seems to be ample parking before tourist season hits in the summer.  And the parking is mostly free in Carmel-by-the-Sea, but pay attention to those 2-hour parking signs.  There are many paid lots in Monterey. But if you go on a weekday, you can find street parking at no charge.
SPA-ING:  Most women love massages, and my mom is no different. A spate of spas at various price points cater to different pocketbooks. We discovered ComFOOT, an Asian spa in historic Monterey which was budget-priced, with no amenities, but did the trick for a relaxing body massage. When you want to go higher end, consider the Vista Blue Spa at the Monterey Plaza Hotel with a rooftop terrace in Monterey. And when you want to shoot the wad and go for broke, the Pebble Beach Spa at Casa Palmero hotel at the Pebble Beach golf mecca is a 22,000 square pamper palace with a salon, juice bar, boutique, and more.
Monterey and Carmel-by-the-Sea are destinations millions around the world have visited for decades. For many, it is a bucket list item, and when you go with Mom, it will be a bonding memory of a lifetime.