This post is written in collaboration with our association with GoRving. 
CAMPING
A word that is NOT usually in my vocabulary. With the exception of a very glamourous glamping experience that one time (yes, there was a wine/bar tent involved) the closest that I've ever come to sleeping in the great outdoors was my trek through Thailand in a campervan (which in all honesty, I never slept in…and I had a driver and personal chef with me). But, I'm always open to new experiences, and I figured that there was something I was missing out on, so….
We did a little research first
We had been talking to the folks at GoRVing.com, as I felt like they were the BEST source of information on camping in the style that I wanted. They pretty much wrote the book on how to get into being an RV'er….from your first rental to purchasing, where to go once you've decided this is the vacation style for you and even recipes, outfitting and even how to afford this road warrior lifestyle.
We jumped in
Literally! We had a Winnebago Intent 31p picked out as we had invited Ben and Allyson to join us, along with the dog and this RV sleeps 8 with ease (maybe more, but other than ME, all of the other Sandler's are TALL/BIG). This was going to be FUN.
Scared to death
I wouldn't be honest if I didn't say that I was scared to death of driving this 31 foot home on wheels. The largest vehicle that we've ever driven was my small excuse for a cross-over vehicle. But once inside, I knew EXACTLY what to do. I'd make my husband drive (I'm great with solutions).
On the road
Orange Cone Toll – 3
Death Toll – 0
Learning Curve – OMG
OK, so the first couple of miles didn't exactly go as planned, but orange cones can be replaced. Once on the highway it got much easier, although there were a few times that I screamed. By the time we were on the way home, Mr. S had decided that driving it was easy and that he wanted one (as in, we've been looking casually at this point). We had decided to head to Fort Wilderness at Walt Disney World for our first RV adventure, thinking that we'd have the parks to go to.
It seems our plans are always changing
When the kids decided not to show up, and it was just the two of us (plus dog), we chose to enjoy the campground and forget going to the theme park. I have to say (not being a HUGE fan of rides) that I was HAPPY and it turns out that our camping adventure trumped any day of walking around amongst cranky kids and crankier adults at the park.
Instead we just kicked back and enjoyed the Winnebago, the deer who made our campsite their home, the wild turkeys that crossed our path as we went for walks and while we ate half our meals in the RV or on the grill, we WERE at Disney, so yes we enjoyed Mickey's Backyard BBQ as well.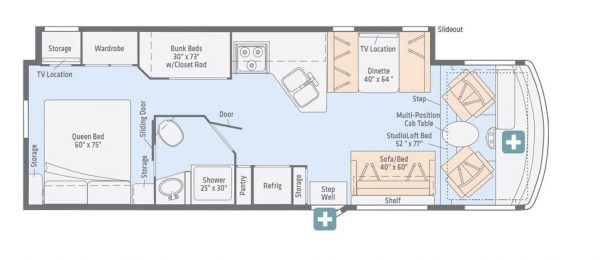 Equipped to the hilt
With two indoor televisions, a full galley (much nicer than the one on our old sailboat), an outdoor kitchen and TV and all the comforts of home, I could easily call this style of travel GLAMPING. But, we chose to not turn on the TV and instead enjoy the outdoor life (with the exception of the Giants game that Mr. S could not miss). We met our camping neighbors (a bachelorette party on one side and the nicest couple who not only helped us back the RV into its spot, but coached me through all of the hook-ups).
Since Mr. S drove, I was in charge of all of the hookups. I definitely scored the easier job since he drove for a couple of hours in each direction and it took me under 20 minutes to hook up the cable, electric, water and sewer (I expected this to be very, very icky, but it wasn't). Our Intent 31 p had a bedroom with queen sized bed, TV and more storage than I have at home. The galley has a microwave, stove/oven and 3/4 sized fridge (which we kept stocked), sink, and enough counter space to cook meals and a pantry area that had more storage than we had food. There is a pull out sofa, a dining area, an area over the front cabin that comes down for more sleeping and a bump out for a larger kitchen/dining area. The shower is small and the toilet efficient (although because we were at Disney there were great showers & bathrooms a mere 20 feet from our campsite). Outside is a small fridge, another sink and a 3rd television for evening viewing under the stars. The awning is lit and comes out with the push of a button and there was a small propane grill stored (and a grill and picnic bench at our campsite as well). Honestly, there was more than any hotel room (yes, even a suite).
Campers are the NICEST people
Hands down, I've never gone anywhere where people genuinely want to help and share their experience. This is the way vacationing SHOULD BE…enjoying nature, meeting people who are not to busy to say "hello, do you need any help?" and where you can actually SLOW DOWN and enjoy. I was shocked! But why should I have been? Isn't this the way I always dreamed my vacations would be?
I can bring my favorite wine and have it chilling in the fridge to enjoy on a cool evening. I can make pizza on the grill with the dough that I brought from home and fresh ingredients (a la Al Forno style). I don't have to pack and unpack as I hotel hop, and can bring EVERYTHING that I need with me. I stay in luxurious accomodations (the RV is beautiful) in a gorgeous atmosphere.
Rent or Buy?
Whatever you decide to do, TRY IT FIRST. I would never have known that RVing was for me until I actually got into one and enjoyed my Go RVing glamping adventure. Do you research. Go RVing can help. They LIVE to help you enjoy the RV lifestyle no matter how you decide to do it.
I now understand the term "Happy Camper"
Because after spending a weekend in my traveling luxury digs, I too was a happy camper.
To learn more about how you can get into RVing visit:

GoRVing.com