This is a sponsored conversation written by me on behalf of VIJUVE. The opinions and text are all mine.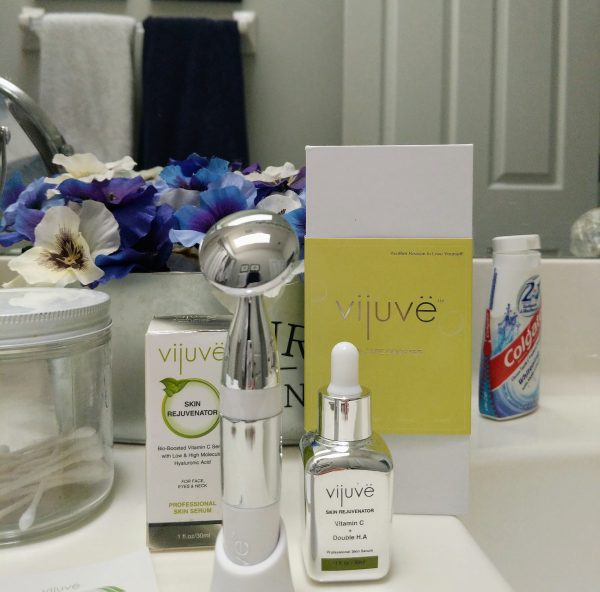 I am at that stage in life where my skin is prone to become riddled with age spots. My jowl has lost elasticity and oh..those…wrinkles. UGH. I shouldn't be surprised this is happening because I am 65 years old and I spent my younger days as a sun worshipper (before the days of SPF). Unfortunately, I just can't stand looking in the mirror at all of my loose skin and wrinkles. I don't see ZIPPY in the mirror, I see a much older woman than I feel and I would love to look younger than I am (because as you know, my friends and activities don't reflect that of an old woman). But I have a secret –  I started using an anti-aging regime by Vijuve.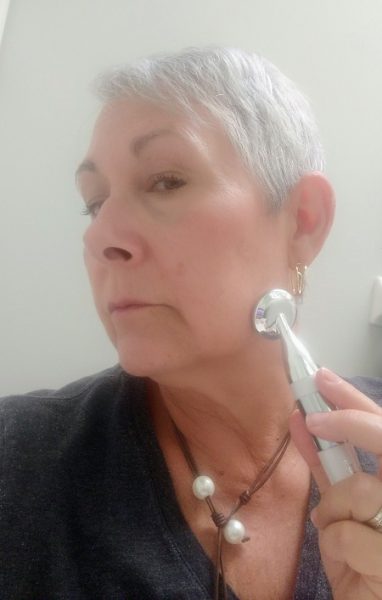 How it works
The Vijuve skincare booster and face massager is a painless treatment used to eliminate sagging skin and make it look tighter and firmer. I have been on the search for a skin care treatment that is truly anti-aging and boosts the products that I love using to add to my skin care routine.  Luckily, I discovered the Vijuve skincare booster and face massager treatment that tightens and tones my face. This treatment facilitates the production of collagen in my skin which helps in tightening the skin.
Collagen production usually reduces as we get older and that is why the skin loses its firmness and develops saggy lines and wrinkles. This treatment ensures that the products I use to combat all the wrinkles and fine lines get deeper into my skin to provide collagen production and to allow for all of the serums and creams piled up on my vanity are allowed to work TO THEIR FULLEST.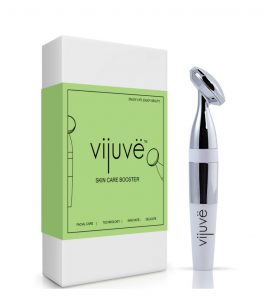 Here are some of the benefits I have experienced when using this treatment:
Reduced wrinkles and fine lines
Eliminating dark spots and age spots
Tightening loose skin
Making the skin appear firm, plump and fresh
Why you should use a Vijuve
I've been using the Vijuve for a few weeks, and honestly, I would highly recommend anyone within my age bracket to use this treatment if they want to have beautiful and toned skin despite their age. If you are younger, it's a great device to ensure that you DON'T end up with prematurely aging skin. I believe age is just a number and it shouldn't define my looks at any time. If I want to feel 30 again, and with the help of Vijuve I can turn back time…at least when it comes to the condition of my skin.
If you're looking for a great gift for Mom gift, I highly recommend this product. It will make her happy and youthful like it has made me since I first started using it, because if she's like me….she wants to look and feel her best as well.
Products
Along with the actual Vijuve device, I've added twice daily treatments with the Vijuve Vitamin C Serum with Double Hyaluronic Acid and Collagen Peptides. In the past I'd used hyaluronic acid OR Vitamin C Serums, but having both in ONE solution is a WIN for me.  I also use the device with my other creams and skincare products. So, basically, I'm continuing with my skincare routine and incorporate this treatment for an extra boost.
The breakdown
The Vijuve makes any skincare product work better & faster by helping your favorite Face Cream, Serum & Lotion absorb at a maximum level to hydrate the skin, reduce the appearance of wrinkles, lessen the appearance of scars & age spots while firming & tightening in the quickest time possible. You'll be able to boost all types of wrinkle cream, wrinkle serum, anti aging face cream, facial cleanser, and essential oils.
Fight the first signs of aging!! This device lets you defend aging and get rid of sagging neck and face, puffy eyes, furrow lines, crow's feet, dark circles (the bane of my existence) and reduce the appearance of facial wrinkles. With 9,000 per minute vibrations, the Vijuve helps rebuild the skin's collagen, tightens up the pores, and promote blood circulation of your skin to give you the rejuvenated, radiant and youthful look.
You'll save time by using this massaging device! Since it's offering a complete contour skin toning system which, you'll save up to 75% of your time than on just trying to smooth your current creams in with your fingers, then waiting for them to absorb, all with six 6-times better results.
Battery operated! I love traveling with my Vijuve because it works on one AAA battery (make sure to pick up a few and keep them handy as the unit does not come with one). Because it takes a battery, there is no charging necessary.
Skin care products work best when absorbed deeper into the skin. The traditional "Hands Alone" tactic doesn't really allow your products to absorb properly, so you may not get the fullest effect of the products you use. While revolutionizing application procedures of face creams, serums, and lotions, the Vijuve Face Massager absorbs these creams and serums 6 times better by delivering 75% quicker and excellent results.
You can start turning back the clock
Simply head to the Vijuve Website to order! Please let me know how this device is helping YOU look younger as well.