I reached out to this company after reading reviews. They sent me a Hip Hook for this piece. All opinions are strictly my own.
My back…or rather my HIP story.
Most of you know this. I became disabled in 1998 when I proved to the world that I couldn't walk and chew gum at the same time. An Espresso Frappuccino, a 43 ft flight of metal stairs, and a background in dance (where I tortured my knees daily) met up in a moment that would change my life FOREVER. Seven knee surgeries later I was told that while I WOULD be able to walk again, that I'd live with constant back and hip pain from one leg being shorter than the other due to a permanent flexion contracture from the accident.
Physical Therapy Has Always Been my Go-To
I went to college for Dance Therapy, so I know how the body works, but there are some things that you need help with, like releasing your hip flexors, a good stretch of the IT band, or myofascial release. But, I can't go to PT every day and while exercise at home helps, there is nothing like when my therapist manually pulls my hip. NOTHING…until the Hip Hook.
I had heard about this simple plastic device
But, I needed to try it out for myself. As someone trained in dance therapy I know how the body works (and doesn't work when you have tightness, twisting, arthritis, and more). Most of us spend our lives contracting our muscles rather than stretching them. We don't think about posture (remember that string that runs from your chest to ceiling) or we LEAN on one side when we stand. Over time our core becomes unbalanced. Many of us favor one side over the other because of the pain. The muscles and tendons that are meant to keep you stable or allow you to flex easily can become tight and cause your hip to rotate and as a result, you are no longer aligned. This can set off a whole series of pain from your feet to your knees, your back, neck, and YES, it can even give you a headache!
Me? I have a host of hip issues from a tight IT band to bursitis of the Greater Trochanter, lower back pain and so much more.
The Hip Hook by Aletha
Designed by a physical therapist, the Hip Hook helps to releases both the psoas and illacus muscles deep within your hip that have become tight, and by simply laying or leaning into it, it helps to release tension and assist in realigning your core. Just like when my therapist does myofascial release (I cried the first few times), it HURT! Not a pain kind of hurt, more like a – my body does NOT LIKE CHANGE kind of pressure. But, I know that like ANY STRETCHING, that it is the prolonged pressure that gives you the most benefit. SO RELAX! Relaxing allows the Hip Hook to do its job, and gives the prolonged pressure that you need. BTW, you will notice that AHHHH moment of feeling so much better immediately after using it.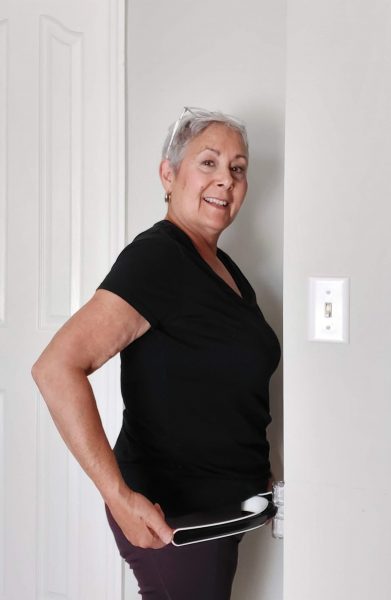 It takes some getting used to!
I want to be completely transparent here. It may not feel good the first few times that you use it. You are TIGHT! My body rebelled at first (or maybe it was my mind who rebelled and my body reacted). Don't let that stop you from using it. I have found that I've gotten used to it quickly. I just had to get through the initial feeling of discomfort a few times to get to the release. Now, I feel it, but it's much easier as I know what to expect and know to take deep breaths and relax.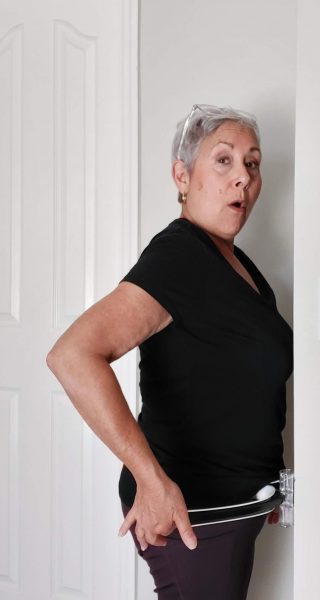 Finding the RIGHT SPOT
There's a video for that! It's important to get the Hip Hook in the correct spot when using it, but honestly, once you do, you'll know exactly where to put it the next time that you use it. They have videos on their site to demonstrate and once you've got the correct placement, you'll feel the release. You can use it on the floor, roll into it, use it in a doorway, or against a wall as I do. If you've got ambulatory issues, like me, getting down on the floor and up again can be difficult, but I can get the same stretch against the wall as I would on the floor by leaning in and then slowly pressing the handle if I need more pressure.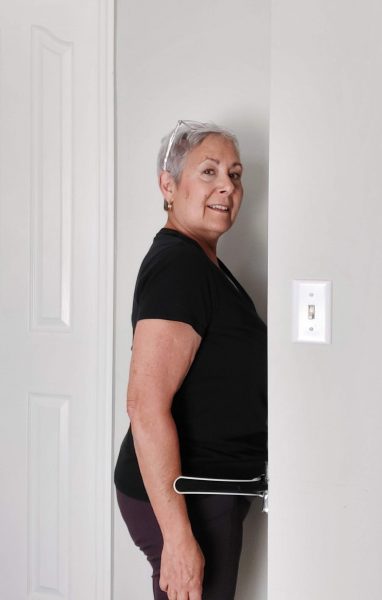 I'll be featuring the Hip Hook along with Rach on The Compass Girls Show very soon!
That's how much it's helped.
Pick one up TODAY
Why stay in pain one more minute when you can RELEASE THE PAIN right now?
Visit Aletha Health to learn more or to order your Hip Hook and check out some of Christine's other products to help you become pain free.