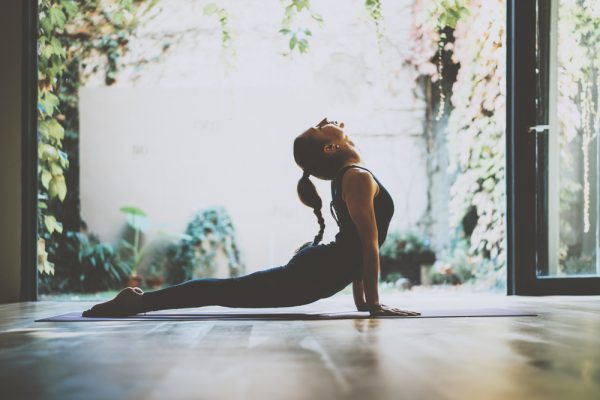 Over the past few years, yoga has been combined with all sorts of animals, music, lights and mind-altering substances. But yoga and cannabis might pair together better than you think.
The word yoga comes from the Sanskrit word 'yuj', meaning to yoke or join together. Traditional yogis meant this to be the joining of the individual consciousness with the universal consciousness or the connection of the mind and body.
Unlike other mind-altering substances, such as alcohol or opiates which enable us to close the mind off to things which cause us pain, cannabis opens the mind to bring us into the present. Cannabis' enhancement of the mind/body connection makes it unique compared to many other pain killers.
Meditation and mindfulness (some of yoga's focal points) ask practitioners to bring their awareness into the present. Yoga teachers often say things like 'feel your body melting into the mat', 'let the tiny muscles in your eyelids release', 'imagine a ball of healing light in your chest radiating love and acceptance'. These phrases can assist in bringing yoga practitioners into their bodies, by giving them gentle commands combined with imagery that assist in relaxation and peacefulness.
While for many yogis, these gentle commands and the intent behind them is enough reason to listen and follow, many of us with anxiety or depression may need more coaxing to get into our bodies and to fully relax and/or get into the yogic flow.
As a yoga teacher and cannabis enthusiast, I personally feel a stronger, more grounded and inward connection to my body when combining cannabis and yoga. I find my inner dialogue switching off thoughts about to do lists and unnecessary worry, and tuning into how my muscles and joints connect and stretch with each movement. The combination of yoga and cannabis' explosion within legal jurisdictions show that I am not alone in feeling this way.
Yoga and Cannabis: The Practice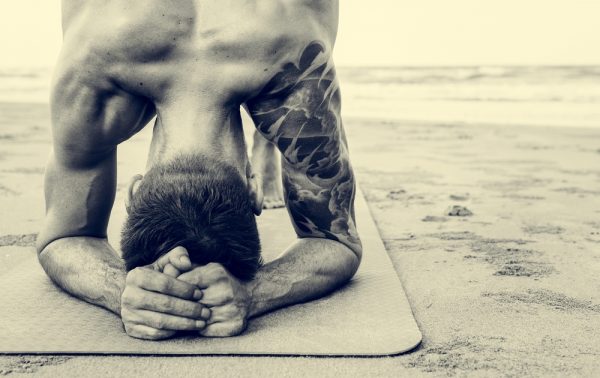 For the past nine years, Dee Dussault has taught 'Ganja Yoga' which has taken off under various names and locations such as 420 Remedy Yoga, Yoga Nidra with CBD oil and Stoga. This kind of yoga has continued to increase in popularity in Northern American yoga studios over the last few years. Typically, these types of classes involve 30 minutes of marijuana use prior to stepping onto the mat. For Dee, combining yogic movements with the mind-altering properties of cannabis helps people to tap into a deeper, more mindful and embodied experience.
Most yoga classes that are combined with cannabis use are slow flow, restorative, or yin, and are focused more on being present within the body and less on sweating or building muscle mass. The gentle practice of cannabis assisted yoga helps in cultivating a connection between the mind and the body and is not intended for every practice, but as a way to reignite self-love and appreciation naturally.
The classes offered that do mix yoga and cannabis suggest using only the minimum amount to produce an effect. It should be mentioned that showing up to a ganja yoga class after smoking a huge blunt or eating an entire space cake is never a good idea unless you would like to spend the duration of the class in savasana (corpse pose).
Yoga and CBD: The Relief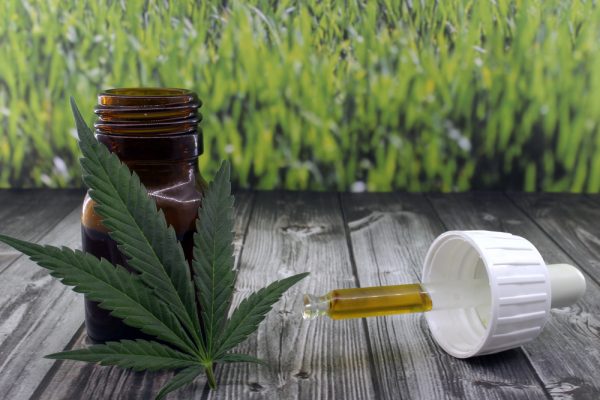 For those of us with chronic pain or other medical conditions, CBD or cannabidiol can be especially beneficial for getting our bodies ready to practice yoga. Derived from the flowers of low-THC hemp, CBD has been found to have many therapeutic effects resulting from its interaction with the body's endocannabinoid system, which is responsible for sleep, pain, mood, fertility, appetite, and memory.
Since CBD is non-psychoactive, it doesn't make you high like THC does. Also, there are no known side effects for consuming CBD, which makes it an excellent alternative for over the counter medications when seeking relief from pain, inflammation, anxiety, seizures, insomnia, muscle tension, bone fractures, stroke and other conditions that have lead the Cannabis industry to find new ways and optimize the processes of growing hemp, extraction of its isolated compounds and the development of the wholesale of CBD and other isolates.
THC, the psychoactive component of marijuana can assist in bringing the mind and body together and bringing about self-awareness, or presence that can often be more difficult to cultivate whilst sober.
While both CBD and THC can be ingested separately or together, it is wise to take this into consideration whether trying this combination to reduce pain or to get more spiritually connected to your practice.
The 'rules' of yoga
Traditional yogis of the Ayurvedic practice call cannabis a nectar but warn about its potential addiction through recreational use.
Dr. William Sands, dean of Vedic Science at Maharishi University of Management in Iowa opposes the use of marijuana during yoga practice, stating "marijuana inhibits the ability to experience yoga — the inner self — and is, therefore, incompatible with the practice of transcendental meditation." Nancy Romano, a private LA-based yoga instructor agrees and suggests that "Any substance that fiddles with our ability to be with what's really happening would not be helpful in yoga practice."
The basic dos and don'ts of yoga, known as the Yamas and Niyamas dub saucha or purity as one of yoga's basic tenets. While purity may be an admirable standard to live by, we average mortals break this rule every time we eat meat or drink a glass of wine.
For many of the stricter fundamentalist yogis, yoga is a complete practice, a physical and mental discipline that one can tap into without the use of substances. However, many teachers and practitioners of ganja yoga feel that cannabis is just another way of enhancing the yoga experience, akin to how incense, candles, bolsters, sticky yoga mats and relaxing music can assist in creating a vibe conducive to yoga practice.
While the combination of yoga and cannabis is currently a controversial topic, their symbiotic relationship appears to have ancient roots. Within the yoga sutras, yoga's foundational text outlining 196 rules regarding practice, aims, and development, herbs have been listed as one of five methods to lift the veil of ignorance or break the barrier between the conscious and unconscious.
While the herbs written about in the sutras could be as innocuous as clove or cardamom, Mark Haskell Smith, author of "Heart of Dankness: Underground Botanists, Outlaw Farmers, and the Race for the Cannabis Cup," hypothesizes that the herb the sutras refer to is cannabis. In his 20 years of yoga practice, Smith occasionally combines cannabis with his yoga practice and states when he does he "goes more deeply into the asanas," or poses. "Part of the point of yoga is to relax the body, and marijuana helps a lot of people to do that," Smith says.
Yoga and CBD: A Perfect Match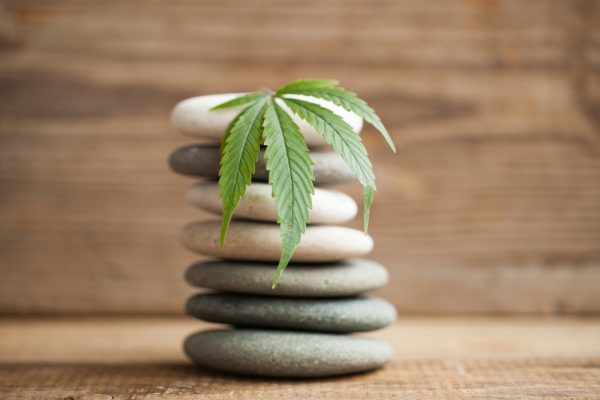 There appears to be a strong symmetry between the effects of cannabis (especially CBD) and the effects of yoga. In a study on yoga's influence during premenstrual symptoms in healthy women, it was shown that yoga was able to reduce anger, depression, and anxiety while increasing well-being.
Parallel research from Dr. Julie Holland, author of The Pot Book (a non-profit project to fund therapeutic cannabis research) suggests that "CBD can be immensely useful in treating the irritability and discomfort that comes during the premenstrual phase of our cycles. Because it has strong anti-anxiety properties and is also a muscle relaxer, it can help with the overall tension, both physical and psychic, as well as menstrual cramps that can come later".
While more research is necessary to make distinct claims on how CBD and yoga affect other maladies, an ample amount of sources suggest that both CBD and yoga have a panoply of complementary benefits. Therefore, one could surmise that their combination is instinctive or inevitable.
| | | |
| --- | --- | --- |
| Yoga & CBD | Just Yoga | Just CBD |
| Improves sleep | Improves brain function | Treats inflammation-based disorders |
| Reduces anxiety & stress | Improves sense of balance | Reduces epileptic seizures |
| Relieves pain | Increases flexibility | Treats Parkinson's tremors |
| Increases mindfulness & reduces overthinking | Lowers the risk of heart disease | Decreases post-workout inflammation |
| Strengthens the mind-body connection | Improves lung capacity | Quells nausea & reduces vomiting |
| Lowers blood pressure | Strengthens bones | Reduces multiple sclerosis pain |
| Increases mood | Lowers blood sugar | Shrinks cancerous tumors |
| Reduces depression | Improves sexual function | Extends post-workout bliss |
| | | |
Furthermore, combining CBD with a workout can reduce post-workout muscle soreness, as the activation of the endocannabinoid system naturally reduces inflammation. With yoga, this is especially beneficial because of the way yoga is structured with savasana at the end. When we are feeling good, like at the end of a yoga class, the brain naturally produces a neurotransmitter called anandamide. In Sanskrit, Ananda translates to bliss. Like many neurotransmitters, anandamide breaks down quickly in the body. However, research suggests that CBD suppresses the enzyme that breaks down anandamide, making this bliss-fuelled state last longer.
Your own practice
While yoga is a physical practice, it goes without saying that if you are tempted to combine it with marijuana, you must take the necessary precautions. Test the waters first with some slow stretching, and only using the minimum effective dose. I think the most important thing to remember is that both with yoga and cannabis use, the choice is yours. These are merely suggestions to demonstrate the compatibility of two potentially complementary things, much like peanut butter and chocolate. Sure, the two taste great on their own, but have you ever tried Reece's?