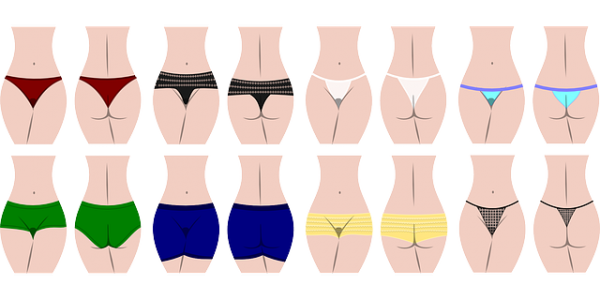 Nothing can ruin the look of a beautiful form-fitting outfit quite like visible panty lines (or VPL for short). Even if great attire flatters your figure in all the right places, VPL grabs everyone's attention first, and not in a good way. Have you ever seen a white sheet of paper with a black dot in the middle? Most likely, the only thing you noticed was the black dot contrasted against the whiteness of the paper. It's the same way for VPL. People focus on it and may even form assumptions about you based on it. They may think that you're sloppy and that you don't really care about your appearance.  What's more, just because most of us don underwear beneath our clothes doesn't mean everyone has to know about it, after all.
So what's the fix? The most obvious one is to go commando, wearing no underwear at all, though it's not the most comfortable or modest option. Nevertheless, you won't have to worry about VPL when you don't have underwear to begin with. This option works best when your outfit is really tight like a bodycon dress and doesn't leave much room to breathe.
Of course, not everyone is okay with the idea of not wearing panties. If count yourself among them, an alternative is putting on underwear that won't show under your clothes. Here are some of your options:
Thongs 
The early 2000s was a time of flashy thongs displayed over the top of low-rise jeans. Thankfully, that trend is behind us now, so thongs are back to being what they are – skimpy, yet functional underwear you can put on under a fitted skirt or other bottom. The thinner the thong, the less visible it will be under your clothes. If you like the thought of going commando but can't fully commit to it, or if you want to feel sexy, a thong may be the answer you're looking for. However, it can ride up your crotch at times, so it may not be practical to wear for most of the day (or night).
Boy-Cut Briefs 
If wearing a tiny strip of cloth as underwear isn't your thing, you may want to go to the opposite side of the spectrum and wear boy-cut briefs. They provide full coverage, so you won't have to dash into the bathroom to stop a string from getting wedged where it shouldn't. The hem of the briefs' legs may still leave VPL, but they're beneath your butt cheeks instead of across them, so it's not as conspicuous as regular panties.
Half-Slips 
Before thongs or boyleg briefs became popular, a lot of women wore half-slips to avoid VPL. With more modern choices now available, half-slips have significantly decreased in popularity, though. However, they do still work in some scenarios, like when you're wearing a skirt with a thin material. In this case, you want extra coverage with no VPL, so the half-slip is your answer. You can get them in silk or other luxurious fabrics if you don't want to feel frumpy or dowdy about wearing a half-slip under your clothes.
Seamless Panties
Perhaps the best option you have to avoid VPL is seamless panties. Their edges are elastic-free, both around the waist and around the thighs, so they make any outfit look streamlined, even when it's clinging to your every curve. The selection of  underwear for women offers seamless panties in different styles, including thongs and boy-cut briefs. They all have a cotton gusset in the crotch area, so you won't have to sacrifice comfort for functionality.
Whatever style of underwear you choose to wear to combat visible panty lines, make sure that it fits you properly. Even seamless panties can bunch up when they're too big or dig into your skin when they're too tight, resulting in visible lumps under your clothes. Also, even though fashion can ask for sacrifice sometimes, comfort is still important. You can look awesome in your outfit, but it will distract from the effect you're going for if you're going to spend most of the time squirming uncomfortably in your seat. Ultimately, how you feel affects how you look, so choose your underwear wisely!