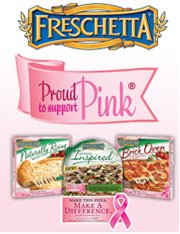 It's no surprise that October brings a rush of memories for me. While companies everywhere are doing the RIGHT thing by raising money for breast cancer research, I think of my mom passing away at only 55 years old from this disease that is SO close to being cured. As a result I am FIRST to jump on the bandwagon of brands who champion the cause and help to raise not only money, but awareness as well.
One such company FRESCHETTA has set a lofty goal of raising $50,000 this year to fund the Memorial Sloan-Kettering Cancer Center. The best part is that YOU CAN HELP THEM REACH THEIR GOAL. Simply buy one of their delicious pizza's marked with the "Make a Difference" pink ribbon and look on the back of the box for a CODE. After you've finished dinner (you might want to clean up that great gooey cheese that's running down your chin so that you don't get it on your computer keyboard) go to: PROUD TO SUPPORT PINK and enter the code from the back of the box by October 31st.
Each code entered will bring them $1.00 closer to finding a cure for the disease that took my mother, and all of the other mothers, sisters, aunts, and girlfriends taken by breast cancer.
To make it even BETTER -make sure that you're printer is set to "ON" because you can download a $1.00 OFF coupon off of any one Freschetta Pizza (14 oz. or larger).
WAIT THERE'S MORE!!
While you're on the Freschetta Proud to Support Pink site, don't forget to enter to win one of 50 iPod shuffles…in PINK of course.
YOU DIDN'T THINK THAT WAS IT DID YOU?
They'll also be giving away 50 iPod shuffles EACH WEEK to one of four cancer centers for patients to listen to while receiving treatment.
BONUS
You'll enjoy a delicious hot Naturally Rising, Simply Inspired or LIKE ME – a Brick Oven pizza  (my favorite is Roasted Portabella Mushrooms & Spinach). I actually love the convenience of having pizza at home that tastes freshly made, with REAL cheese and a nice crispy crust.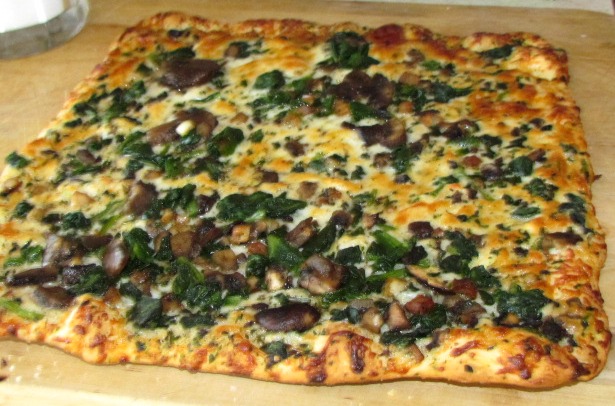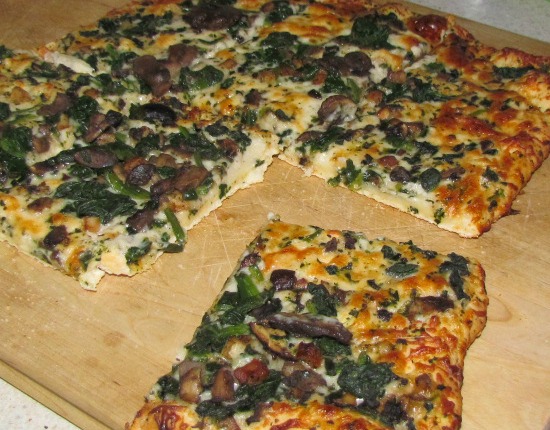 Figured I'd make your mouth water a bit….and yes, I'm still on my diet (but, I still enjoyed a slice while Mr. S and B devoured the rest). When I'm not dieting I make a habit of enjoying Freschetta, which is why I accepted the assignment of being a member of their Freschetta Fresh Connection Team.  As a member of the team, I received a Proud To Support Pink kit, which included a coupon for the free Freschetta pizza you see above and two pairs of earphones (one for me and one for a girlfriend).

GIVEAWAY
Extra Entries
* Tweet me @zipporahs and tell me your weight loss goal
* Comment below with your tweet
* Subscribe to Champagne Living, "Join the Clique", follow me on facebook or twitter – all found on the sidebar (each counts for 1 extra entry)
* Tell your peeps on your blog, facebook page or twitter about this or any post (each counts for 1 extra entry) and link to us.
This giveaway is open to US residents, 18 and over and ends on October 27, 2011.
No purchase is necessary.
Odds of winning are dependent upon the number of entries received.
Void where prohibited by law.
Winners will be selected by Random.org and sent to Freschetta  for fulfillment. Champagne Living is not responsible for prizes that go unfulfilled by the aforementioned sponsor.