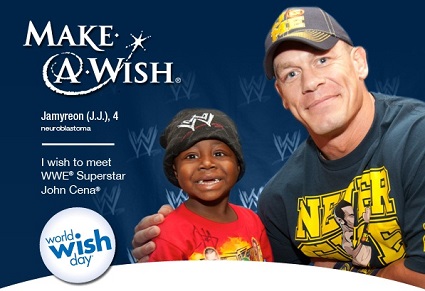 I'm a sponsored participant tonight and will be spending 7 – 9 pm EST with the #WWEMoms for a VERY special twitter party and wanted to make sure that I invite you as well. Now, I know that Champagne Living and WWE don't seem to go together, but when Make-a-Wish is involved I'll WRESTLE with the best of them to help raise funds and awareness, so here are the details…
 RSVP:
Email WWE@theonlinemom.com subject line: WWEmoms
Spread the word and RT this link on your Twitter feed:http://tinyurl.com/y8trhhf
Join us on Tweetchat or Tweetgrid (#WWEmoms) today between 7 and 8pm ET
Tell your Twitter followers!
 

World Wish Day® is April 29 and celebrates the day Chris Greicius received his wish to be a police officer for a day, inspiring the founding of Make-A-Wish and the global wish granting movement. During the month of April, Make-A-Wish will campaign to raise airline tickets and cash that enable wish kids to travel. Join @WWEmoms and @MakeAWish as we learn more about making wishes come true!
Prizes include:
 BOSE Bluetooth Speaker
a Michael Kors Wallet
a Toy Watch
Hope to see you all tonight!