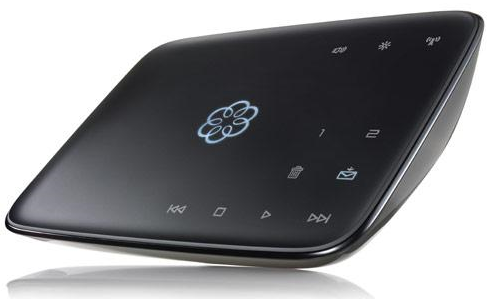 I tried to call my son the other day, but his mobile service doesn't work in his building. It's fine anywhere else in town, but not in his condo. Of course he has no house phone, making it a PAIN to get a hold of him (I'm starting to think he likes it that way). I understand that he's trying to build his business and is living on a shoestring, but not having a house phone in his case is not such a great idea.
At the same time he works from home in his social media business. He works with 16 or 17 clients right now and he needs to be accessible. If his cell doesn't work at home, he could be losing business. So, mom that I am (and major stick her nose into her kids business type), I suggested that he use Ooma Telo, and went over to his place this week with a unit.
Ooma Telo offers FREE PHONE SERVICE for calls throughout the United States. All you have to do is pay the taxes and fees (they vary per city and state). The Ooma unit itself is priced at $199.99, and when we checked the taxes and fees in his area of Florida we found that his TOTAL phone bill will be around $5.00 per month. That – he can afford. Plus, he can purchase a great international package so that we can stay in touch while I'm in Paris, Mexico, or wherever I happen to be jaunting off to next. The only thing he needed was a router (which he has) and a regular phone (which I had packed away).
Being an overbearing mom I went to supervise the hook-up. It was SO easy, that even I (the person who refuses to use google calendars or put my appointments into her cell phone – still using a Filofax & pencil) could have done it myself. The entire process took less than 15 minutes.
Here's what we did
Went online to register the Ooma (putting in the numbers on the bottom of the unit)
Choose a phone number – you can transfer yours over, but since he didn't have one, we debated for at least 10 minutes on which number would be the easiest to remember (this was the most difficult part of the process)
Plugged the Ooma into the router
Plugged the phone that I brought into the Ooma unit
Waited for the lights to finish doing their thing (the lights on the Ooma are REALLY cool)
Picked up the phone, checked the voicemail that Ooma left and made the first call

When I returned home, we gave it a REAL test. The sound quality (at least from my end) was as clear as a bell, this was not the VOIP that I remembered from years ago (when I tossed my Magic Jack into the trash). No wonder Ooma Telo was ranked the  #1  phone service in the US by Consumer Reports. Now I can annoy him any time that I want and he can't call me days later and say that his phone doesn't work.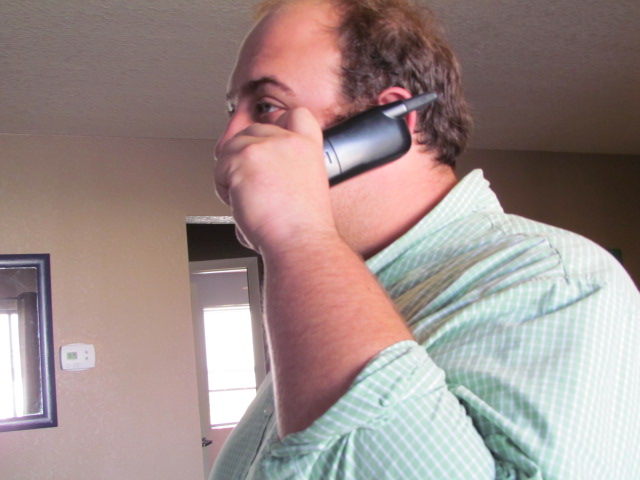 Ooma Telo would be a GREAT GIFT for
The college student – no excuses about calling mom back
Mother's Day – imagine giving mom the freedom from one of her bills!! I'll even pay the fees & taxes for her.
Small businesses – they have great PREMIER features that you can add for less than $10 per month that include 3-way conferencing, a back-up number (in case your internet goes down), a free SECOND line,  multi-ring, free calls in & out of Canada, enhanced voicemail,  call to text, screening features and so much more.
Housewarming party – forget the fondue pot, this will be appreciated a LOT more
Buy it for yourself – I figured that by using the Ooma I'd save $176 the first year, $602 the second and $1029 the third (yup – that's the cost of a cruise or a GOOD vacation)
The Ooma Telo is available at more than 400 retailers and online destinations, including Costco, Best Buy,  Staples, Target, Amazon
, and more. wholeheartedly recommend Ooma, as  not only is the price right, but the quality of the calls is as good as a regular landline. I'm a fan!
GIVEAWAY
Winner: Margaret C. – Barrington, RI
Extra Entries
Follow me on twitter @zipporahs and tweet just how much you'll save using @ooma – @zipporahs I'd save (fill the amount here) by switching to @ooma 
Comment below with your tweet
Subscribe to Champagne Living,  follow me on facebook or twitter – all found on the sidebar (each counts for 1 extra entry)
Tell your peeps on your blog, facebook page or twitter about this or any post (each counts for 1 extra entry) and link to us.
Share this giveaway on any contest/sweepstakes/giveaway site for 5 extra entries..
This giveaway is open to US residents, 18 and over and ends on April 15, 2012
No purchase is necessary.
Odds of winning are dependent upon the number of entries received.
Void where prohibited by law
I received product to facilitate this review. All opinions are strictly my own.