This is the week of  gatherings.
On Tuesday morning we'll all gather at my brother's house in Fort Lauderdale for our holiday brunch. We are a mixed bunch of family and friends from all walks of life, a myriad of religions, and as diverse as they come. We will gather in all shapes and sizes, with ages ranging from 3 to 87. We are black, white, gay, straight, and most of all we are the closest group you'll ever witness. We'll be dining on bagels and lox, a holiday ham, and gather around the piano as we play songs from all eras and we sing along – off-key, with smiles on our faces.
We are a family.
We've been doing this for more years than I can remember. We've lost family members who will be remembered (like my mom and dad), and we watch each other grow older – some gracefully, some not so much. While there will be loud chatter around the table and lots of laughter, I'm beginning to notice some that don't interact as much as they used to.
I know that my family members are not anti-social, but when you don't HEAR what is going on – you can't be a part of the celebration. It's odd. I remember that my dad had no problem going to the dentist, to the cardiologist, to the internist  – but, he refused to do anything about hearing loss. It took others around him to insist that he get his hearing checked. Now I see it happening with my aunts and uncles.  To think that they are not participating in the fun because they can't hear, is something that I can help them with.
Finding Help 
While they may not bring up the issue to their regular doctor (I know that my dad was embarrassed), they certainly can find a professional who can help. ASHA offers a way to find a hearing and speech professional in YOUR AREA.  The list is extensive and you can find a program or audiologist simply by clicking on YOUR STATE or inputting your zip code.
Did you know?
Untreated hearing loss impacts more than just what a person hears. It can lead to isolation, depression and even contribute to dementia? Of course at the heart of things it's the quality of life that' so important.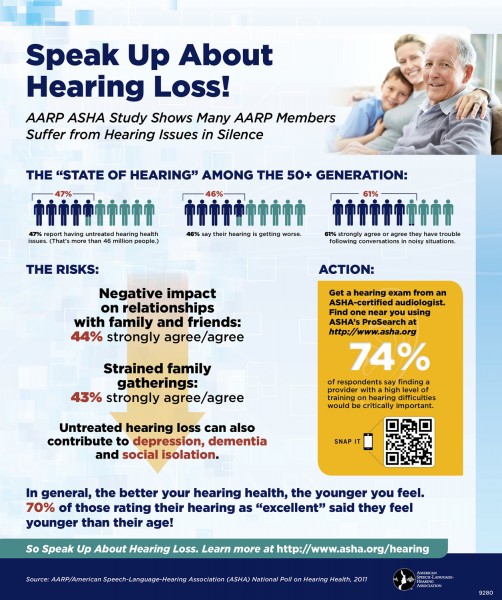 This Holiday
If you see a family member who may seem to be not fully enjoying the party, or keeps asking you "what did he say?" you can turn to the American SpeechLanguage-Hearing Association and find out how to help them.
For more details about ASHA and hearing follow them on
This post has been sponsored by BOOMboxNetwork.com on behalf ASHA.org. All opinions stated are our own.
Photo credit: joshjanssen / Foter / CC BY-ND