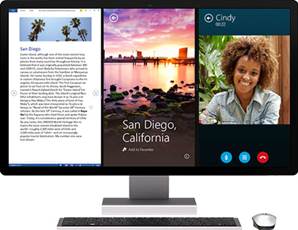 I rarely talk tech here, unless it's regarding those fun toys that I take on vacation to gather photos, write articles, or read while lounging on the beach. Software, apps, etc. are SOOO over my head, but I do know there are some IMPORTANT things that I have to keep on top of…
LIKE UPGRADING
All of my computers (and even my tablet) run WINDOWS, and while some of them are very new, it doesn't mean that I don't have to keep them up to date. This week I'm taking a couple of minutes to make sure that I download the newest Windows software – Windows 8.1.
It's even easier than changing the batteries in your smoke alarm each year.
If your windows computer or tablet came out BEFORE the new software update, why not join me. You simply:
Prepare your PC – Back up files; plug in to power; connect to the internet; make sure you have all of the latest updates first
Get the Update – Go to the store and download and install theWindows 8.1 or Windows RT 8.1 update; will run in the background
Restart your PC  – When download i

s finished

Choose your settings – Use express settings or customize if you like
Sign into your Microsoft account and personalize
After that…the fun begins.
NEED MORE HELP?
Microsoft has you (and me) covered with videos and detailed information about the how to's and what to's to make your online experience SO much easier. Check them out at Windows.Microsoft.com
Thank you to the #WindowsChampions program for providing me with a new Lenovo Yoga & tablet to learn more about Windows 8. All opinions are strictly my own