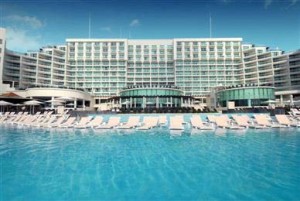 As if Cancun weren't fun enough, Hard Rock International is planning on stepping up the volume with an all new, all inclusive resort on the beautiful beachfront of the Hotel Zone. It will be in the spot that the Cancun Palace now inhabits (which if you've ever been to Cancun is PRIME beachfront property), and will be managed by the Palace. This hotel will offer the Hard Rock's all-inclusive luxury accommodations plus live entertainment. Incorporating those signature Rock Star Suites, the hotel  will showcase an extensive collection of authentic memorabilia from international and local music artists, while welcoming diverse music styles.
Expect to enjoy LIVE entertainment, celebrity sightings and the usual HOT Hard Rock events.
I'm just counting down the days to opening (some time in Winter of 2012). Expect to see more Hard Rock resorts coming to your favorite vacation spots like Riviera Maya and Puerto Vallarta.