No matter what the future holds, it's assuring to know love is not canceled. World events have reminded many of what's truly important and have brought love to the forefront. While some brides might have to be a bit more flexible with wedding plans moving forward when it comes to style, your ring doesn't need to be compromised. With venue sizes shrinking, many brides are taking their budget and putting it to better use with the ring selection.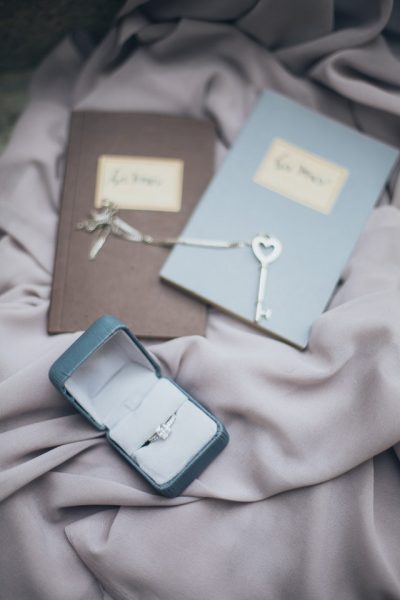 Libby Page, Senior Market Editor at Net-a-Porter, told Tatler, "During the first lockdown and as the Zoom effect took hold, we certainly saw customers thinking more about dressing from the waist up. It was clear they were looking for timeless, investment pieces they could buy now and wear forever." Many of us are online more and are increasingly looking at pretty things, like jewelry, as a form of distraction and escapism.
When selecting a diamond engagement ring, most women chose something that's both elegant, classic, and timeless. "Despite all the ways in which our society has evolved over the centuries, the diamond endures as the ultimate expression of love and commitment and the most beautiful way to mark life's most precious moments," states Lisa Levinson of the Natural Diamond Council. Brides looking to project self-assurance, confidence, and shop-stopping beauty choose an emerald cut engagement ring.
Despite being around for centuries, the emerald cut's popularity saw a resurgence during the Art Deco period in the 1920s and 1930s. The elongated rectangular shape of the stone is not only breathtaking but also elegant. When Grace Kelly debuted her 10.47 carat in the famous role from the movie High Society, it's brilliance was hard to miss. Elizabeth Taylor must also be noted for the impact her 33-carat emerald cut ring made. According to gemologist Ryan Kelsi, recently interviewed by Brides, the emerald cut is one of the oldest diamond shapes and has been around for centuries. "It gets its name from the emerald gemstone, which was cut in this fashion. Gemstone cutters found that emeralds chipped less when they were cut this way."
Ring Influencers
Strong women wear strong jewelry. Hollywood has always had pull when it comes to setting trends, but no one has done it quite like Jennifer Lopez. Among other famous engagements in history including, Liz Taylor, Amal Clooney, Beyonce, Demi Lovato, Angelina Jolie, and Kim Kardashian, to name a few, have become famous for selecting this beautiful statement cut as well. Year after year, social media has begun to reshape the engagement ring industry, and influencers are becoming walking billboards for gorgeous rings with exotic travel destinations backdrops. Retailers know that many start on Instagram when it comes to researching what rings they like, including being a source of information, and inspiration.
Why Distinct
An emerald-cut diamond's elongated shape makes the stone appear more significant than other diamond shapes, while the gem's vertical facets create a glamorous, mirror-like effect. It's an elegant cut that gives your rock some serious presence. Emerald cut rings are perceived by some as clearer, purer, and more personally individual. Because of their more simple faceting arrangement on top, they allow the wearer a clear look into the diamond's soul, and choose a stone unique to the wearer.
Emphasis on the stone's clarity rather than sparkle makes clarity and color grade essential details to pay attention to when ring shopping. The emerald cut is known for its distinctive rows of facets and a long, rectangular shape. It's best suited for high-quality diamonds, and sensibly so; it's adapted from techniques used to cut emeralds, the most fragile and delicate of all the precious stones. With this cut, inclusions are more visible, and the color of the stone is more prominent. If you are a lover of clean lines and geometric shapes, this cut is sure to make you swoon. Its linear shape flatters fingers, making them appear long and lean. Emerald cut diamonds can be affixed onto any engagement ring setting. Solitaire and halo settings are the most popular ones as they let the diamond shine properly. If you want to give your ring a classic and romantic look, opt for the vintage style setting.
The emerald shape is unique, beautiful, and will have her in awe from the moment she sees her new ring. Ensure your beautiful bride says yes, by choosing a ring that she will cherish for decades to come. Every day she will admire her rock, knowing she carries your love with her and will be proud to display her diamond to the world.