This is an advertisement for SheSpeaks/St. Martins Press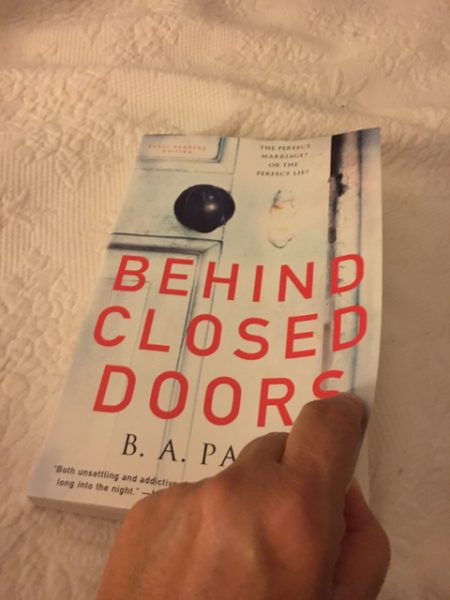 I am not a voracious reader.
The stack of books on my nightstand have been there for months and months. Most of them are opened once, only to be hijacked by the newest episode of Real Housewives of drama. I crave not having to think, to enjoy mindless entertainment, to shut off from my work of writing. I find I am too critical of style, too easily bored, and frankly if you don't capture me in the first three pages, you will find the book in a yard sale or getting dusty on a shelf. I wanted to ignore my friend Rachel's request to review Behind Closed Doors….I was afraid that I'd drop the ball and never finish the book.
Of course, when I DO find a story that grabs me immediately, you can ignore everything I wrote in the first paragraph. That's what happened with The Girl on the Train….I read until my eyes turned red and heavy and had difficulty functioning the next day from lack of sleep.
When I opened Behind Closed Doors and read that it was being compared to The Girl on the Train, which I LOVED and Gone Girl, which still sits in a pile because I found it tedious I was curious as to which way I would be swayed.
The champagne bottle knocks against the marble kitchen counter, making me jump. – Behind Closed Doors
From the OPENING line I was hooked.
So much so, that I found it difficult to believe the B.A. Paris had not written a slew of novels before this one. Don't get me wrong, she is not a brilliant writer, her characters tend to need a bit more development, but she is one HELL of a story-teller.
When Grace meets Jack, she believes he is her perfect match.
Who wouldn't want to be married to a man that's as devilishly handsome as George Clooney, champions battered wives in court, and is excited to include your developmentally disabled sister into his life? By all accounts, this looks like a marriage made in heaven, but once the ring is on her finger life becomes a living hell for Grace. Chapters move back and forth between the present and recent past (as the timeline happens over the course of a year), and the reader is sucked into a story based on pure evil. What looks like a loving marriage to all that surround them turns out to be altogether different when you look "Behind Closed Doors."
A mix of the excitement of The Girl on the Train with the cold evil of American Psycho, you'll be like me….pulling an all-nighter to finish Behind Closed Doors. I'm giving my copy to Ava of The Review Broads just so we can discuss it. I can't wait to hear how she likes it.


Purchase this book at Amazon.com or at your nearest bookseller
Available for purchase on August 9 (or pre-order NOW)