I don't know why, but it seems like all of the bad news in our family comes around Thanksgiving. It's like a family curse. It's also what seems to bring the family closer together. From 1990 when the entire family sat on the floor of the living room that had no furniture and waited for news of my father-in-law's heart attack that happened on Thanksgiving eve to today. This year was no different as my husband visited the doctor on Thanksgiving week only to learn that he has stage 3 Renal disease. It makes us realize just how precious every day really is, and how we need to be thankful for every minute that we have together as a family.
In hubby's case, I'm thankful that we learned in time to do something for him. The doctor says that by losing weight, and keeping his blood pressure down that he can keep the disease from progressing. So, while this Thanksgiving may not be laden with FATTY foods, it certainly is laced with LOVE.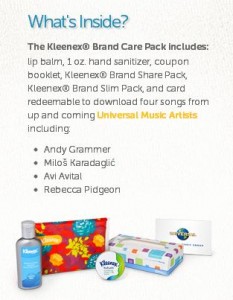 Which brings me (in a roundabout way) to Kleenex Brand – who has been there as we initially cried and finally laughed til tears rolled down our cheeks when we realized just how lucky we all are to be together for another holiday. I was able to put one of the Kleenex Care Packs on the coffee table that they had sent and as always Kleenex knows how to soften the blow…LITERALLY.
Care Packs include lip balm, hand sanitizer, a coupon booklet, a Kleenex Brand Slim Pack, a Kleenex Brand Share Pack, and a card to redeem for four downloadable songs featuring up and coming United Music Artists. Visit the Softness Worth Sharing page to learn more.
Like the Red Sox – I just keep hoping that our Thanksgiving curse will somehow end and we'll win the World Series. In the meantime….there's Kleenex.
 "Kleenex brand, America's softest tissue, knows that the moments of unexpected thoughtfulness make all the difference."
Disclosure: I wrote this review while participating in an ambassador program by Mom Central Consulting on behalf of the Kleenex brand and received product samples and a promotional item to thank me for taking the time to participate.