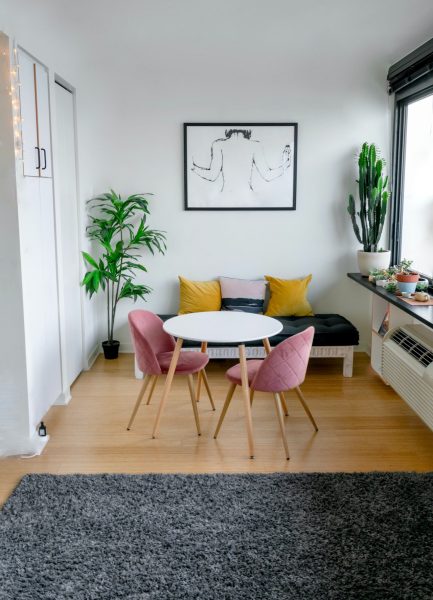 Your home is more than just the place you live. It is also a blank canvas for you to express your creativity and express your personality as an individual. In a world of mass-produced furniture and identical floor plans, it's crucial to infuse your space with elements that make it uniquely yours if you want to enjoy your home as much as possible.
That being the case, below, you will find some of the most innovative and interesting things you can do to give your home a personality boost and make it more you.
Show off your stuff
If you are one of those people who love to collect, whether it's 60s vinyl quirky vintage robot toys, or interesting teapots, make your treasures a focal point of your home decor. A well-displayed collection can add a personal touch and serve as a conversation starter. A wall of open shelving, a glass-fronted cabinet, or even a dedicated 'museum room' can showcase your collection beautifully.
Customize your windows
If you're looking for something that will not only boost the personality of your interior but also perk up your home's curb appeal too, then look no further than customized windows from Windows Oceanside. Whether you opt for windows that are geometric in shape, arched, or include a stained glass element, just having windows that are not the usual square or rectangular shapes, will give your home much more character and everyone will comment on them! Just make sure you choose custom windows that complement your home's existing design and structure. 
Personalize your walls
Instead of generic prints, consider filling your walls with artwork or photographs that hold personal meaning. Family photos, paintings created by you or a loved one, or a tapestry picked up on your travels can all add character. If you are looking to create a more dramatic effect, consider a feature wall with a bold paint color, textured plaster, or an eye-catching mural. These are much easier to achieve, even if you are DIY-ing, than you might think, and will definitely make your home's decor stand out. 
Switch up your lighting
Lighting can make or break the mood of a room. So, if you want to give your home a personality boost, skip the standard fixtures and opt for distinctive lighting options instead. A vintage chandelier, industrial pendant lights, or customized neon signs can all add an unexpected twist and serve as the room's statement piece. Of course, you need to match the lighting to the overall style of the room, so if the room is stylish ns sophisticated, neon lighting is probably out, but if it's a fun playroom for the kids or an entertainment room with a bar, neon would be ideal. You need to think carefully before you choose each fixture.
Mix and match your furniture
Instead of buying a matching furniture set, curate a mix of pieces over time. Combining different styles, eras, and materials can make a room feel more personal and less 'catalog.' For example, a modern couch paired with a vintage coffee table can create a unique look, as can a minimalist bed with a baroque bedside table. It is the juxtaposition that adds interest and design elements to the space. 
Use your hobbies as inspiration
A great way to give your home more personality and ensure that it really reflects who you are is to use your hobbies as neat design elements. For example, if you are a musician, you could hang your most prized guitars on the walls, or if you are a bit of a bibliophile, you could arrange your books by color to turn them into a pretty feature or even make a sculpture with some of them. 
Customize the hardware and fixtures
Swapping out generic hardware and fixtures can instantly elevate a space and make it look more quirky or more elegant and expensive, depending on your goals. Consider unique doorknobs, drawer pulls, and light switch plates that align with your aesthetic, and you will find that this is an easy way to add personality to every room, while also being an easy task to accomplish, as well as pretty inexpensive too.
Play with color
If you're serious about giving your home a personality boost, you must not be afraid to experiment with color. A bold front door, a vibrant accent wall, or colorful upholstery can make your home stand out from the crowd and show people who you really are. However, remember to create a balanced color scheme that's pleasing to the eye. Some homes can pull off a completely eclectic clash of colors while others benefit from something a bit more considered.
Do some DIY projects
Do-it-yourself projects are a great way to add a personal touch to your home because they will be pretty unique to you even if you are following a blueprint. Whether it's a hand-painted piece of furniture, a homemade quilt, or a reclaimed wood headboard, DIY projects add a layer of personalization that's hard to replicate with store-bought items.
Do something unexpected
A really fun way to give your home a personality boost is to do something that is totally unexpected for the space For example, if you live in an old home with wooden beams, paint the beams bright pink instead of the traditional black or natural wood colors, or if you have a pretty elegant home, wallpaper the bathroom with Hello Kitty paper and have your guests be totally shocked when they use the restroom. Have fun with it!
Infusing your home with personality is all about expressing yourself and creating a space that makes you feel comfortable, happy, and truly at home. It doesn't have to be an overwhelming or expensive project – start small trust your instincts, and remember, the goal is to create a home that's a reflection of you. Your home's personality should be as unique and vibrant as your own. Enjoy the process and make it a labor of love.