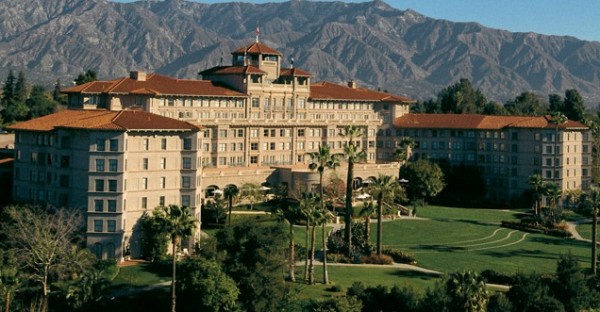 I love discovering great spots to stay "by accident" and by accident I  mean when I'm sent to stay in hotel on an all expense paid press junket that has NOTHING to do with covering travel as happened last month on the #DisneyOzEvent trip to Los Angeles Pasadena. While I was hosted by the people at Disney and surrounded by 24 other bloggers, PR people, and the people who MAKE the movies happen, all the while I was secretly checking out the Langham Huntington in Pasadena.
What I look for in a girlfriend getaway hotel
Spa

Sun – either the beach or a great pool

Lavish rooms

Dining choices – both IN the hotel and within cab distanc

e
Now you know that I USUALLY stay in West Hollywood when I head to Los Angeles, but it's so hectic that when I go away with the girls for a little tranquility, I'd rather be secluded from the craziness. This is our "ME" time and it's all about relaxing in sybaritic pleasure. Rather than my usual Sunset Blvd. hotel that's all decked out in white (and feels a bit dated), for a RELAXING weekend with your besties the Langham Huntington is an oasis of calm.
SPA

Not only does the Langham Huntington in Pasadena have a spa….it actually has TWO amazing spas, a great fitness center, as well as tennis courts and bicycles available (at $35 a day they're a great way to leisurely peddle around Pasadena to Old Town, etc.).
It's worth a trip to this hotel for the Chuan Body + Soul Spa alone! Based in traditional Chinese medicine and using the healing powers of the 5 Wu Xing elements, you'll find everything from acupuncture to balancing massages, and collagen velvet face & eye treatments to reflexology.
Not to be outdone by the holistic approach of the Chuan, the Huntington Spa caters to the traditional spa and salon devotee. Yes, you'll still find hot stone massages at both, but at the Huntington Spa you'll be able to get that microdermabrasion treatment you've been putting off, as well as a lemon twist mani or pedi, or even a basic cut & color that you forgot to do before you packed your bags.
SUN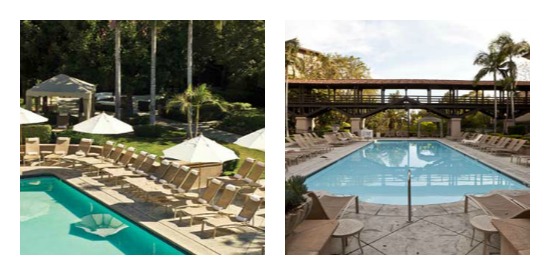 While the beach is about an hour away, I'm always game for sitting by the pool and taking a dip when I get too hot. In this lush green setting you can get some of your favorite spa treatments poolside, and even BETTER is the Hideaway Skinny Pleasures Menu to order poolside, like the refreshing 98 calorie "Lemon Slice" (Grey Goose Citron Vodka, Organic Agave Nectar, Fresh Squeezed Lemon Juice & Sparkling Water). Oh, POOL BOY….can you rub some lotion on my back?
ROOMS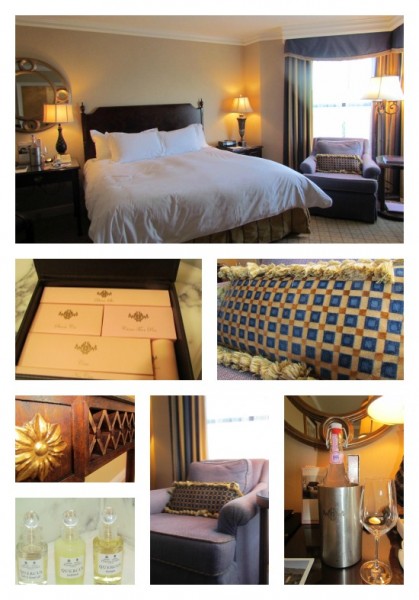 I don't know about you, but my first peek into the room includes the toiletries in the bathroom and a quick plop on the bed to check out the mattress and pillows. Next I look for the ice bucket and room service menu. With overstuffed traditional furniture and Penhaligon's Quercus scented products in the bathroom, you may never want to leave the room. Warm and inviting, you'll want to sit in that oversized chair and grab a copy of Candace Bushnell's newest book as you sip a glass of bubbly and dig in to some of the Langham's amazing chocolates. By the way, you don't need to leave Rover at home (Clem was excited to hear this) as dog's are not only welcome but they even have a doggie program that includes: in-room use of a luxurious Langham pink porcelain pet bowl, gold mat and a plush pink bed pillow; and a bag of gourmet doggie treats.
For a real splurge check out the 2 bedroom cottage suite in the exclusive Shamrock Cottage (where we had some of our Disney events). It's absolutely CHARMING.
DINING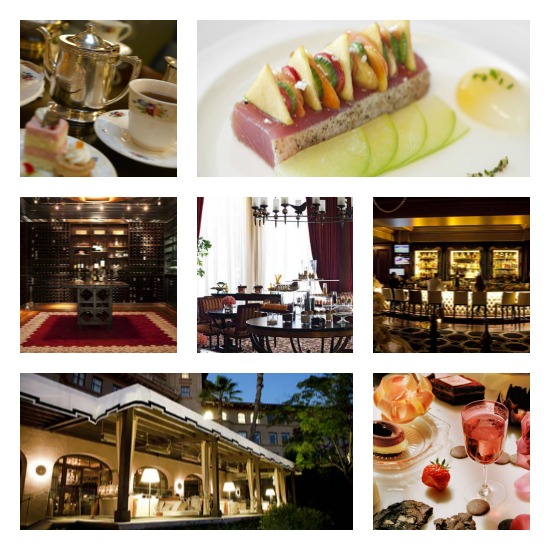 If it's a bite with a cocktail  in the Tap Room (make sure to order the lobster mac & cheese), fish tacos like I had at the  The Terrace bathed in casual elegance, or you just want to sink your teeth into a great piece of steak at The Royce you'll find it ALL at the Langham Huntington. They even offer afternoon tea (or chocolate tea) in the lobby lounge for when you want to cover up that wild night you had last night and act like a lady.  Of course a call for room service is always available as well.
NEARBY
I NEED to shop, and Old Town in Pasadena is only a few minutes away by car (or cab). This charming town is a shopping and dining PARADISE where you'll find ALL of your favorite shopping haunts. Stroll down Colorado Ave. for some retail therapy. You can load up on new clothes at H&M for a little nothing or blow it all at Tiffany & Co.  There are some great galleries and amazing architecture (take a stroll through Castle Green), and music venues for all tastes.
FOR RESERVATIONS
Find rates and information online at Langham Huntington
Call: (626) 568 3900
The Langham Huntington
1401 South Oak Knoll Avenue
Pasadena, California 91106
I stayed at the Langham Huntington Pasadena as part of the #DisneyOzEvent. All expenses were paid.