Disclosure: We received product for the wedding from Original Penquin for this post. All opinions are strictly our own.
When it comes to bridesmaids gifts, there are so many wonderful options out there; it isn't a struggle to find a gift, but rather to narrow down the options.  But gifts for groomsmen are trickier.  Traditionally, retailers have not given these gifts as much attention as they give to bridesmaids gifts, and the usual gifts often have little place in our modern world.  To help you find an awesome gift for the groomsmen in your wedding, check out our ideas below.
The sillier, the better.  Hey, women get to enjoy gifts of lingerie as part of the wedding, so why not give the men a chance as well?  These boxer-briefs are both fun and functional, making this the perfect gift for finding balance between a gag gift and a useful one.
If underwear is a bit too intimate for your tastes, try some loungewear.  It is customary to purchase robes and other loungewear for bridesmaids to use during the bachelorette party and when getting ready on the big day, so why not give the guys equal treatment?
A Personalized Pocket Watch
Watches have mostly gone to the wayside, so this might seem like an obsolete gift.  However, it makes the perfect accessory for special occasions, including your wedding.  Plus, it is sure to be treasured for years to come.
A Credit Card Tool
This might seem a bit stereotypical—giving men tools as a gift—but this credit card tool is perfect even for those who aren't so handy.  It will get them out of sticky situations no matter where they are.
Bike Chain Frame
Finally, there is no reason you can't get sentimental with a groomsmen gift.  Print photos of good times with the groom and each groomsman and gift them in this funky frame.  It is sure to be a hit.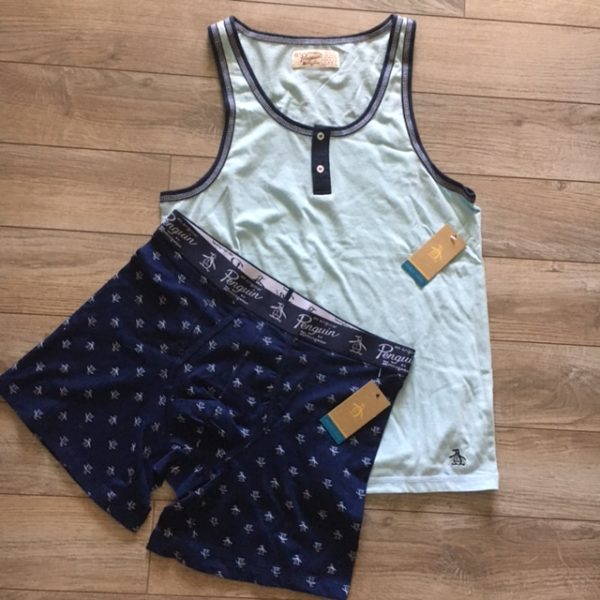 For Ben's wedding
There was only ONE choice. The Original Penquin loungewear AND boxers were given to the groomsmen at the rehearsal dinner. We learned that they wore them before getting ready on wedding day…and again the night after the wedding….