I received these outfits to facilitate this post. All opinions are strictly my own.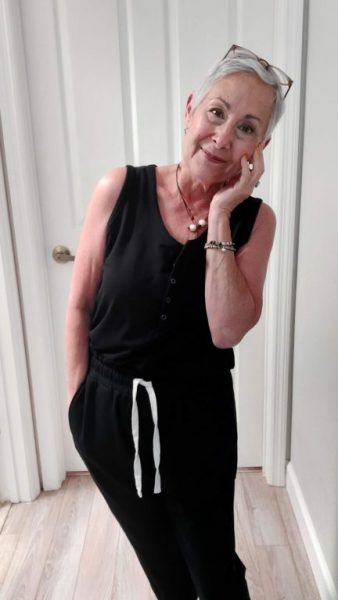 After losing 45 lbs this year…
it was time to do an entire closet clean-out and restock.
Don't worry, I'm not getting rid of my stripes, but I am making a conscious effort to invest in good core pieces of clothing that I'll wear again and again (vs. those items that I buy and hang in the closet with the tags on them for months or years). I recently went shopping online and found FRANC. I should say that they found me, in the form of an email ad with clothing that reflected my style. I clicked through the email to their site and was immediately drawn to their simple classic designs that are uber comfortable and very wearable for every day. I could live in these!!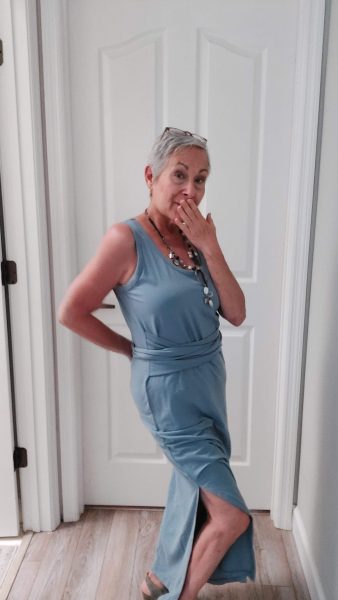 Ethical and Sustainable fashion
Ah yes, that was on my vision board this year, to seek out brands that were made from sustainable fabrics with a mission statement that made mine look silly (I guess no running with scissors was good in its day, but not so much at my age). I was impressed by their mission to do what is right!
According to FRANC
We feel that personal style trumps fashion. And are obsessed with solving the problem of cheaply made clothes, made by underpaid workers in poor environmental conditions. We know fashion, can BE more and DO better. Join us in our mission to create a better, more conscious (still fashion-loving) planet.
But when push comes to shove (my favorite Twyla Tharp ballet) it's about how clothing moves on your body
Does it fit where it's supposed to? How does the fabric drape on your curves? Does it move WITH you (or against you)? Do you feel good when you wear it (are you smiling or pulling & tugging)? And, most importantly, does it tell those you come in contact with who you are?
The answer to all of these questions is a resounding YES.
I chose a jumpsuit and a dress (just because I love playing opposites).
The Jogger Jumpsuit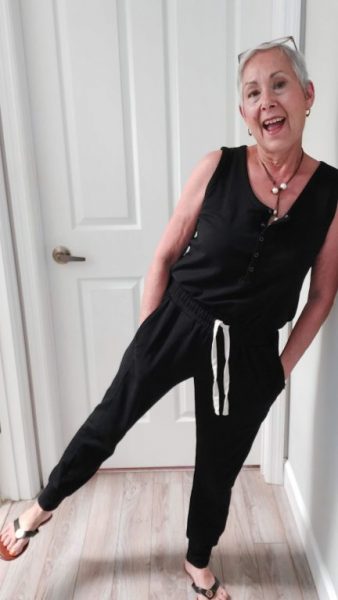 Forget what you're thinking. I know, you've seen it before, but not like this! You've seen those thin, unflattering, pucker in the wrong places jumpsuits that you can pick up on that buy-everything-from-slippers-to-tiny-homes site. At 5'0″ jumpsuits and maxis aren't usually a thing (which is why I love testing them out). From the generous scoop neck that falls at a very flattering spot with snaps to leave open a little or closed, this jumpsuit has everything you want to be comfy, cozy, and cute. The deep pockets for running out without a handbag to get groceries makes you feel a little guilty that you can look this good and feel this comfortable by only wearing this ONE piece of clothing (although I'm not suggesting that you don't wear underwear – LOL).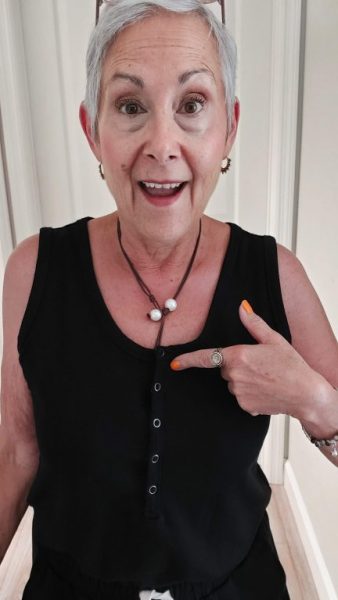 The French Terry fabric is heavy enough to hold its shape as well as hold up in the wash (I've washed it 3 times already and it still looks great). The wide elastic waistband also has a shoestring type of drawstring that is more for show as (at least for me) it fits the waist without having to pull and tie. The legs are slim which when you're short like me, elongates the body so you don't get that bulky look of regular sweatpant joggers.
This jogger jumpsuit will be a staple ALL year long as I'm going to be topping it off with a linen overshirt in fall and maybe a long-sleeved thermal shirt underneath it when we head out of Florida to go skiing in winter.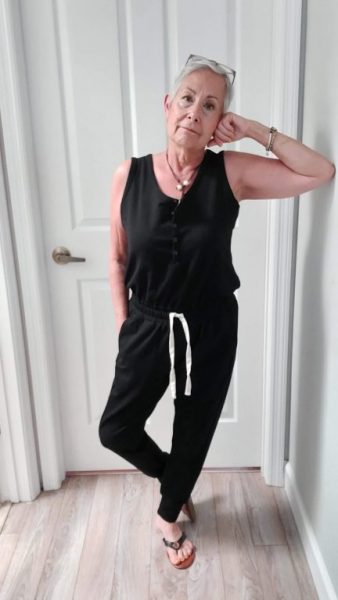 The fabric is made from GOTS certified Organic Cotton and Tencel® certified Lyocell, and FRANC uses Bluesign® certified fabric dyes for each of the colors.
Available in sizes XS-4X and a variety of colors
Black (like mine)
Medium Heather Gray
Olive
Earth
Navy
They are so cute that you're going to want to pick one up in a few colors for your work-at-home or weekend wardrobe.
The Tie Maxi Dress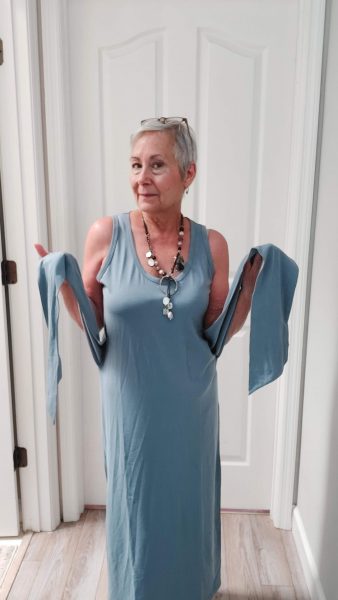 I am OBI-SESSED with the waist time on this maxi dress. I believe that I mentioned my height earlier on, and this maxi fits perfectly to the bottom of my ankle. The Tencel+Cotton+Lycra Jersey combination makes this dress cool for those hot summer days, with a fabric that flows well as you walk, sit, stand, and yes…dance while still being slightly fitted from the shoulder to the waistline.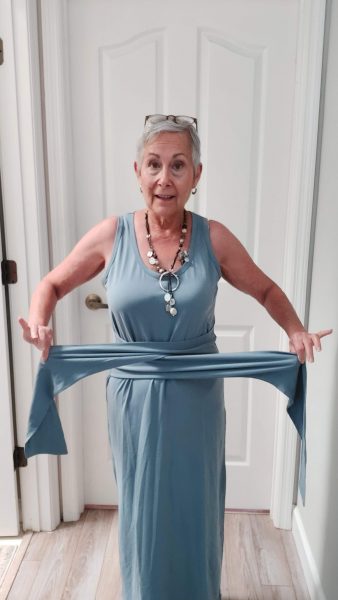 With extra-long ties at the waist, you can wear this dress from a side tie to an obi-style wrap that ties in the back (or the reverse tying in front), etc. I'm sure there are other variations (and I'll play with them the next time that I wear the dress). There is a side slit on the left side that opens to about mid-thigh giving it a little bit of sexiness. It can easily be worn for every-day or at night by adding a dramatic necklace some large statement earrings (&/or bracelet) and heels.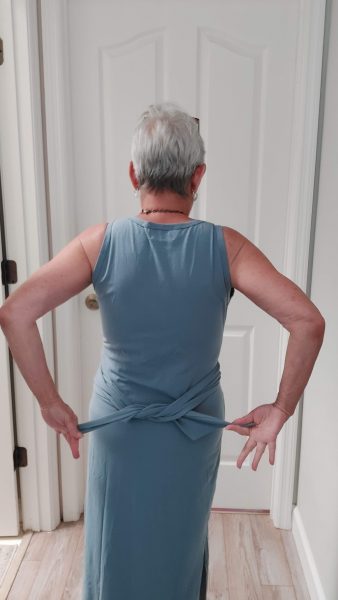 Admission….I wore this dress 3 days in a row because it was so easy to wear and I've been getting so many compliments. Even a woman in the grocery check-out tapped me on the shoulder to ask me where I got it.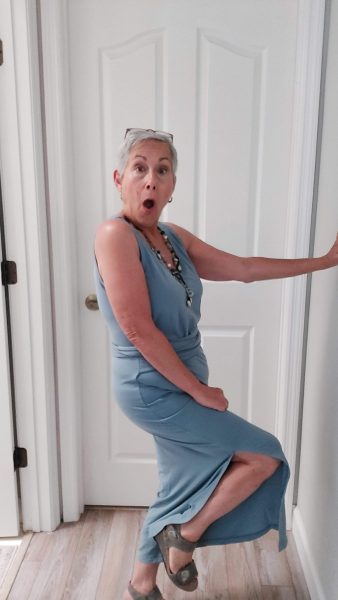 Available from XS-4X in
Sky
Black
Violet
Plum
Medium Heather Gray
and BLACK AND WHITE STRIPES!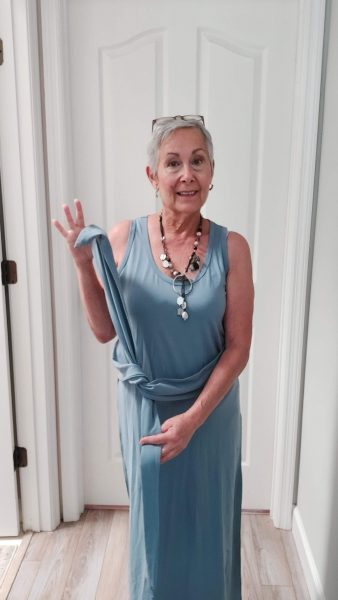 You didn't think that I'd actually shop someplace that didn't offer stripes, did you?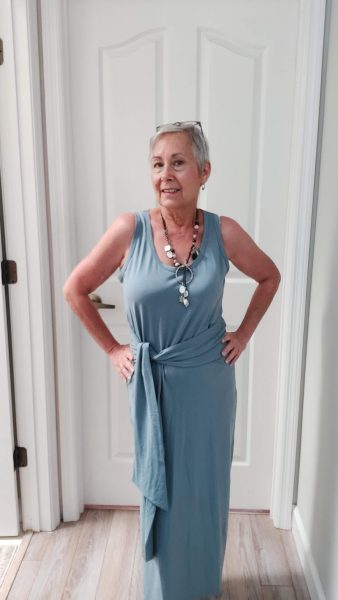 For these and MORE beautiful, ethical, and sustainable clothing from FRANC visit – wearfranc.com/zipporahs