We received the dresses to facilitate this post. Opinions are strictly those of Champagne Living Media.
Summer means going out more, enjoying the weather, and those June (July, and August) weddings. It feels like there's something going on every weekend, and when there's not my husband and I like to sneak out for a little "us" time. After 42 years of marriage, we still not only like doing things together, but we also need to get away from day-to-day life.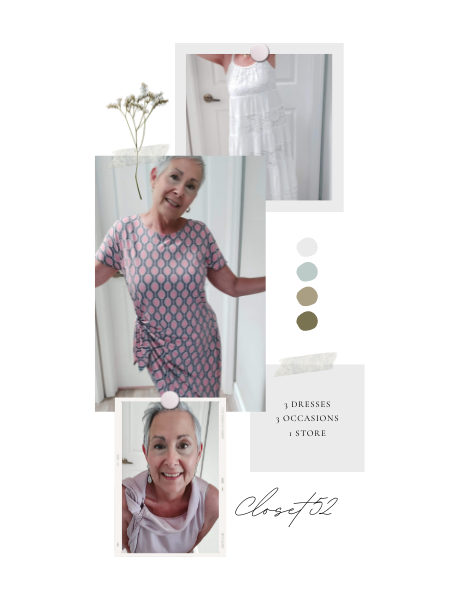 I challenged myself to shop at ONE STORE – Closet52 and only add three dresses to my wardrobe. that could take me from walking on the beach to a date with Mr. S, to ALL of the weddings that are coming up (I have no problem wearing the same dress to multiple weddings as most of the guests will only see me in the dress one time). Oh, and since I'm only 5′ tall (and 68 years old), they had to fit my height AND my aesthetic.
Living in Florida means that it's HOT OUTSIDE ALL SUMMER LONG.
We don't get cool nights like we had when we lived in New England, so dressing for the weather (HOT & HUMID) is key to actually enjoying being outside.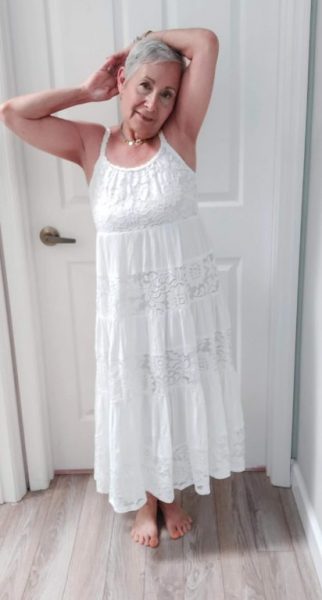 Can you see me laughing and jumping around? That's because finding a maxi that fits my 5-foot-tall frame is nearly impossible. Oh, the description usually states petite, but since most brands consider a petite to be 5'2″ I either have to wear heels or hem an inch or two off. It is refreshing to put on a dress that's long and actually FITS THE WAY IT'S SUPPOSED TO.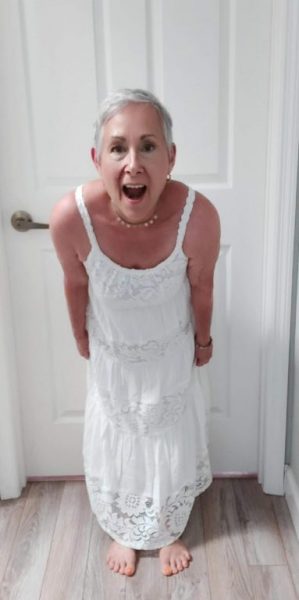 Summer means that I can go BOHO all the way, and this white dress gives me not only the boho look but is also sweet and demure. It flows to the floor without needing heels in alternating tiers of floral lace and gauze. The spaghetti straps are firm against my shoulder, so I know there'll be no slippage. I did buy a size smaller than I needed for my bust, so I appreciate that it is fully lined so that I can wear it with no bra or a lightweight one.
The perfect summer vacation dress, I've been wearing it out by the pool, as I walk along the beach, and yes, even to do my errands.
It's available in petite like the one I ordered as well as standard and plus sizes.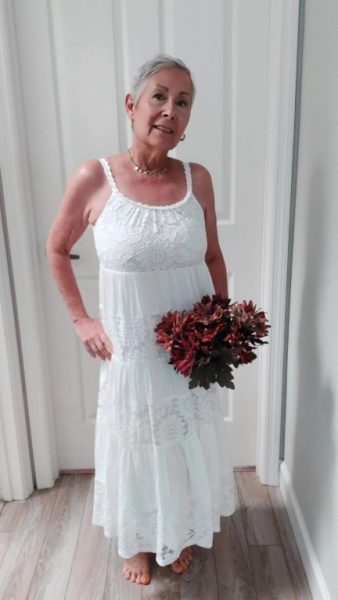 Having lost over 40 lbs in the past year, I love showing off my new shape, but I still have a belly pooch. Actually, I think it's worse because a lot of it is the loose skin that just hasn't bounced back (TMI?). I love that this dress has a sarong effect that minimizes that excess plumpness and looks great for dinner out with my Mr. S. When you work at home in your jeans & t-shirts, I use dinner out as an excuse to get a little more dressed up.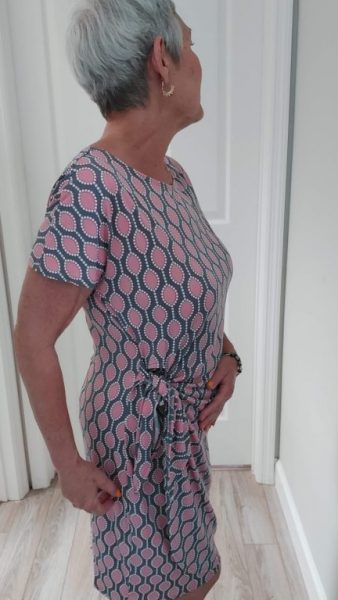 The geometric print in gray and pink (my new favorite summer color) isn't overwhelming and the sarong wraps across the stomach, tying at the waistline to hide that little pooch I was talking about. The jewel neckline (it's almost a ballet neckline) and short sleeves that fall nicely without being tight (or fly-away) are the perfect touches. I don't really need to even add a necklace with this cut.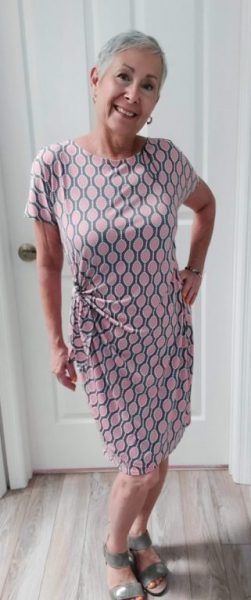 Wash and wear and wash and wear again, it's not only pretty on, but the fabric moves with you and is very comfortable.
Available in petite, standard, and plus sizes. Mine is a petite.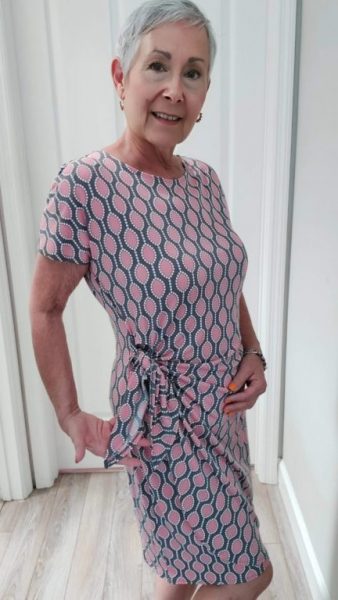 Why is it that all of the weddings seem to happen in the same year and season? My wallet is going to be EMPTY by the time all of these wedding gifts are bought, but the one thing that I'm doing is wearing the SAME dress to ALL of the events. I find that a beautiful cocktail dress works well for weddings, banquets, showers, parties, or even evening work events. So choosing the RIGHT one that will go to all of these events is important.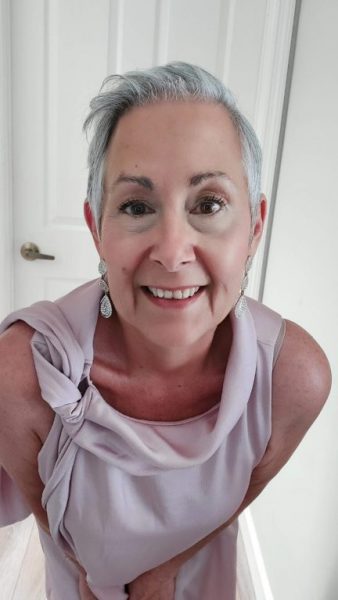 This year, all of the important pieces that I've been buying have been in the pink family. I can wear silver or gold shoes, bag, and accessories with it and it adds that bit of color to make my skin look healthy. I chose the bow-trim cocktail dress because I just LOVE the way that the neckline drapes. I had fun playing with the ties putting one in back & one in front, double knotting them in front, and even doing a sort of twisted braid for a different look. The neckline elongates the neck and looks so elegant, while the flare of the dress is extremely forgiving (which will be great after I make my way through the buffet).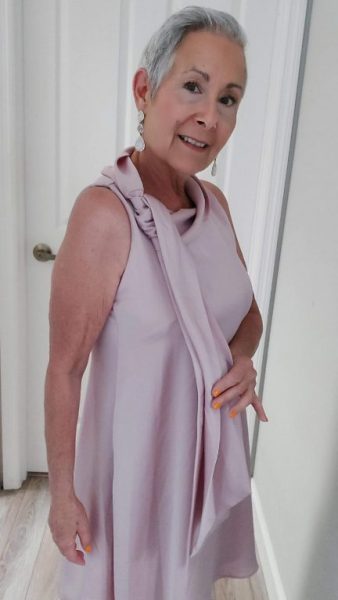 The crepe fabric will take me through year-round events and weddings as well, with a simple pashmina wrap. While the dress would look stunning with a beautiful pair of pumps, I'm wearing a pair of sling-back kitten heels….the better to dance in.
Available in petite (like mine), standard, and plus sizes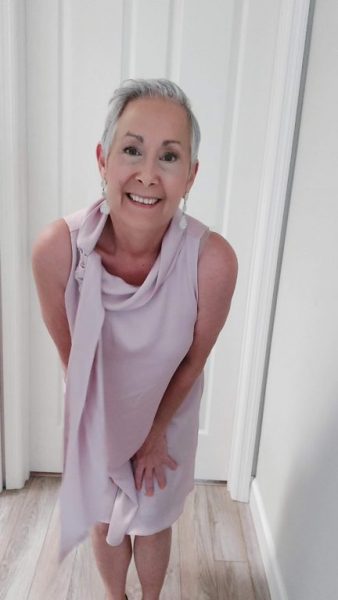 I could build an entire year-round wardrobe at Closet52 with ease. If like me, you love wearing dresses from daytime, to night-time to evening and even formal wear, Check out Closet52. You'll love their selection AND their prices.