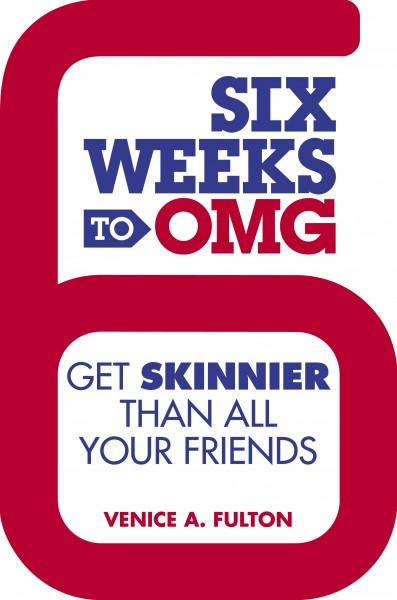 Did you know?
Skipping breakfast can be healthy
Cold baths can give you a hot body
Black coffee helps speed weight loss
Small, frequent meals can pack on the pounds
Exercise is about much more than how much and how hard
Broccoli carbs can be worse than soda carbs
Juices and smoothies cause overeating
I've got FIVE diet books in front of  me at the moment and each is very different from the other. My goal is to get back down to my "fighting weight." Venice A. Fulton's Six Weeks to OMG is the most different of the bunch, with ideas that I'd never heard of before (and I read diet books and cookbooks like they're novels).
I mean, how many diet books do you know that start you off with an ice cold bath AND tell you to SKIP breakfast? The truth is, that most of the information in this book is sound and all of it is based on smart science. I did try the diet, and it took a bit of time to really adjust to some of the ides, like trying to figure out how to get a cold bath/shower from hot summer Florida pipes (you can't). I had to make some modifications, just because they weren't practical for my lifestyle – and while it may cut down on my OMG in six weeks, I'm okay with that. Besides, having an expert in the field tell me not having breakfast fits the way I prefer to start the day.
While I haven't completed 6 weeks of this program, I am off to a good start. My issue is going to be diet hopping in order to tell you about all of these books! My "gut" tells me that Six Weeks to OMG takes more than just the diet or just the exercise approach. It hits your excess body FAT from ALL angles and if you stick with this program will surely get you down to your goal weight QUICKLY.
Oh, and did I mention that  Venice suggests drinking coffee to help you burn more fat? I like this guy's approach!
The bottom line is that Six Weeks to OMG attacks your FAT! When you lose fat, vs. muscle or water weight – you'll look better and be healthier….and you WILL be skinnier than all of your friends.
Final thoughts: This is the type of weight loss program for those who need to have their day mapped out step by step for them.
Want to check it out before you buy it? Head over and read an excerpt from this new diet book – HERE.
GIVEAWAY


Extra Entries
Follow me on twitter @zipporahs and tweet about this giveaway
Comment below with your tweet
Subscribe to Champagne Living,  follow me on facebook or twitter – all found on the sidebar (each counts for 1 extra entry)
Tell your peeps on your blog, facebook page or twitter about this or any post (each counts for 1 extra entry) and link to us.
Share this giveaway on any contest/sweepstakes/giveaway site for 5 extra entries..
This giveaway is open to US residents, 18 and over and ends on July 21, 2012
No purchase is necessary.
Odds of winning are dependent upon the number of entries received.
Void where prohibited by law.
I received product to facilitate this post.  All opinions are strictly my own.