OK, so I sunk to a trite expression, but that doesn't eliminate the fact that I'd much rather be enjoying sunset cocktails overlooking Waikiki Beach at the Halekulani than squirting lighter fluid over charcoal that's been sitting in the garage for a year (only to pull out the George Forman grill in desperation).
Since I'm not in Hawaii (and who am I complain about living in paradise), I'll just play MAKE BELIEVE and do a little Champagne Living at the mansion this holiday weekend.  I'm bypassing the Mai Tai and going for some of the Halekulani's 3 specialty summer cocktails – Cachaca Samba, Mango Mint Freeze and Charlie Chan.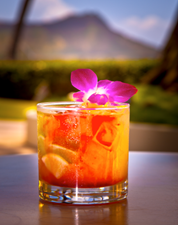 Cachaca Samba
1 ½ ounce Cachaca
½ ounce Cedilla Acai Berry Liqueur
3 lime wedges cut in halves
½ ounce fresh lime juice
1 ounce rock candy syrup
Method:  Place the lime wedges in a mixing glass and muddle briskly with juice and rock candy syrup, then add cachaca and 1 scoop of ice and shake well.  Pour into a double old –fashioned glass (do not strain), add more ice if needed and serve with a float of Cedilla.
Garnich:  Orchid
Mango Mint Freeze
1 ½ ounce Malibu Rum
2 ounce Mango Puree
1 ½ ounce Sweet n Sour
4 Mint leaves
Method:  Add all ingredients to blender with ice and blend thoroughly.  Pour into rocks glass
Garnish:  Dehydrated mango slice and mint sprig
The Charlie Chan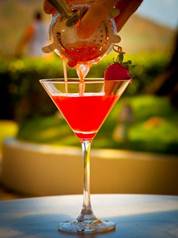 1 ½ oz Barsol Pisco (Primero)
½ oz Orchid Guava Liqueur
½ oz Strawberry Puree
½ oz Lime Juice
Method: shake all ingredients with ice. Serve straight up into a chilled martini glass.
Garnish: half strawberry on the rim and kafir lime leaf.
Maybe next year I'll be spending Memorial Day weekend (and our anniversary weekend as well) at the Halekulani's famed outdoor gathering spot House Without a Key, which is immortalized in a 1925 Charlie Chan novel.