This post includes product that was sent to me for review. All opinions are strictly my own.
Yes, I did lose weight this year
35 lbs to be exact. It was easier than I thought it would be, but therein lies the problem. Weight that comes off easily seems to come back on even easier. Thankfully, I did it slowly by making better choices, but the Thanksgiving and Chanukah (oh, those delicious latkes and sufganiyot) meant that I did a little backtracking from the end of November through early December. I didn't go too overboard, but it was just enough to realize that I needed to do a little reset to get back to my healthier eating habits.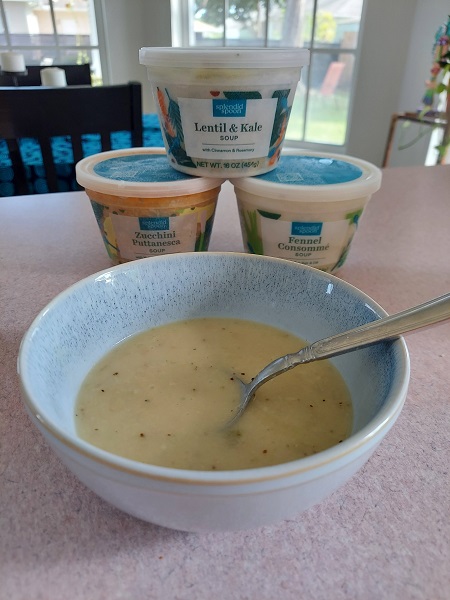 What is a reset?
For me, it means to take anywhere from a day to a week and consciously get back to eating healthier. It's amazing how if you've created GOOD eating habits how quick it is to get back on track. Sometimes people make getting back to eating better a MAJOR program which puts a lot more pressure on us  (and can set you up for failure so much easier), when all it really takes is a day of showing your gut a little TLC, reducing your calorie intake for a day or two (or 5/7 if you feel you need it). All of this heavy food, sugar, etc. that we (or should I say that I HAVE BEEN EATING) has given me digestive issues, messed with my sleep (sugar and simple carbs do that to me) and made me feel sluggish.
An EASY way to reset your system
There are all sorts of ways to reset your system, but for me, if it's difficult, I'm probably not going to do it. My choice now that the over-eating part of the holiday is behind me is to enjoy low calorie, vitamin and mineral rich soups from Splendid Spoon. They have actually made doing a gut reset as easy as putting together a Reset program of their 5 lightest soups.
Butternut Turmeric
Cauliflower Potato Chowder
Fennel Consomme
Lentil & Kale
Garden Minestrone
So, not only is it easy, but you don't even have to fuss making a pot of soup, they've done ALL of the work for you (aside from reheating it). All of the soups are ideal for those of us having digestive issues and desiring to give our tummies a rest after all of the heavy eating.
How to do a Reset
For me, it's as simple as substituting the soup for my meals for 1-2 days. But, you may have different needs, or want to do something a little longer term to get back that HABIT of eating right again. A great way to do that is to eat ONE RESET MEAL (either lunch or dinner) 2-3 days per week. This gives your body (and you) the chance to relax after a busy day with no cooking and a healthy meal. I am using it to get back on my diet as I still have about 5+ lbs to lose (and those last 5-10 lbs are the most difficult).
Forget fasting – instead, try a weekly reset
I used to fast til dinnertime once per week, but I found that my energy would be low and I'd get a little brain fog from not eating. This is a great way to reset weekly and still enjoy a delicious meal each week Just substitute a bowl of one of the Splendid Spoon low calorie soups for lunch or do what I do and that is have the soup for lunch and another soup with a salad for dinner.
It's so easy to do with the Splendid Spoon 100% plant-based smoothies, soups, grain bowls and noodle bowls, and making it EASY to do means that you'll actually follow through.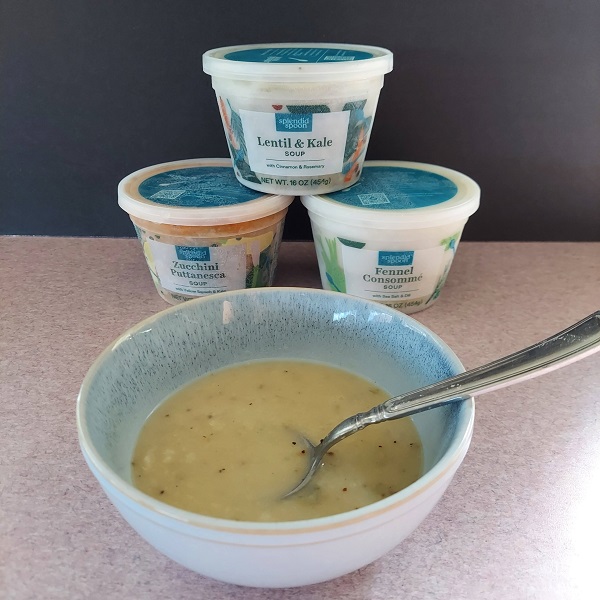 About Splendid Spoon
Splendid Spoon offers subscription plans as well as one-off food purchases that are designed to help you create easy and healthy eating habits. With over 50 ready-to-eat meals, you can kiss meal planning goodbye. They offer a wide variety of plant-based soups, smoothies, bowls, shots, and even desserts that make eating healthy EASY. Right now they have some GREAT deals (including $100 off your first 4 boxes of Breakfast, Lunch & Reset, or Breakfast, Lunch, Dinner & Reset ($25 off each box, up to 4 boxes).
Offer is valid for first-time Splendid Spoon subscriptions only
4 boxes must be ordered within 90 days after the first ship date.
Special offer ends December 6th, so HURRY!