ADMISSION #1
Prior to my press trip which included interviewing Timothy Omundson (King Richard), and Executive Producers Dan Fogelman and Kit Likkel…I had never watched an episode of Galavant.
ADMISSION #2
Um, I had not even HEARD of the show.
ADMISSION #3
I am now a fan and made Mr. S sit down with me last night to watch a bunch of episodes.
ADMISSION #4
He left me to go watch the football game, but I expected that much.
The reason I'm admitting all this is that you MIGHT BE LIKE ME.
You might be saying to yourself "What the heck is Galavant and why would I want to watch it?"
My answer: BECAUSE IT IS A LOT OF FUN. Think of it. It's Sunday night, you just want to kick back and relax. You begin flipping with the remote. There are women arguing on the HOORAY channel, they are re-hashing the political week on on the MEAN CAT channel, there are men throwing a ball and landing on each other and acting like pre-pubescent boys on WAY TOO MANY CHANNELS, and then there is GALAVANT. A refreshing musical fantasy that will entertain you, make you laugh, and sometimes even shock.
See what I mean?
The 411
I sat down with Producers Dan Fogelman and Kit Likkel, and yes…the HOT Timothy Omundson for the inside scoop and to get a sneak screening of the episode that you'll see tonight on ABC. Here are a few things that I learned.
Alan Menken – The composer who brought Aladdin, Little Shop of Horrors, Beauty and the Beast, and many more classic musicals to us has written 32 original songs for Galavant.
Fun Fact:

This is equal to scoring FIVE Broadway Musicals.
Timothy Omundson – Yes, the same Timothy Omundson from Psyche, belts it out each week as the whiny, selfish, King Richard who doesn't really have a clue.
Fun Fact: He has been known to enjoy a little Karaoke now and then. A few drinks and you might get him to sing Dancing Queen.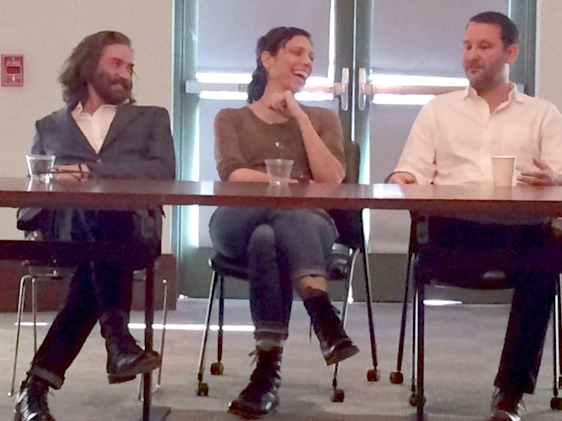 They filmed in Morocco, where one of the most FAMOUS scenic movies "Lawrence of Arabia" was filmed.
Fun Fact: Producer Kit Likkel almost threw up when she realized that over 300 extras had shown up to film one scene….and they had to dance and sing!
Watching the Season Premiere – I thought…wow, this is like short attention span theater for those of us who like musicals, since episodes are only a half hour.
Fun Fact: Part of Episode One takes place in a gay bar, but don't worry…the tongue in cheek humor will go right over the kids heads. So, enjoy as a family.
Watch the Galavant Season 2 Premiere on ABC
TONIGHT! at 8 PM ET 
Fun Fact: Tonight you'll get to see not one but TWO fun episodes
Folllow Galavant on social media