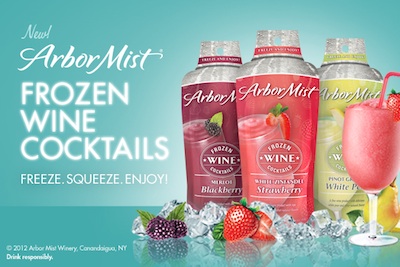 I'm all about popping corks.
Whether it be out at a fabulous South Beach restaurant or in front of the TV with Mr. S. Corks pop, wine gets poured, Zippy mellows out. Hand me a waiters corkscrew and I can have that bottle open in no time flat. I've got wine glasses in all shapes and sizes, and yes I have a professional wine cooler in my kitchen.
In the past few years, I've seen more changes in the wine industry. I was okay with the screw top, when they told me that it would prevent the wine faults of oxidation and of cork taint. I've even had a glass that came from an easy open box, when I realized that the wine "keeps" longer (OMG there is a box of REAL Bordeaux that's actually good).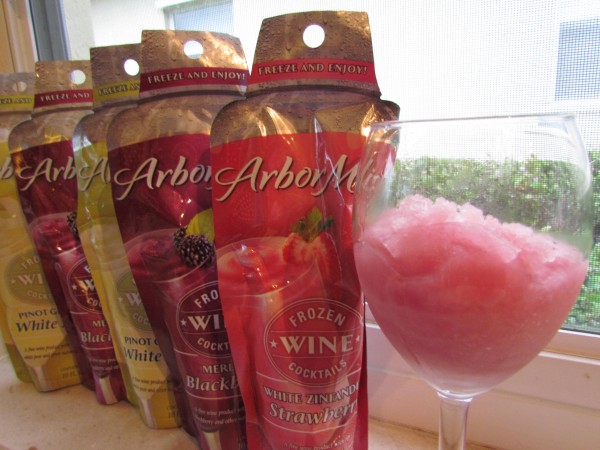 Freeze, squeeze, tear and pour
REALLY? I can wrap my head around a frozen drink. I enjoy a good pina colada every now and then. But WINE??? Yes, wine and SheSpeaks wanted me to try it. Are they kidding?
The marriage of wine + cocktail
The truth is that Arbor Mist frozen wine cocktails is that it is JUST THAT. A COCKTAIL. While I'm used to sipping a glass of bubbly or a deep Merlot with dinner, Arbor Mist's White Pear Pinot Grigio, Blackberry Merlot, and Strawberry White Zinfandel are more for sitting in the yard with the girlfriends with your toes dancing in the kiddie pool.
Frozen drinks and hot weather just go together, and this fruity twist just makes the combo a little more interesting. Luckily, I live in Florida where frozen drinks are de rigueur year round (just ask the pool boy at any hotel down here).
I'm NOT giving up  my glass of bubbly
Not by a long shot. BUT, if you've got a bunch of girlfriends who want to get together for that mani/pedi/facial party you've been planning? This would be a FUN drink to serve.
For more information on Arbor Mist Wine Cocktails
To learn more about She Speaks