I am taking part in a sponsored campaign for Sears Home Appliances and Services. What better way to learn about what appliances I should buy than this?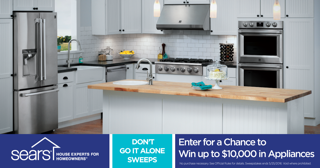 I've got a wish list.
Ever since I bought the house, I knew that I'd be tearing it apart one room at a time. I did the minimum I needed to do to move in, and now I'm getting to the nitty gritty of the renovations. The problem is that even though I've made a list of wants, my next step seems overwhelming.
You see, I don't know that much about appliances
I've shopped and shopped, I've oohed and ahhed, but the reality is that I don't know what's best for my kitchen size, our small family, and what I need to do to make sure that I won't have to shop for new appliances for a VERY long time. I want to make the RIGHT decision, and at the same time, I want value for my money.
I want it ALL
I don't necessarily need the fanciest or the most cutting edge kitchen…I'd rather have something that works for us. I'm always afraid that if I go TOO high tech, that I'll be spending money on constant repairs or be tired of the gadgets after a few months. Can you imaging my Internet going down (as it does often) for 2 or 3 days and have my stove not work? OK, well maybe that's not really a "thing," but it IS something that I'd worry about if my stove was run by my cell phone.
I've done a LOT of research and I've learned that 
Sears Home Appliances and Services makes the entire process so much easier. There's no lying awake at night thinking about overspending, as they have affordable options for all family sizes and budgets. They take the "complicated" out of being a homeowner.  I'm WAY too busy traveling to have my home be all that intricate to run. Luckily Sears offers the top 10 appliance brands, including Kenmore to choose from, giving me lots of brands and styles to choose from.
There is a reason that they are the leading retailer of home appliances in the United States…because once you buy your new refrigerator, stove, etc., they've STILL got you covered. From the appliances  you buy, to repairing and parts, they offer warranties to take the worry out of maintaining your house….so that you can take the time to enjoy your LIFE!
Don't go it alone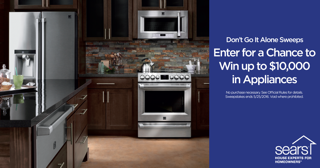 There are a few things I don't like doing alone.
Going out for a drink
Driving long distances
Buying big ticket items for the house
The last time I ventured to check out Sears Home Appliances and Services, I was greeted by someone who understood me. There was no hard sell, no "all the cool kids are buying this," and no feeling like I was in over my head. Soledad asked me the questions to really pinpoint what it was that I needed for this empty nest household (that seems to have an overflow of weekend visitors). She showed me how I could get that elevated look that I wanted without the costly kitchen remodel using the newest Kenmore PRO line of appliances. Most of all, because my house was built in the 1980's, their innovative line offers STANDARD-SIZE appliances (including ranges, cooktops, microwaves, dishwashers and refrigerators), so I can get the look without tearing out cabinets, counters or walls, making it PERFECT for this home chef to create a little magic in her kitchen at an affordable price.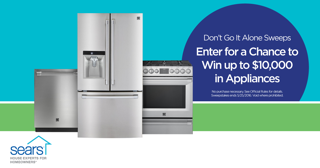 Make that appliance WISH LIST a reality
Bonus entries!
If you're like me, you've had plenty of DIY Fails (like the outdoor shelving that fell apart the minute I put anything on it). Turn that FAIL into a WIN, by entering it as he bonus entry. Simply find and add one (1) image of your biggest at home DIY Disaster to the 'Sears Home Services Home Improvement' Brand Page to receive one (1) Bonus Game Play. There are even MORE bonus entries available at ShopYourWay.com, so don't miss out.